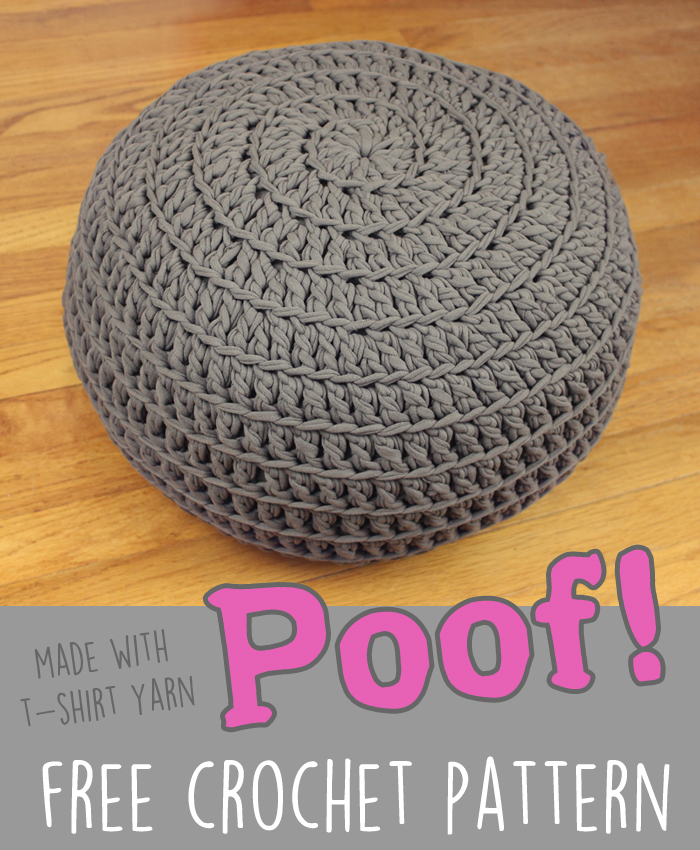 Poof! It's an ottoman or a floor pillow, however you want to use it! :) I've wanted to make one of these for so long! I was so stoked when Shirts.com offered to send me the t-shirts so that I could make it happen! If you haven't yet, be sure to watch my tutorial video on how to make your own t-shirt yarn to learn how I turned 7 t-shirts into yarn, so I could crochet this Poof!
Difficulty Level: Advanced Beginner
Finished Size: Approximately 16 inches across and 10 inches tall.
Supplies
● Size P (11.5mm) crochet hook (or size needed to obtain gauge)
● Yarn needle for finishing, with a hole large enough to fit t-shirt yarn through
● Stuffing (I used about 35 ounces)
● Stitch Marker (I'm using a safety pin)
● T-shirt yarn:
I recommend having at least 200 yards. I cut my own yarn, so I can only estimate how much I had. If you're cutting your own yarn, here is the method I used to calculate yardage.
For my t-shirt yarn, I used 7 Gildan Ultra Cotton Men's size 2X t-shirts. I used only the bottom portion (below the sleeves) for making my yarn and then used the top pieces to line the inside so the stuffing wouldn't show through.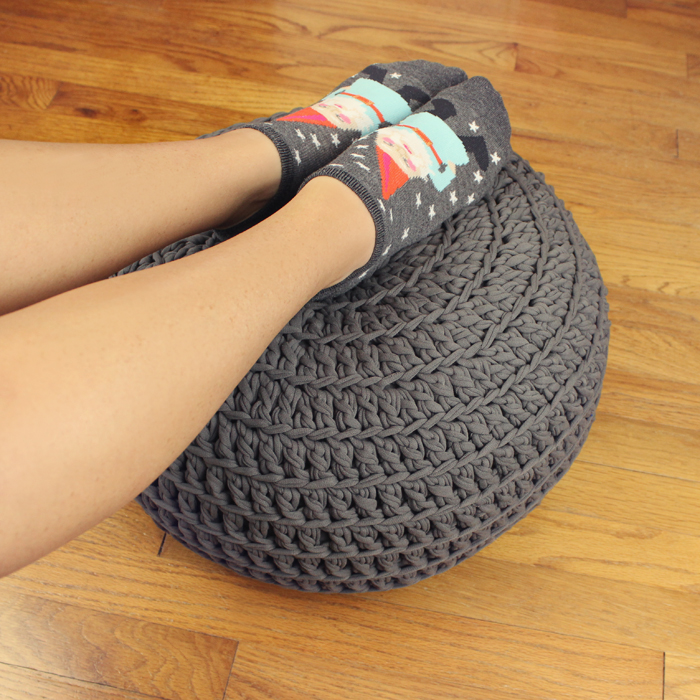 Special Stitches & Techniques
● Invisible Join – Will be used at the end of the poof to FO. Here is a video tutorial: http://www.youtube.com/watch?v=bsHggQGFq3A
● Making t-shirt yarn – Watch my video tutorial on how to cut your own t-shirt yarn. Shirts.com also has a great photo tutorial.
● Back loops only – Normally stitches go through both loops, but when working in back loops only, you make your stitches only through the back loop and ignore the front loop.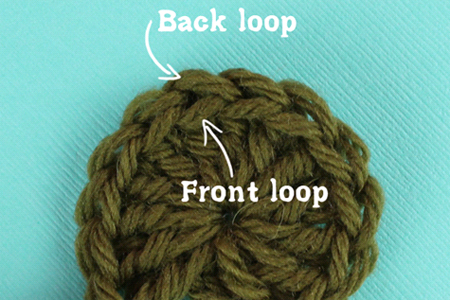 ● dc2tog – This is how to do a double crochet decrease: https://www.youtube.com/watch?v=vn2s0tkCjws
● Closing the hole – If you end up with too large of a hole at the beginning of the poof, you can use this tutorial to close it up: https://www.youtube.com/watch?v=LwHzDuYZGQU
Abbreviations
dc – double crochet
dc2tog – double crochet decrease
ch – chain
rep – repeat
rnd – round
ea – each
st/sts – stitch/stitches
FO – fasten off
Terms of Use
You are welcome and encouraged to sell any items you make using this pattern! All I ask in return is that when selling online, please credit Julie King / Gleeful Things & provide a link to www.gleefulthings.com.
You may NOT sell the pattern, distribute it in any form, repost it online, or alter it to claim it as your own (this includes charts & translations to other languages). Copyright © 2015 Julie King / Gleeful Things. All Rights Reserved.
Instructions
Poof  is made in a continuous spiral, meaning you will not join at the end of rounds. Starting with round 2, you will need to use a stitch marker to mark the first stitch of each round.
Starting with round 2, all stitches will be made in back loops only. Refer to the special techniques section above for an explanation of what back loops only is.
Gauge:  5 dc = 3 inches. After rnd 2, your circle should measure 5 inches across.
Pattern
rnd 1: ch 3 (counts as 1 dc). 13 dc in 3rd ch from hook. (14 dc)
rnd 2: 2 dc in top of ch 3 from rnd 1. 2 dc in ea st. (28 dc)
* Don't worry if you get a bit of a hole between the first st of rnd 2 and the last st of rnd 1. You can use a scrap to stitch it shut. *
rnd 3: [1 dc in next st. 2 dc in next st.] rep around. (42 dc)
rnd 4: [1 dc in ea of the next 2 sts. 2 dc in next st.] rep around. (56 dc)
rnd 5: [1 dc in ea of the next 3 sts. 2 dc in next st.] rep around. (70 dc)
rnds 6 – 11 (6 rnds): 1 dc in ea st. (70 dc)
rnd 12: [1 dc in ea of the next 3 sts. dc2tog.] rep around. (56 dc)
rnd 13: [1 dc in ea of the next 2 sts. dc2tog.] rep around. (42 dc)
rnd 14: [1 dc in next st. dc2tog.] rep around. (28 dc)
rnd 15: dc2tog 14 times. (14 dc)
*This is a good place to stop & stuff it. See the progress section for tips on stuffing.*
rnd 16: dc2tog 7 times. (7 dc)
If you have a bit of a hole still, you can dc2tog a couple more times. When you're satisfied with it, invisible join to the back loop of next st and FO.
Show Your Support
If you use this free pattern, please consider supporting me by purchasing a pattern from my shop.  Your support will help ensure that I'm able to continue making new patterns to share. Thanks for considering! :)
Progress Photos
Starting rnd 1: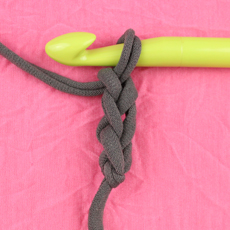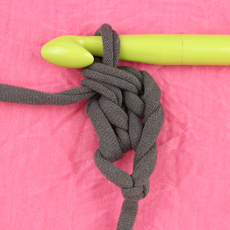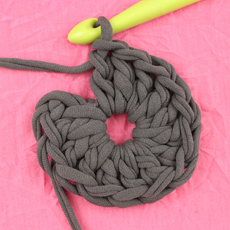 Start off with a ch 3. You will then make 13 dc in the 3rd ch from the hook which is at the bottom of the first photo.
Don't worry if you end up with a hole in the center. You can use my closing the hole technique to cinch it shut.
rnd 2:
rnd 2 starts off by making 2 dc in the top of the ch 3 from the beginning of rnd 1. From here on, your stitches will all be made in the back loops only. Be sure to start marking the first dc of each rnd with a stitch marker.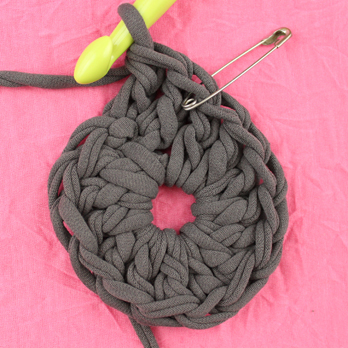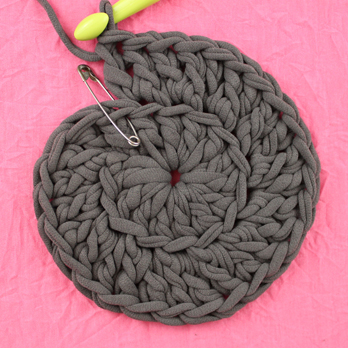 rnd 15: After rnd 15 is a good time to stop and stuff it. I used the left over top portions of my shirts to line the poof so that none of the stuffing would show through. To do this, I laid a shirt on the bottom and put a couple others on the sides. Then I filled it with stuffing and then laid a couple more shirts over the stuffing.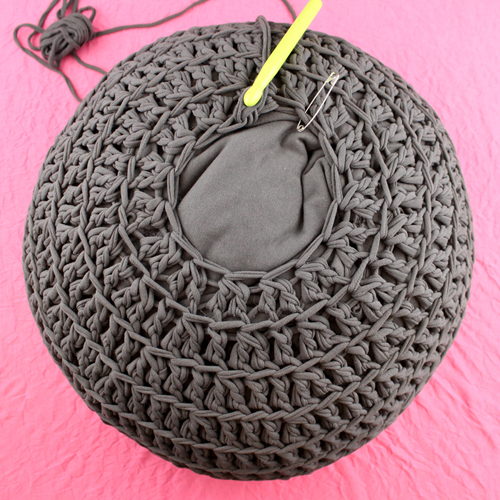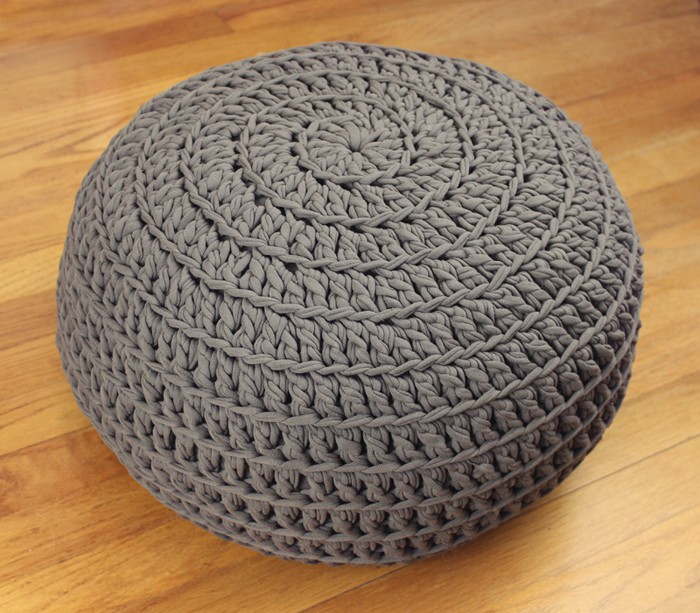 Disclosure: I received the t-shirts that I used in this pattern for free from Shirts.com. Thank you so much, Shirts.com, for inspiring me and for providing the shirts so I could do this!
This post contains affiliate links. If you click and make a purchase, I get a small commission. This helps to ensure that I'm able to continue posting free patterns and tutorials! :)
FAQ
If you have any questions about this pattern, please check out my FAQ post to see if your question has already been answered :)
You might also like these posts: