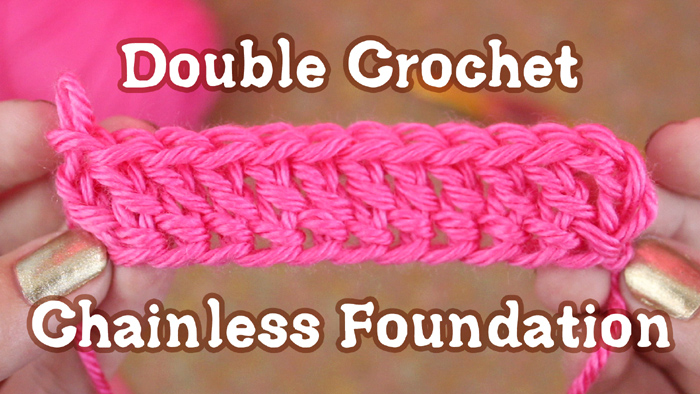 A while back I posted a tutorial video on how to do chainless foundation double crochets and I've received a few questions about the technique, so I want to answer them here in hopes that it may help you too! First, if you haven't seen the video yet, you can watch it below or on YouTube.
Q: Why is mine looking like a wheel?
At the bottom of each double crochet, you draw up a loop and then draw up another loop. If you were to forget one of those loops, that would cause it to curl into a wheel shape. Another thing that might be causing it is having tighter tension during those two loops than during the rest of the double crochet. Essentially, making the top of the stitch looser than the bottom. For me, it's easy to accidentally do this so I really pay attention to my tension throughout the stitch to keep it consistent.
Q: How do you join it if you want to use it for an infinity scarf?
Easy! Just slip stitch into the fourth chain you made at the very beginning (that counts as your first double crochet) and then you can continue onto your second round. I use the tail left in the beginning and my yarn needle to join at the bottom of the stitches.
Q: Is there any reason you would do this as opposed to chaining and continuing on as normal? Seems easier to chain.
I think it's really a matter of preference in most cases, but there are times when the chain method won't work.
This method is great for when you aren't sure how long you're going to want something. If you were to chain and then double crochet all along the chain, and then realize you want it longer, you'd have to undo all of those double crochets and chain more. But with this method, you just keep going!
I learned this technique when I was designing my Fireside Scoodie pattern (the scarf with pockets version) because after crocheting along the hood, I needed to be able to keep going to create the first row of the scarf. It wouldn't have worked with the chain method.
Do you have a question about any crochet stitches or techniques? Feel free to submit them through my Ask Julie form and I'll answer them in a future Q&A post! :)
You might also like these posts: