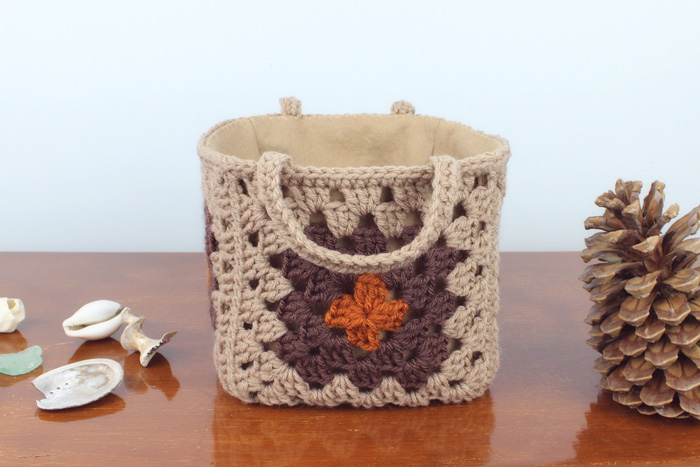 A week ago when I was sick, I was all for simple, brainless projects so I decided to give these granny square baskets a shot! I originally saw the idea (+ tutorial) here and thought it would be an awesome stash buster! I didn't use the tutorial because I was sick and didn't feel like reading anything, so I just made 5 grannies and whip stitched them together. I did a round of single crochets around the top and made a row of half double crochets for each handle.
I lined the brown one with some wool felt I had that just happened to be the perfect color! I'm gonna line the other one too as soon as I get around to buying more felt. I really like the wool felt for the lining because it's stiffer than those cheap sheets of acrylic felt. It really helps hold it's shape and not to mention, will keep things from falling out!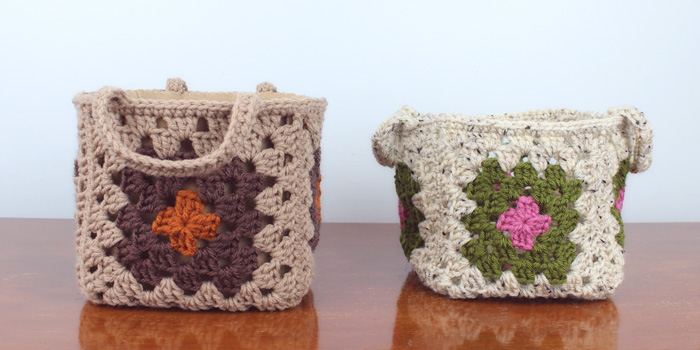 I love this project because it's so simple and versatile. You could use any granny square pattern you like. And using a basic granny like this, you can make your basket as large or small as you need! I made mine 5 rounds and they're the perfect size to hold CD's or DVD's. I'll probably use them to organize random knick knacks and things on my desk.
For the brown one, I used Lion Brand Vanna's Choice in Rust & Chocolate and Loops & Threads Impeccable in Soft Taupe.
For the other one, I used Lion Brand Vanna's Choice in Rose, Olive & Oatmeal.
You might also like these posts: