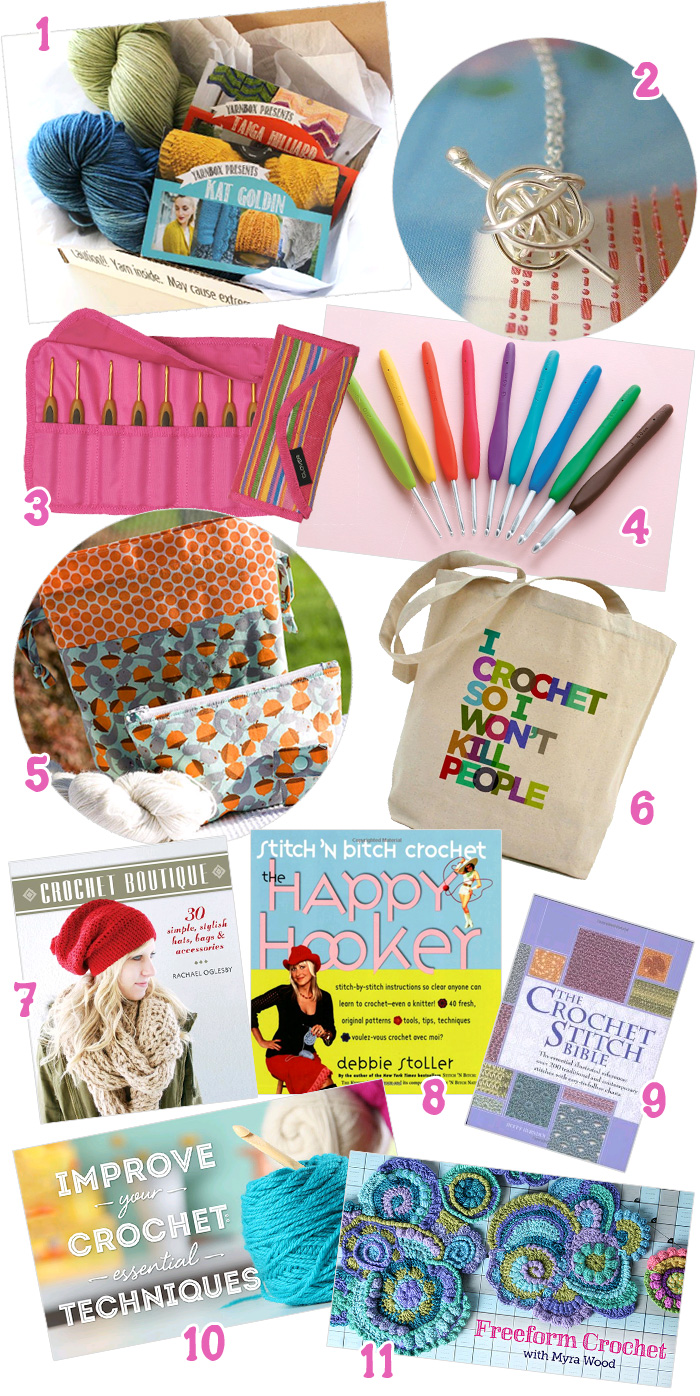 If you have a crocheter on your holiday shopping list, chances are, they've been working hard to make you something cozy! So what should you get for them? Here are a few ideas!
First of all, YARN!
That's probably at the top of every crocheter's wishlist, right?! I think one of the coolest (crochet related) gifts I've ever received was a basket of yarn, from a coworker who didn't even know me all that well. But she knew I was obsessed with crochet, so she went to Michael's and chose several yarns for me. I thought that was so thoughtful.
1. A Yarn Box subscription – This is perfect if you want to give yarn but don't know what to pick! Yarn Box will send a box of yarn + patterns. You could send just one month or even a whole year depending how much you want to spend.
Another idea would be to Google "yarn of the month club". Some indie yarn makers will send out a skein each month.
Want more yarn ideas? Check out my Crochet Essentials list for some of my most used yarns. All of these can easily be picked up at your local Jo-Ann or Michael's!
Crochet Jewelry
2. Crochet necklace – I saw several crochet necklaces while browsing Etsy. Something like this would be perfect for the crocheter who is already buried in yarn and has every other supply/tool they could possibly need.
Hooks
Any nice set of hooks would make a great gift!
3. Clover Soft Touch hook set – I absolutely love these and recommend them to everyone! Ever since I got them, no other hook has felt as good to me. I also love that this set comes with a case for them.
4. Clover Amour hook set – I personally have not tried these yet but I see everyone else raving about them lately!
Project Bags
5. Handmade project bag – I have one of these that I made myself and I carry it everywhere. It really would be a useful gift for anyone who doesn't have a nice bag for their crochet. I used to carry my projects in random plastic shopping bags and this just feels so much nicer! Try searching Etsy for "crochet project bag", there are tons in all sizes and prints. And if you happen to sew, I have a tutorial for how to make your own project bag.
6. I crochet so I won't kill people tote – I love this tote for carrying larger projects!
Individual Patterns or Pattern Books
Ravelry allows you to gift patterns to people (here's a tutorial on how). This would be awesome if you know of something specific they want. Or if you want to be sneaky about it, you can see what's on a person's favorites list using this URL: http://www.ravelry.com/people/USERNAME/favorites
7. Crochet Boutique by Rachael Oglesby – This book has so many great projects that are youthful and trendy! I wrote a full review on it here, if you'd like more info.
8. Stitch n Bitch – The Happy Hooker by Debbie Stoller – This was one of the first books I got when I was learning how to crochet. It offers a lot of help for those who are still new to crochet but also has good projects for everyone.
9. The Crochet Stitch Bible – This is another book I've had for a long time. It's great for learning new stitches and also has some border and motif patterns.
Crochet Classes
Craftsy offers several crochet classes but you could also check your local yarn or craft store!
10. Improve Your Crochet Essential Techniques class – This would be great for someone who is newer to crochet.
11. Freeform Crochet class – I've been eyeing this class for a while now! It looks like it would be fun for someone who is a little more experienced.
Gift Cards
And of course, you'll never go wrong with a gift card! Here are some of the places I like to shop for yarn & supplies:
– Local yarn stores
– Local craft stores (Michael's, Jo-Ann, Hobby Lobby, etc)
– Online yarn shops: Knit Picks, Jimmy Beans Wool, Yarn.com
– Etsy (could be used for yarn, patterns or anything handmade!)
Crocheters, is there anything you would add to this list? Is there anything unique that you're wishing for? What advice would you give to someone shopping for you? 
** Some links in this post are affiliate links. If you click and make a purchase, I get a small commission. This helps to ensure that I'm able to continue posting awesome content, free patterns and tutorials! :) Don't worry though, I wouldn't tell you about these things if I didn't truly recommend them.