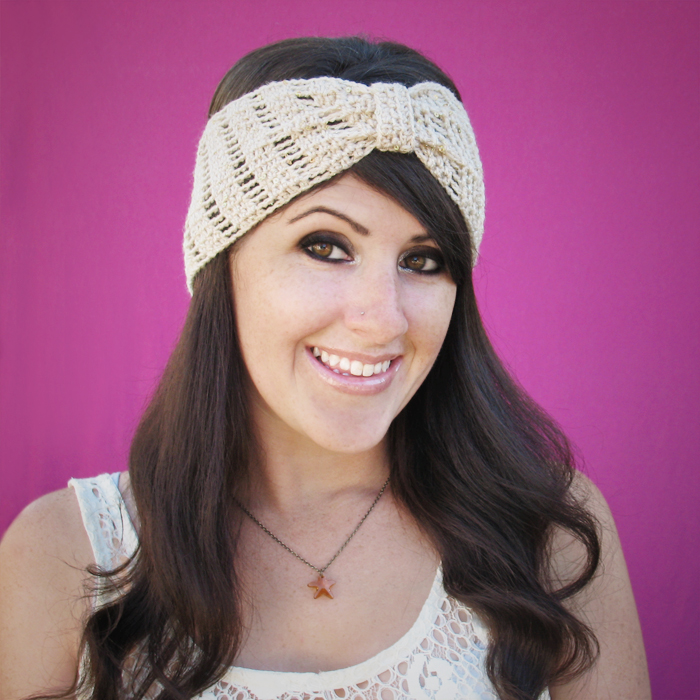 I have been loving working with light weight yarns lately but I feel like there's way more demand for patterns for worsted weight yarn than anything else. So, my solution was to design a pattern that would work with any weight of yarn. So we can all be happy! :)
That said, this headband can be made with any type of yarn you'd like! Tiny sock yarn, super bulky or anywhere in between! And it can also be made in any size! From baby to adult to polar bear! It's really simple to adapt this pattern to fit anyone! You just need to know their head size.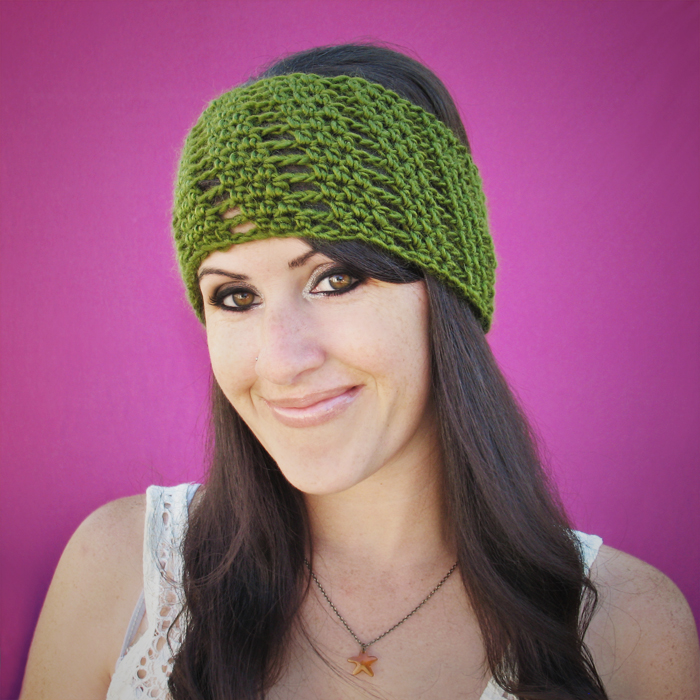 Difficulty Level: Beginner
Finished Size: Any!

● Any yarn (yardage will vary depending on size of yarn)
● A hook size that allows you to crochet somewhat loosely with your chosen yarn
● Yarn needle for finishing
Yarns used in examples:
Red Heart Boutique Unforgettable in Echo – with size I hook
Vickie Howell Sheep(ish) in Olive(ish) – with size I hook
Loops & Threads Payette in Gold Dust & Purple Shimmer – with size F hook

hdc – half double crochet
ch – chain
sl st – slip stitch
rep – repeat
rnd – round
ea – each
sps – spaces
st/sts – stitch/stitches
FO – finish off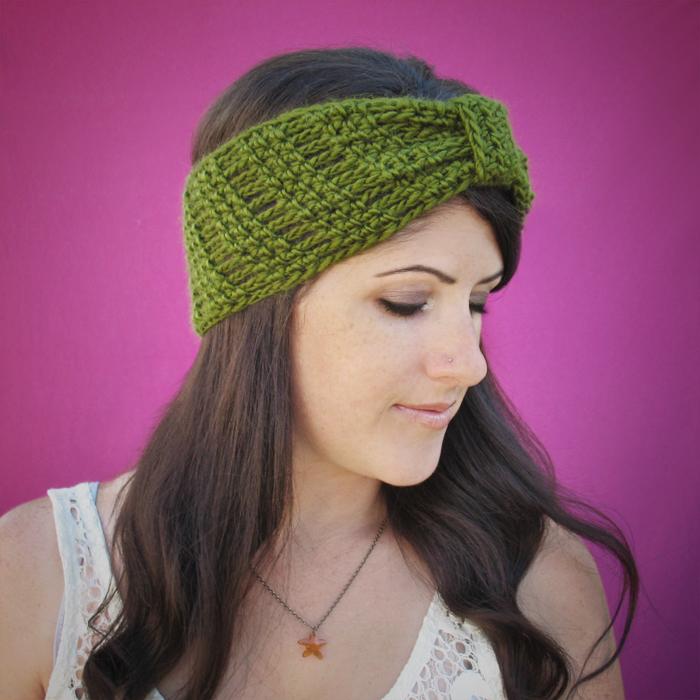 Gauge is unimportant, just make sure you don't crochet too tightly or your headband won't be stretchy enough.
Ch 2′s at the beginning of rounds will always count as 1 hdc.
This pattern is worked in joined rounds. Join at the end of each round, when the pattern says to. Rather than joining to the top of each ch 2 (the first stitch in each round), join to the top of the first real hdc. This will help maintain the staggered pattern.
The stitches in this pattern are staggered to give it a slanted look. Refer to the photo below to make sure you are putting your hdc's in the right place.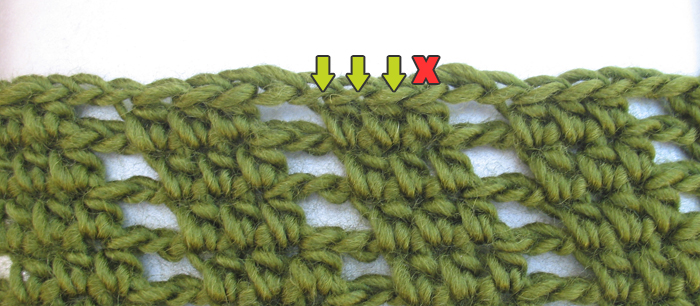 Step 1: ch to desired length, making sure that it is a multiple of 5. The ch should wrap around your head and be a little bit snug. sl st to join end of ch to beginning.
rnd 1: ch 2 (counts as 1 hdc). 1 hdc in ea of the next 2 ch. ch 2. [sk 2 ch. 1 hdc in ea of the next 3 ch. ch 2.] rep around. sl st to join.
rnds 2-?: ch 2 (counts as 1 hdc). 1 hdc in ea of the next 2 sts. ch 2. [sk 2 ch. 1 hdc in ea of the next 3 sts. ch 2.] rep around. sl st to join.
Repeat round 2 until you reach your desired height. For reference, I made all of my headbands 4 inches tall. FO using an invisible join  (tutorial here).
Making the little band to cinch it together:
Row 1: ch to desired length (you want it to fit somewhat tightly around the headband). ch 2 (counts as 1 hdc). 1 hdc in ea ch.
Rows 2 -3: Turn & ch 2 (counts as 1 hdc). 1 hdc in ea st.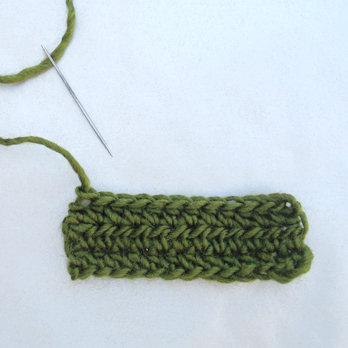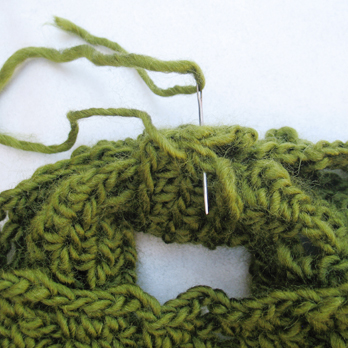 Cut your yarn and pull through the last st. Wrap the piece around the headband and using your yarn needle, stitch the ends of it together. FO.

If you use this free pattern, please consider supporting me by purchasing a pattern from my shop.  Your support will help ensure that I'm able to continue making new patterns to share. Thanks for considering! :)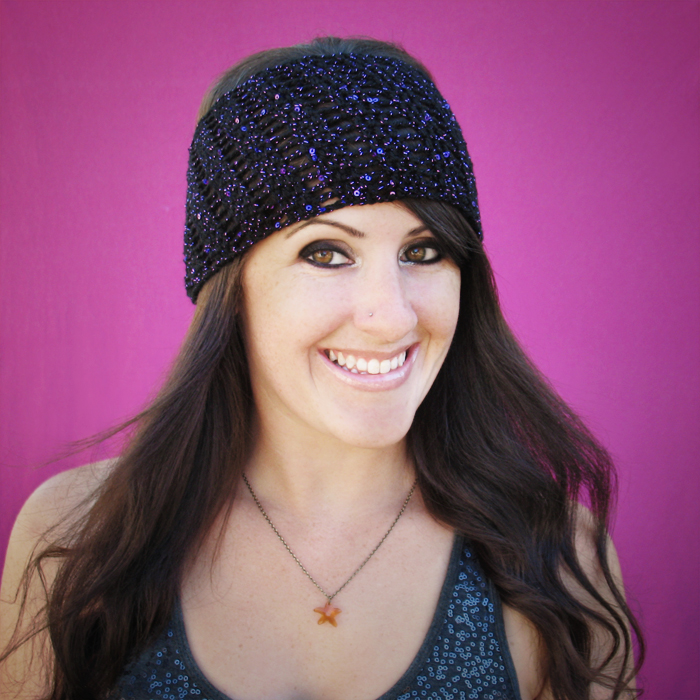 You are welcome and encouraged to sell any items you make using this pattern! All I ask in return is that when selling online, please credit Julie King / Gleeful Things & provide a link to www.gleefulthings.com.
You may NOT sell the pattern, distribute it in any form, repost it online, or alter it to claim it as your own (this includes charts & translations to other languages). Copyright © 2013 Julie King / Gleeful Things. All Rights Reserved.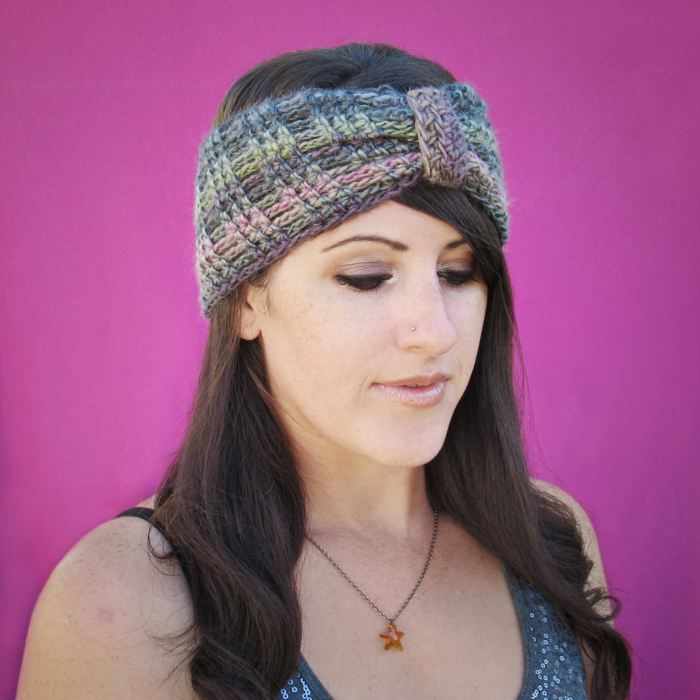 You might also like these posts: