I've been meaning to share this pattern for a while now! I had to sell my Blythes a while back so I kinda forgot about this pattern and all of the other things I'd made for them. It always weirded me out that some of their clothes cost just as much as mine! So I was all about making as much stuff for them as I could. Unfortunately, I lack the patience to sew tiny clothes. So everything I made for them was crocheted or knit. Anyway, here's a really easy, pretty accessory for your Blythe dolls! I hope you like! If this is popular, I'll probably post a few of my Blythe hat patterns too.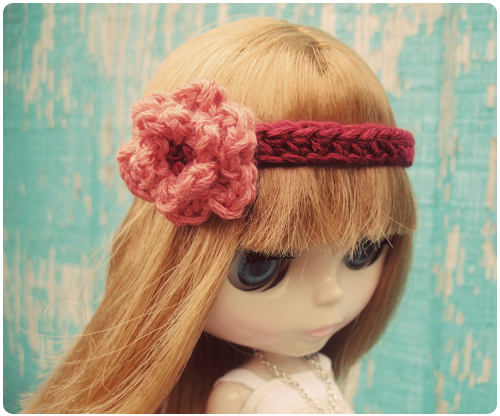 SUPPLIES
- Size E crochet hook
- Worsted weight yarn in 2 colors
- Yarn needle
ABBREVIATIONS
CA – color A (flower)
CB – color B (headband)
ch – chain
sc – single crochet
rnd – round
st – stitch
rep – repeat
dc – double crochet
hdc – half double crochet
ea – each
FO – finish / fasten off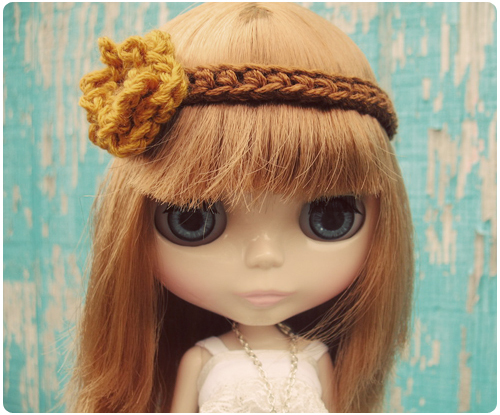 INSTRUCTIONS
This pattern is worked in rounds. Join only where the pattern says to. Gauge for the flower is unimportant. Gauge for the headband is 5 hdc = 1 inch.
HEADBAND
With CB, ch 45. sl st to join.
rnd 1: ch 2 (counts as 1st hdc). 1 hdc in ea ch.
invisible join and FO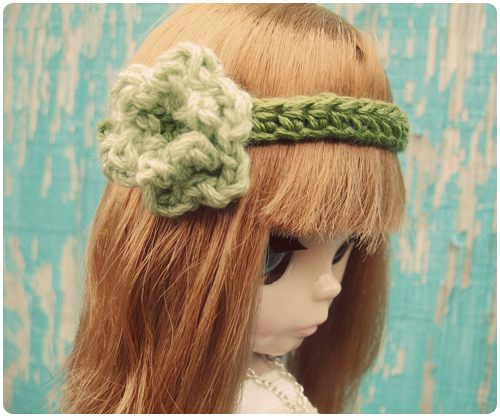 FLOWER
With CA, ch 2.
rnd 1: 6 sc in 2nd ch from hook.
rnd 2: work in front loops only – [1 sc in next st. ch 3. sl st in same st as previous sc] rep 5 times
rnd 3: work in back loops from rnd 1 – [1 sc, 3 dc, 1 sc in same st] rep 5 times
invisible join and FO
With a scrap of CB and your yarn needle, make three french knots in the center of the flower. FO leaving a piece of yarn long enough to attach the flower to the head band.
ASSEMBLY
Use the piece of CB that you left and your yarn needle to attach the flower to the headband. I like to put the flower over the join in the headband so that you can't see the join.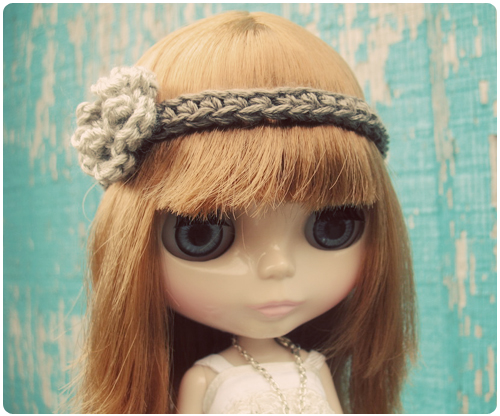 If you use this free pattern, please consider supporting me by purchasing a pattern from my shop.  Your support will help insure that I'm able to continue making new patterns to share (both free & paid). Thanks for considering! :)
TERMS OF USE:
This pattern is protected by United States & International Copyright law. This pattern and anything made from it may not be used for commercial purposes. You may not sell anything made from this pattern. You may not resell or redistribute this pattern in part or in whole. Derivative works are prohibited. This pattern and items made from it are intended for your personal use only.

Copyright © 2010 Julie King / Gleeful Things. All Rights Reserved.
You might also like these posts: