March 10, 2014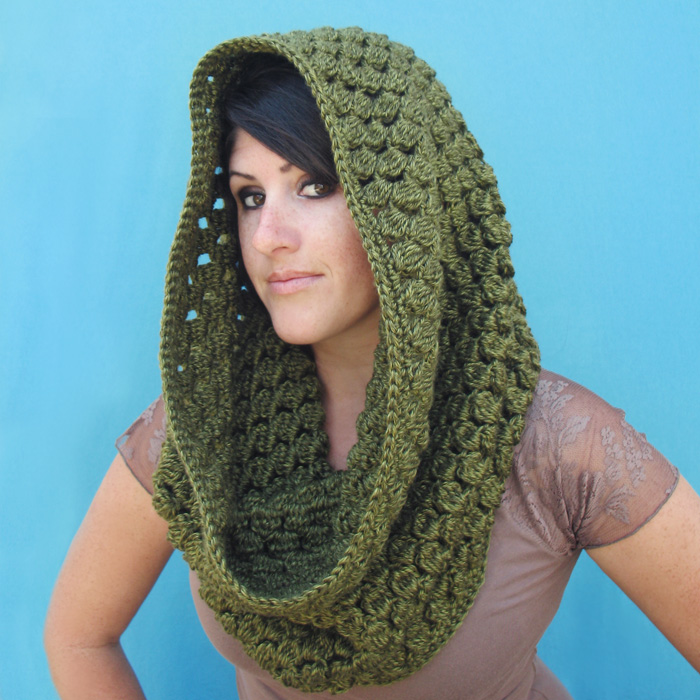 Today I'm super excited to be releasing my very first scarf/cowl/thing to keep your neck warm pattern!! Although it feels a little weird because it's been extremely sunny and hot here lately! Sometimes I have to remind myself that other places actually have real winters and need things like this to keep warm! Here in Southern California, scarves are basically just a fashion accessory most of the time. Maybe that's why it's taken me so long to design a pattern!
Anywho! I designed this pattern to match my Pinecone Slouchy Hat. The pattern includes three sizes: a large hood cowl (green), a small cowl (blue), and an infinity scarf (orange).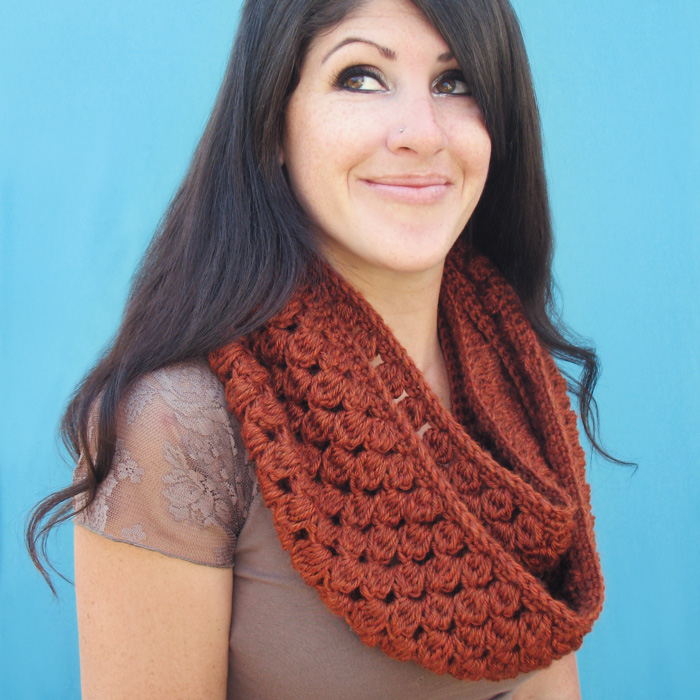 The large hood cowl is long enough to be worn over your head as a hood while still keeping your neck cozy! The small cowl is meant to fit slightly loose around your neck. And the infinity scarf is meant to wrap twice around your neck and also be slightly loose. All three sizes include the option to add ribbon around the edge.
They can be made with any type of worsted weight yarn. I used Lion Brand Heartland & Caron Simply Soft for mine. I consider the pattern intermediate level. It uses mostly cluster stitches (taught in the pattern), single crochets, and triple/treble crochets (if you're using ribbon). The pattern is 7 pages long, here's a peek at what's inside: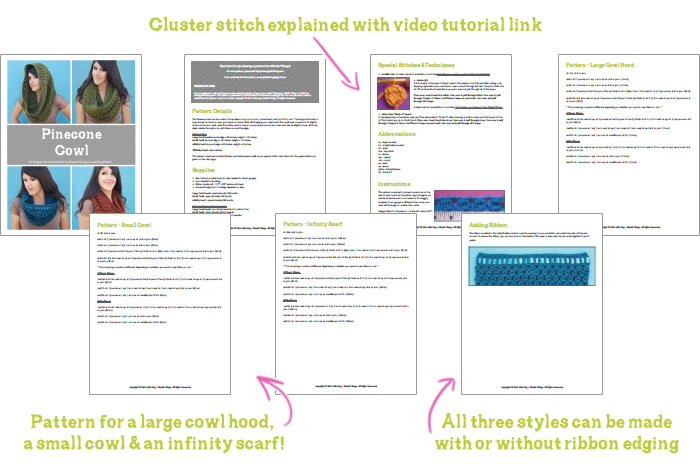 The pattern is available through Ravelry, where you can download it instantly after check out.
 $4.00
I'm also offering a discount if you buy both the Pinecone Cowl & Slouchy Hat patterns! GET $2 OFF! ($6 total). No coupon code needed, discount is automatic when both are in your cart. If you've already purchased one of the patterns in the past, you can still get the second for $2. Click here to add both to your cart.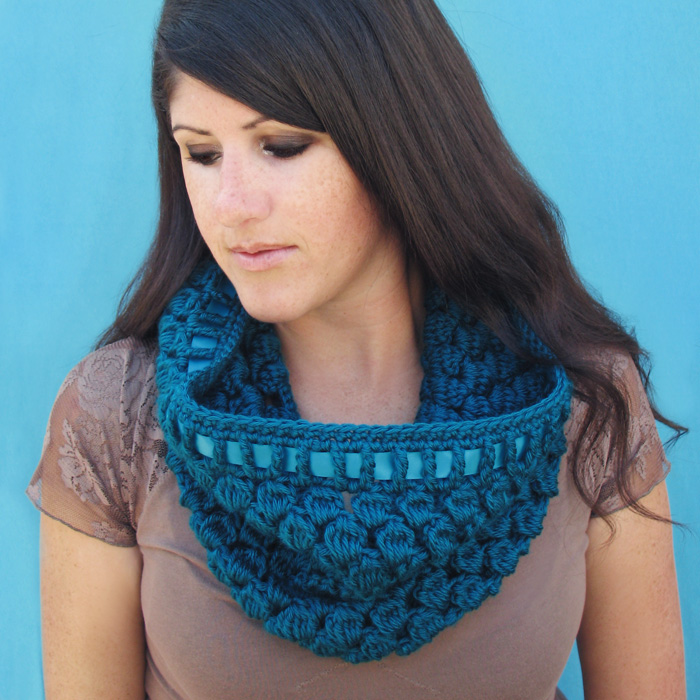 Terms of Use: You are welcome to sell any items you make using this pattern as long as you credit Julie King / Gleeful Things & link to www.gleefulthings.com. This pattern is protected by United States & International Copyright law. You may not share, resell or redistribute this pattern in part or in whole. Copyright © 2014 Julie King / Gleeful Things. All Rights Reserved.
February 27, 2014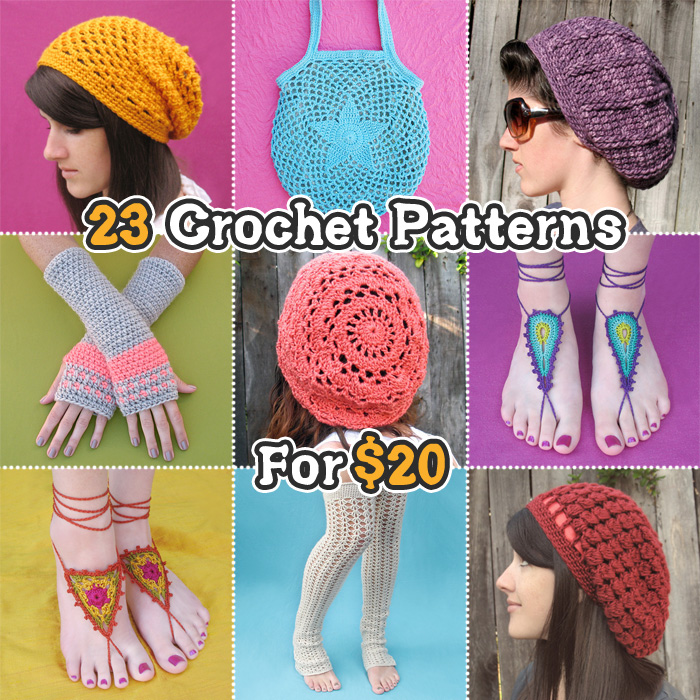 I'm having the biggest sale of the year!! Get all 23 of my crochet patterns for only $20! Here is what you get:
10 hat patterns
1 bag pattern
3 barefoot sandals patterns
1 arm warmer pattern
1 leg warmer pattern
7 amigurumi patterns
Regular price totals $86.50. This deal will save you $66.50! That's such a huge discount that even if you already have some of the patterns, you'll still be saving money!
Click here to purchase: http://www.ravelry.com/redeem/gleeful-things-2?code=23for20
This offer expires after it has been redeemed 20 times and the $20 sale will not be back again until next year.
February 21, 2014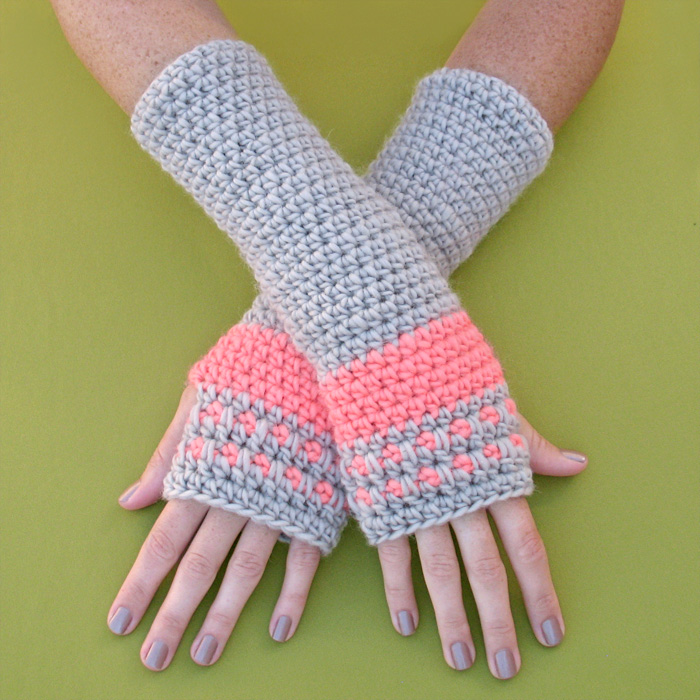 Meet the Peachy Arm Warmers! I'm so stoked to finally have this arm warmer pattern available! I had to have it tested twice because it was a little confusing the first time around. So now you can be sure that it's plenty simple and they're also fun to make!
It's a versatile pattern allowing you to easily make any size to fit any size hand/arm. They are a simple tube that do not increase or decrease in size. Instead they rely on stretchiness to fit snugly around all parts of your hand and arm. There are two different options for striping – a two color (above) and a three color option (below).
They're meant to be made with worsted weight yarn. I really like wool for these. For the pair above I used Loops & Threads Wool to Wash and for the pair below, I used Paton's Classic Wool.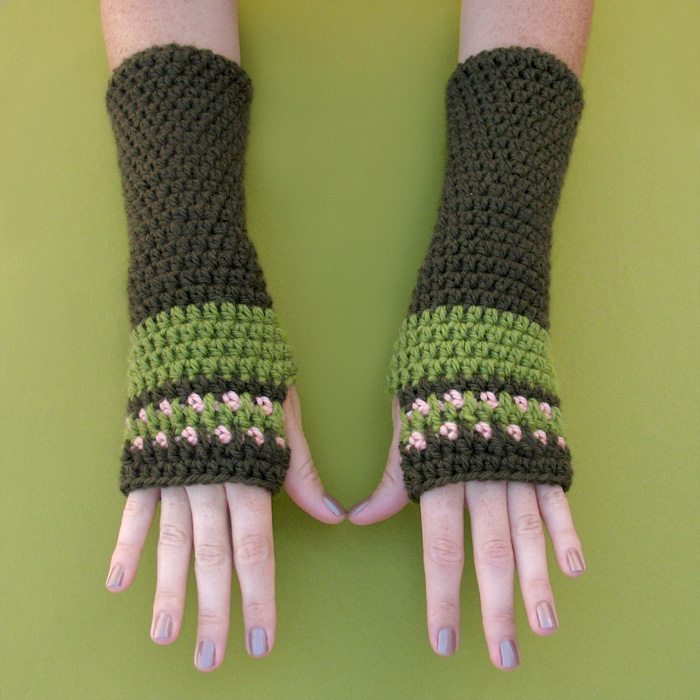 I consider the pattern intermediate level. It uses only basic stitches (all single, half double, double crochets). The pattern is 7 pages long and even though it's fairly simple, I've included some photos to help you along! Here's a peek at what's inside: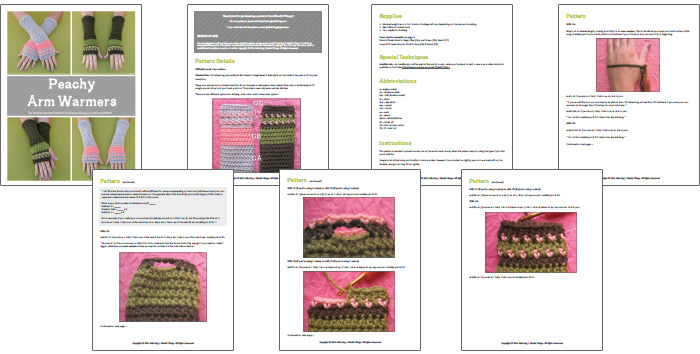 The pattern is available through Ravelry, where you can download it instantly after check out.
 $4.00
Terms of Use: You are welcome to sell any items you make using this pattern as long as you credit Julie King / Gleeful Things & link towww.gleefulthings.com. This pattern is protected by United States & International Copyright law. You may not share, resell or redistribute this pattern in part or in whole. Copyright © 2014 Julie King / Gleeful Things. All Rights Reserved.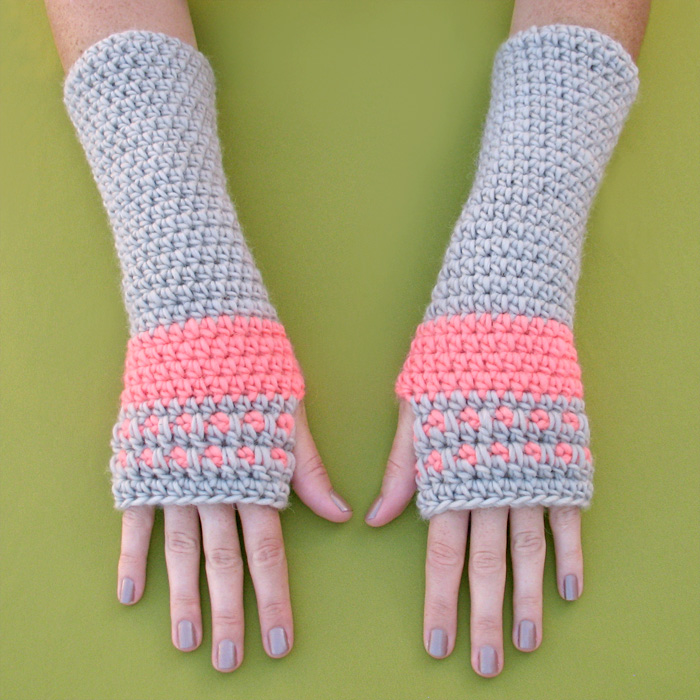 Funny fact: I rephotographed these on three separate occasions! You wouldn't believe how hard it is to photograph your own hands! Not to mention I'm really picky about angles, lighting, background, etc. Basically just everything having to do with taking photos. I'm just really picky! :P
February 12, 2014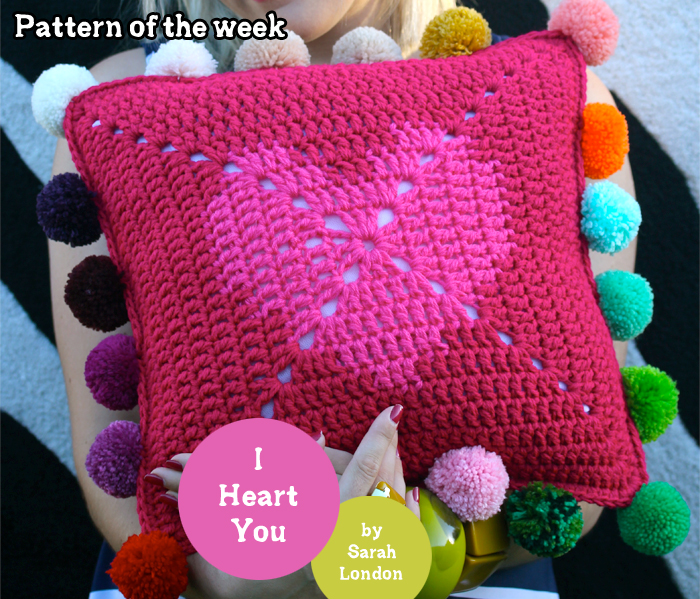 Since it's Valentine's week, this week's pattern of the week is the adorable I Heart You pillow by Sarah London! I think it's so clever how she created a heart while working in the round! I love the pom poms around the edge as well!
This pattern costs $6 AUD and you can find it right here (scroll down a bit).
February 11, 2014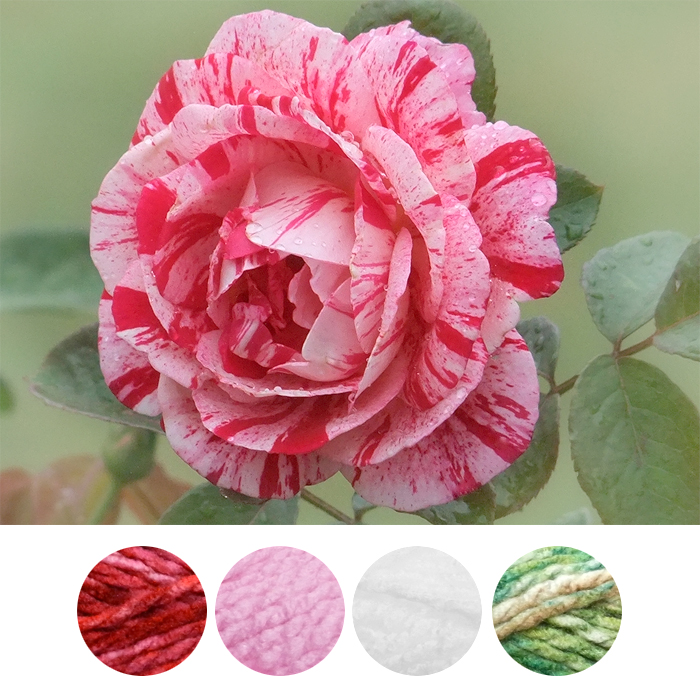 I wanted to do a Valentine's color combo and when I found this speckled rose, I knew it would be perfect for a speckled yarn! So for this color combo, I'm using Deborah Norville Serenity Chunky. The colors are Berry Burst, Lilac Chiffon, Cloud Dancer and Forest.
I think this would make a great blanket. I'm picturing lots of the Berry Burst and Cloud Dancer colors with smaller bits of Lilac Chiffon and Forest. Would you use this color combo? What would you make with it?
Photo credit for the rose.