January 30, 2015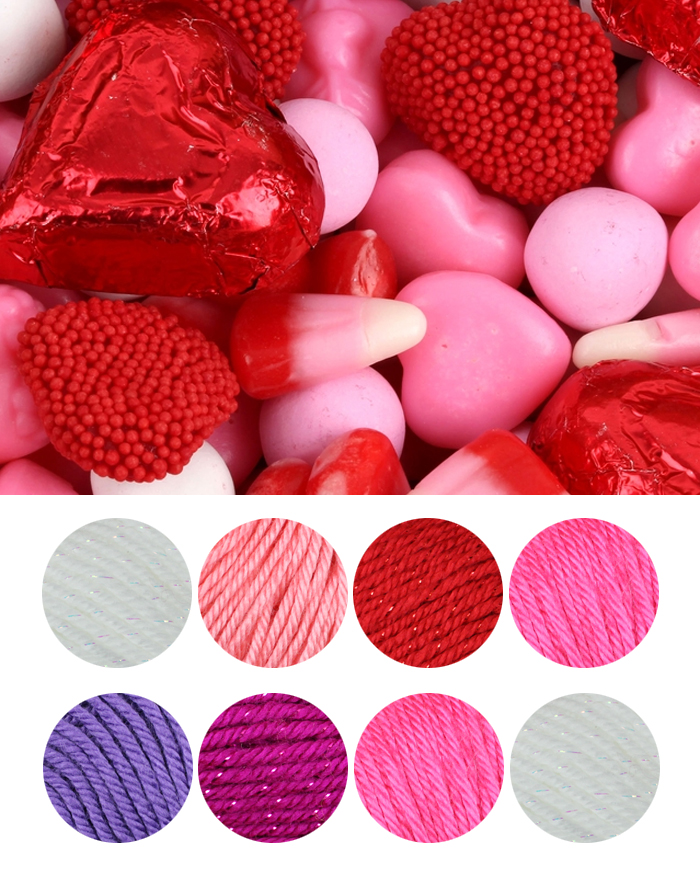 Next week I'm going to feature some Valentine's crochet patterns and ideas so I put together a couple color combos to go along with them! These used worsted weight yarn but if you want something bulky, check out this color combo I did for Valentine's day last year.
Row 1: Caron Simply Soft Party in Snow Sparkle, Caron Simply Soft in Strawberry, Caron Simply Soft Party in Red Sparkle, and Caron Simply Soft in Watermelon
Row 2: Red Heart Soft Yarn in Lavender, Caron Simply Soft Party in Fuchsia Sparkle, Caron Simply Soft in Watermelon and Caron Simply Soft Party in Snow Sparkle
I hope you enjoy these color combos as much as I enjoy putting them together! Feel free to send me requests if there's one you'd like to see me do! :)
Photo credit for the candy.
**This post contains affiliate links. If you click and make a purchase, I get a small commission. This helps to ensure that I'm able to continue posting awesome content, free patterns and tutorials! :)
January 29, 2015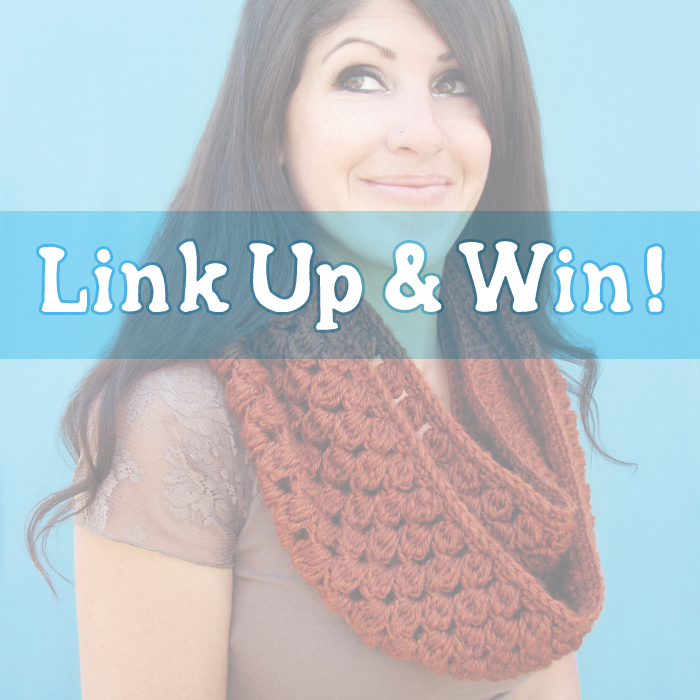 Welcome to my first ever link up & win! I'm going to be doing this at the end of every month. The idea is to give you, my readers, a place to share your projects, get inspired by each other and there's also a chance to win free patterns!
How it works:
- Share anything you've made from a Gleeful Things crochet pattern or tutorial by adding a link to your project to the Inlinkz widget below. The link can be to your blog, Ravelry, Flickr, etc. (anywhere public that you've posted your project).
- Check out some of the other projects, visit their pages, say hi, make friends, get inspired! :)
- The link up will close February 5th. The project with the most clicks will be the winner & will receive their choice of any 3 Gleeful Things crochet patterns!
- The winner will be announced on Facebook & Twitter and then their project will be featured along with the next month's link up.
January 28, 2015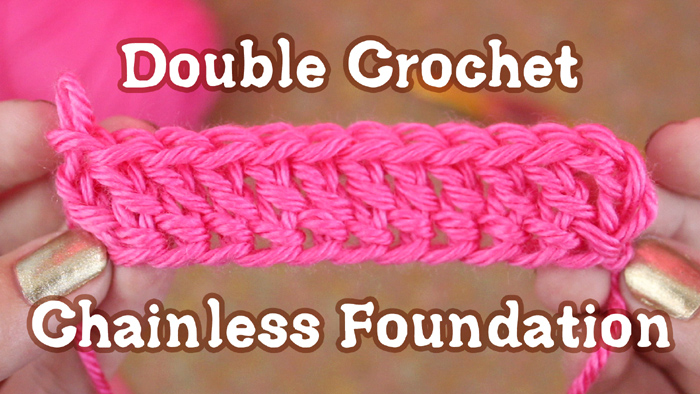 A while back I posted a tutorial video on how to do chainless foundation double crochets and I've received a few questions about the technique, so I want to answer them here in hopes that it may help you too! First, if you haven't seen the video yet, you can watch it below or on YouTube.
Q: Why is mine looking like a wheel?
At the bottom of each double crochet, you draw up a loop and then draw up another loop. If you were to forget one of those loops, that would cause it to curl into a wheel shape. Another thing that might be causing it is having tighter tension during those two loops than during the rest of the double crochet. Essentially, making the top of the stitch looser than the bottom. For me, it's easy to accidentally do this so I really pay attention to my tension throughout the stitch to keep it consistent.
Q: How do you join it if you want to use it for an infinity scarf?
Easy! Just slip stitch into the fourth chain you made at the very beginning (that counts as your first double crochet) and then you can continue onto your second round. I use the tail left in the beginning and my yarn needle to join at the bottom of the stitches.
Q: Is there any reason you would do this as opposed to chaining and continuing on as normal? Seems easier to chain.
I think it's really a matter of preference in most cases, but there are times when the chain method won't work.
This method is great for when you aren't sure how long you're going to want something. If you were to chain and then double crochet all along the chain, and then realize you want it longer, you'd have to undo all of those double crochets and chain more. But with this method, you just keep going!
I learned this technique when I was designing my Fireside Scoodie pattern (the scarf with pockets version) because after crocheting along the hood, I needed to be able to keep going to create the first row of the scarf. It wouldn't have worked with the chain method.
Do you have a question about any crochet stitches or techniques? Feel free to submit them through my Ask Julie form and I'll answer them in a future Q&A post! :)
January 25, 2015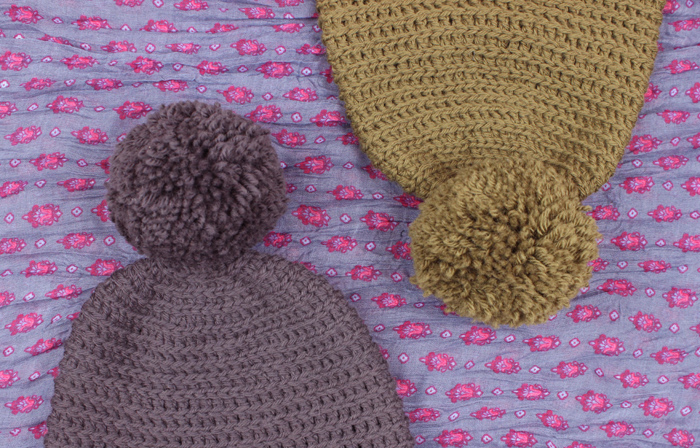 I'm all about pom pom hats right now! I wanted mine to be really big though, so I made a cardboard pom pom maker (tutorial here) that is 6 inches in (outer) diameter! The green one above took almost a full skein of Knit Picks Wool of the Andes! It seems kinda crazy, to use a whole skein on a pom pom, right? I really love them though!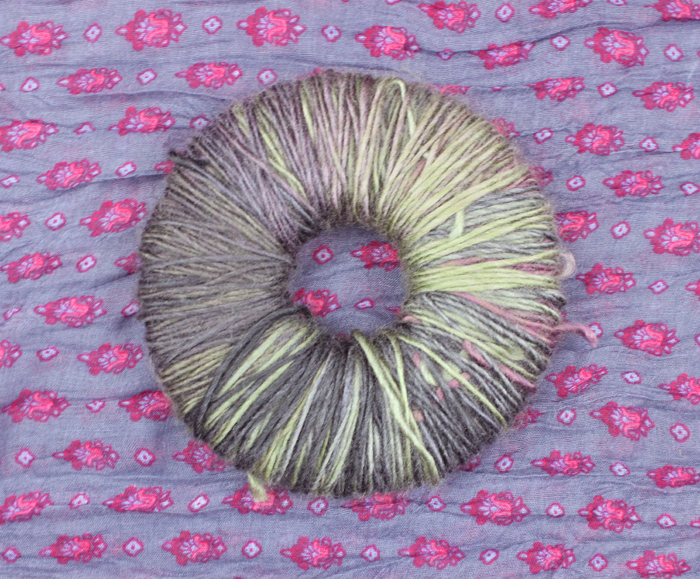 I ended up discovering that unfortunately the pom pom is way too heavy and pulls the hat off my head :( But I'm going to try adding elastic to the edge (tutorial here). I think that will keep it in place.
What's the largest pom pom you've made? What did you use it for?
January 21, 2015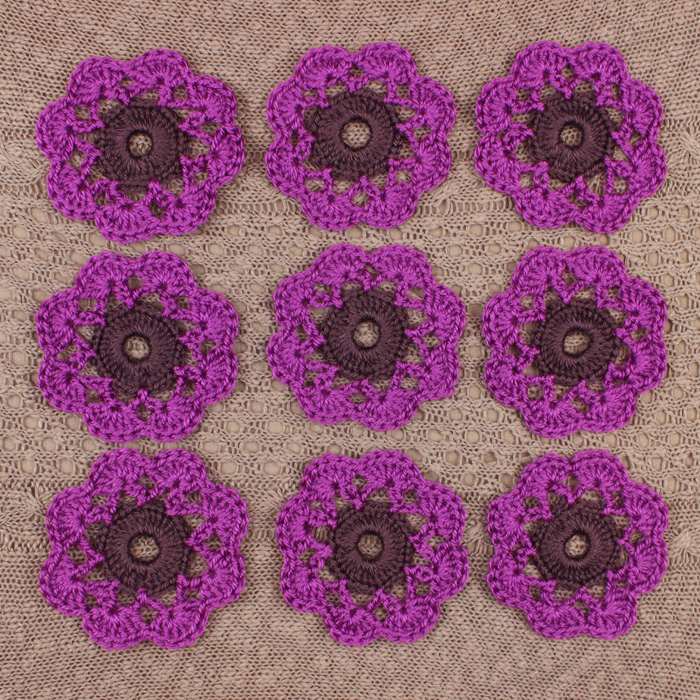 A few months back, I found the Garden Flowers Throw from Yarnspirations. I've been thinking about it ever since and have finally committed to making it!
I attempted to buy the same yarn they used for it (Caron One Pound) but none of the local stores here have the Persimmon color and I don't love the yarn enough to bother ordering it online. So I ended up using Soft Secret from Hobby Lobby in the colors Dark Walnut and Wine.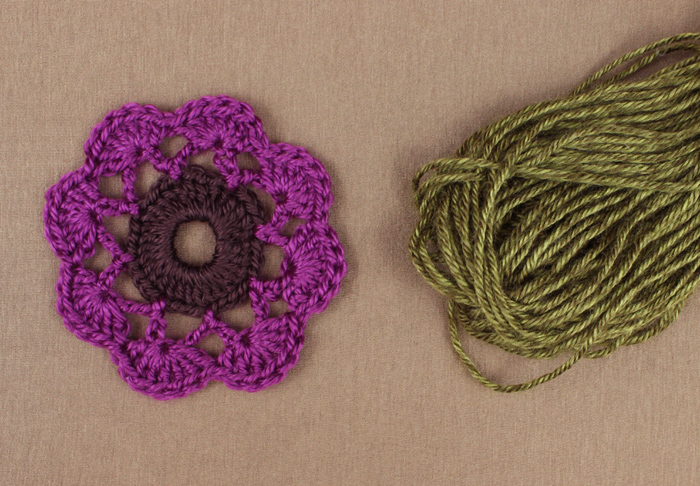 I'm thinking of using Lion Brand Heartland in Joshua Tree as the outer part of the squares but I also really like dark tan as the background so I'm undecided right now. I'm going to make all of the flowers and then decide.

I'm thinking of making maybe 10 orange flowers using Bittersweet and Saffron and placing them randomly.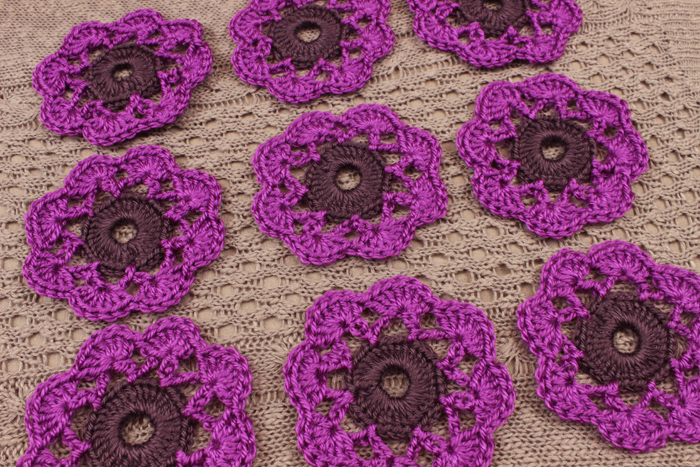 This is a really simple pattern and it's easy to memorize, which is awesome. So far I have 12/99 flowers done.
I was thinking this would be a fun crochet along. Anyone wanna join me? I could start a weekly link up where we can share our progress! :)