July 31, 2015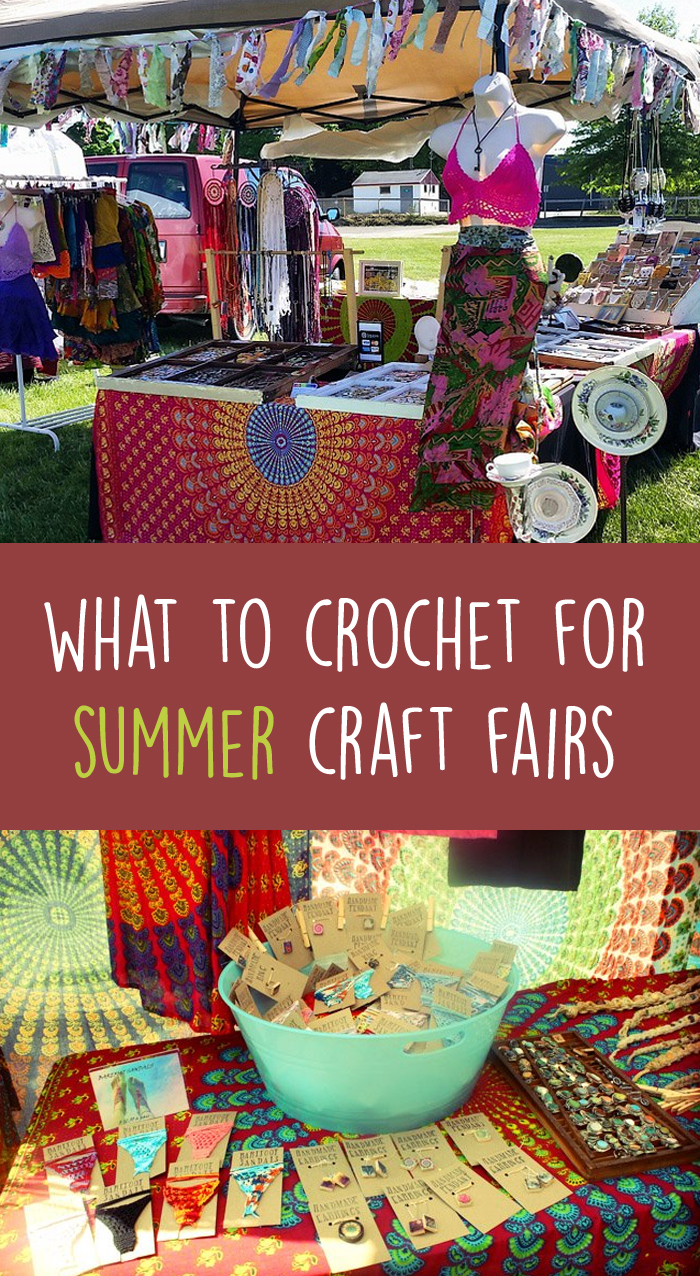 I was recently asked for tips on what type of crochet items would be ideal for craft fairs during the summer. I have some ideas but since I'm more in the business of selling crochet patterns than actual crochet items, I want to give Cathy of Golden Hands Design a big shout out for sharing her tips with me! She also let me use photos of her lovely booth for this post! Be sure to follow her on Instagram if you'd like to see more photos of her crochet work and from craft fairs she's done! :)
Some items that would be great for summer are:
● barefoot sandals
● bikinis & festival tops
● beach bags
● floppy hats
● earrings
● drink cozies
● shawls/wraps
● kimonos
● vests
● sarongs & swimsuit cover ups
For all wearable items, try to focus on patterns that use light weight yarns. If you don't like working with light weight yarns, try choosing patterns with open, lacy designs.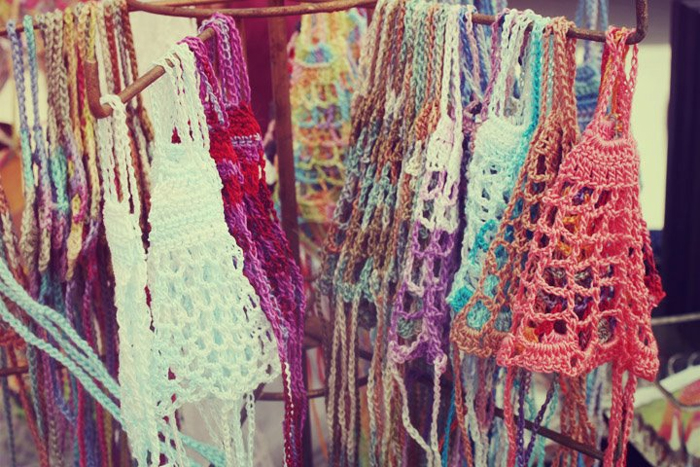 Cathy pointed out a really important thing I hadn't thought of: consider the customers who will be at the particular fair you're doing. Are they a young, hippy, festival going crowd? Are they older? Do they likely follow a certain sports team from the area? Are they from a nearby college? There are a lot of ideas you can get when you consider who you're selling to!
During any season, I think it's important to consider where you live. For example: I live by the beach so personally, I could most likely still sell bikinis at a Christmas craft fair but that probably wouldn't work so well in other areas! Do you live somewhere colder? You could probably still sell scarves during the summer!
Also consider holidays that are approaching. For summer you have the 4th of July (if you're in the US, of course) so maybe some red, white and blue items? Father's Day is in June so having a good selection of men's items during that time would be great.
Do you sell at craft fairs? What works best for you during the summer? 
July 28, 2015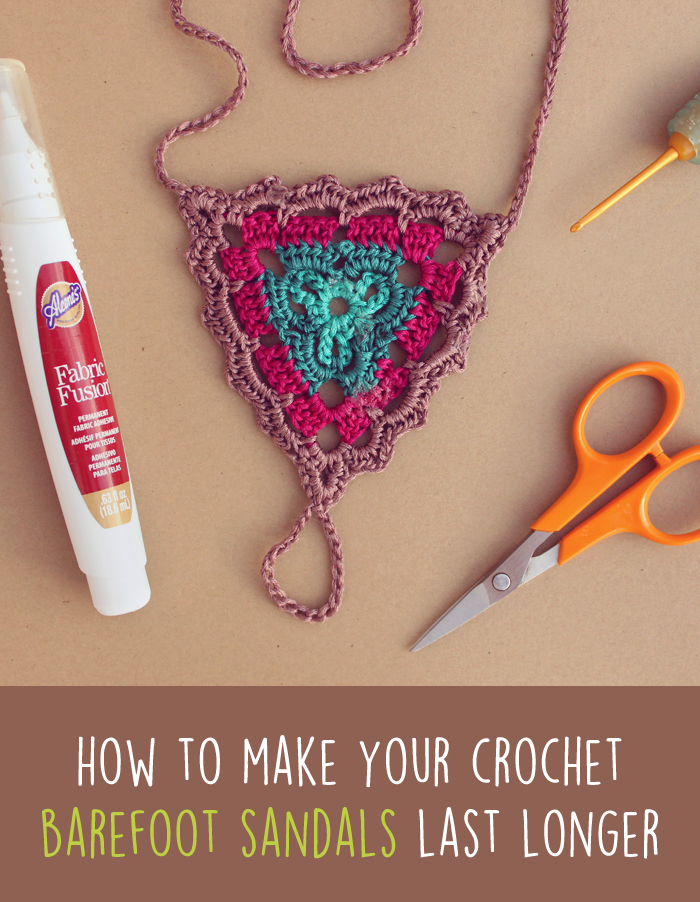 I've gotten a lot of use out of the first pair of barefoot sandals I made and it kinda shows (ok, so maybe they're falling apart from the many times I've worn them!). So as I've made new ones, I've tried to ensure that they're more sturdy and will hold up better over time. What I do is simple, just add a small bit of glue to all of the spots where you fasten off or start a new color. It helps keep the ends secure so they won't work their way out as you wear them.
I know a lot of people like to wear their barefoot sandals to the beach, so it's important to use a glue that is non-water soluble. A permanent fabric glue like this Fabric Fusion from Aleene's is great. I've also used their Flexible, Stretchable Fabric Glue. Hot glue should work fine too!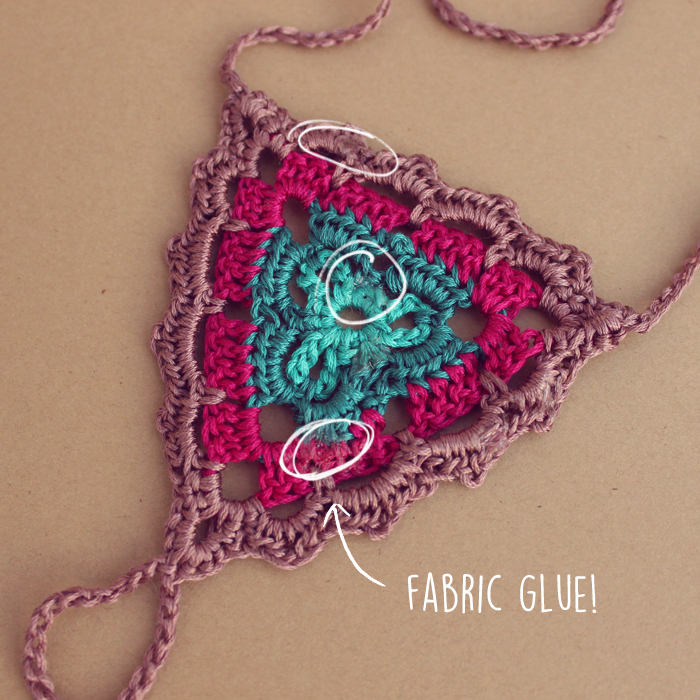 Another tip, if you wear them in the water at the beach, it's best to wash all of the salt out of them. I usually just rinse them with cold water. You could use a little bit of soap too if yours are a light color and look dirty. Be sure to lay them flat to dry afterwards. And remember, they'll dry in the same shape that you lay them out (it's the same idea as blocking) so be sure they aren't stretched out all funky or they'll stay that way until you wet them again. ;)
How have your barefoot sandals held up? Do you have any tips for keeping them in good shape?
P.S. The sandals pictured here are my Gypsy Barefoot Sandals crochet pattern.
July 24, 2015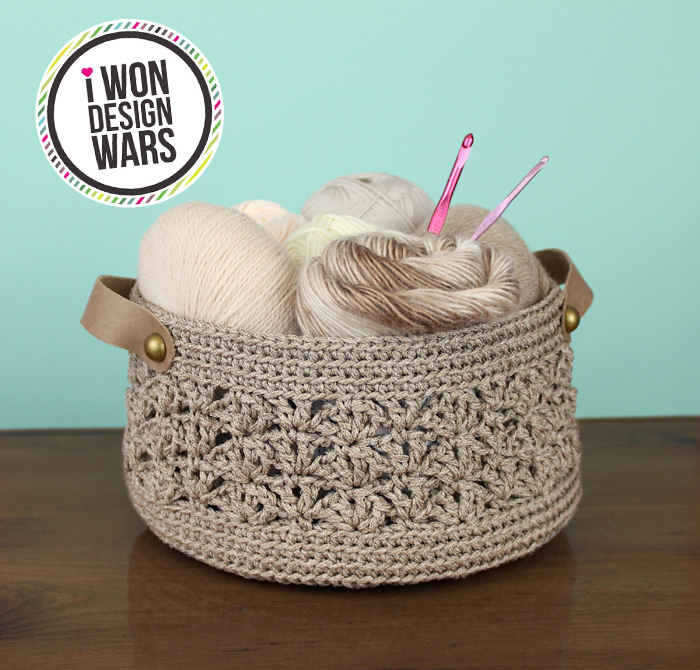 I'm so thrilled to be able to say that the Beachcomber Basket won this week's Design Wars Challenge! Thank you all so much for your votes! The pattern is available now! Read on if you'd like to hear more about it! :)
 $4.00

(use code DWSALE for 40% off, through Sunday, July 26th)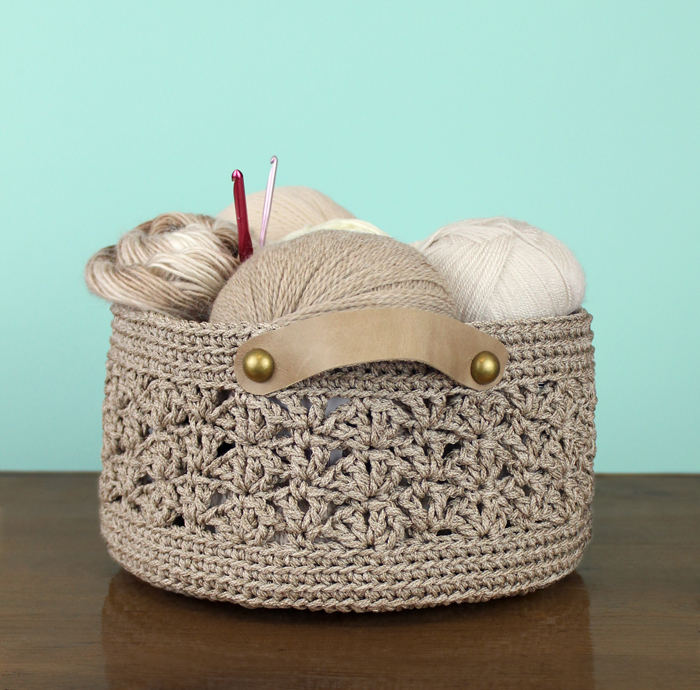 The name was inspired by the shell stitches I used (and suggested by my pattern testers, thank you!!). I also incorporated back loop single crochets to create a pretty texture. I used scraps of leather to create the handles and attached them with metal studs. They're simple and easy to make but don't worry, if you'd prefer a crocheted handle, that is included in the pattern as well!
I designed it using Red Heart Cordial but you can substitute plenty of other bulky yarns. I thought Cordial did a great job of showing off the stitch texture though plus it works up pretty stiff when using this gauge so the basket is very sturdy and holds its shape well.
It's a nice little basket that would be great for holding all sorts of things! Fill it with yarn to store your latest crochet project, use it as a fruit basket in the kitchen, keep it in the bathroom to hold washcloths, or on your vanity table to organize make up!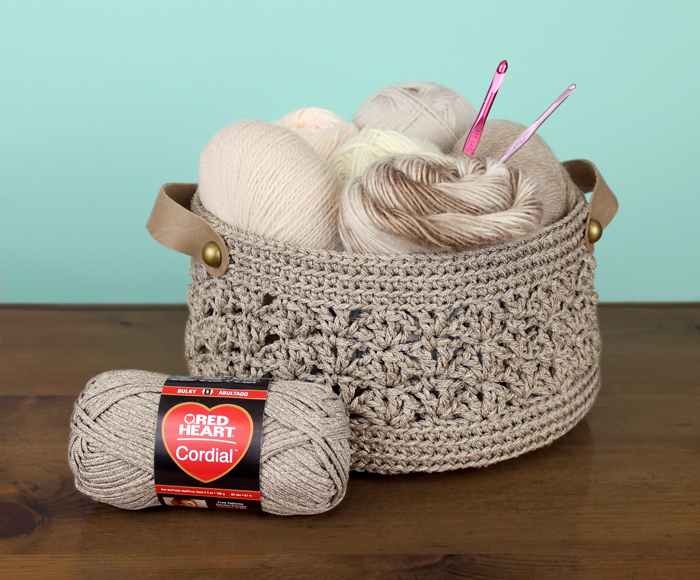 $4.00

(use code DWSALE for 40% off, through Sunday, July 26th)
P.S. Be sure to check out Design Wars' Design Lovers Club! You can subscribe to automatically get all (or just a few) of the Design Wars patterns each month! This is brand new and you'll be able to start out for just $1 for the first month! This pattern will be one of the ones you'll get :)
July 22, 2015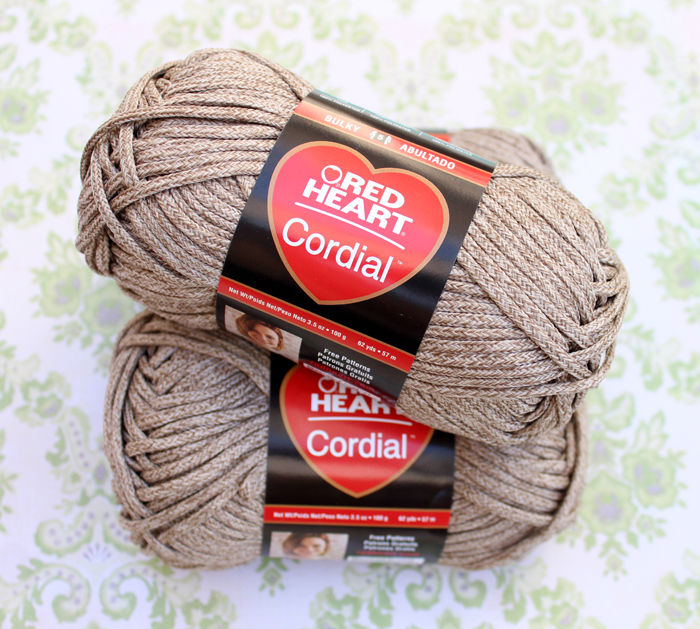 Stop by the Design Wars blog today and check out my review of Red Heart Cordial! Plus I have a few patterns on sale! Get the details here >>
July 20, 2015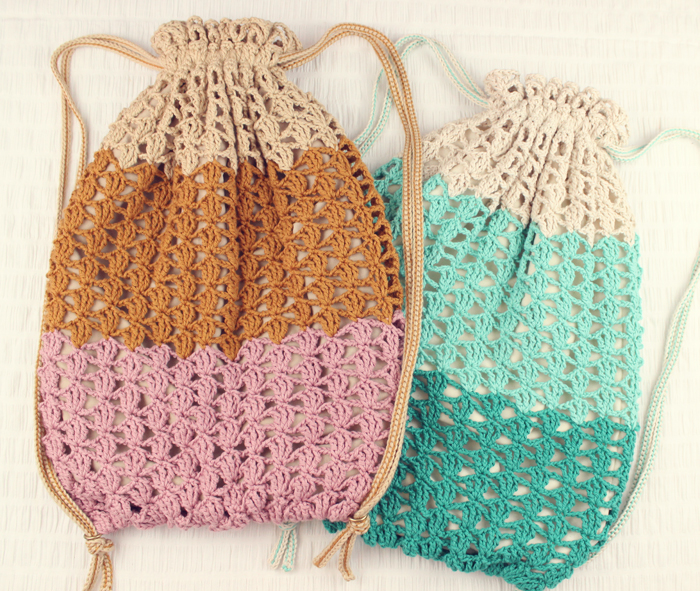 Good news! If you're a fan of not losing your things, you'll be excited to know that the Seafoam Beach Backpack crochet pattern now includes a tutorial on how to sew a lining! yay!
The tutorial is 3 pages long but is very simple and includes photos. You'll only need 1 yard of fabric, basic sewing supplies & skills. I like to sew the lining with my machine and then sew by hand to attach it to the backpack.
If you previously purchased the pattern on Ravelry, I just sent out an update. You should get a message in your Ravelry inbox and/or email with a link to download the updated PDF. If you purchased the pattern through Etsy or Craftsy, just send me an email and I'll get you the updated PDF! :)
I just used some cheap muslin for these and it only cost $3 each to line them! In addition to keeping small things from falling out, I think it also makes them feel a little more sturdy.