December 16, 2014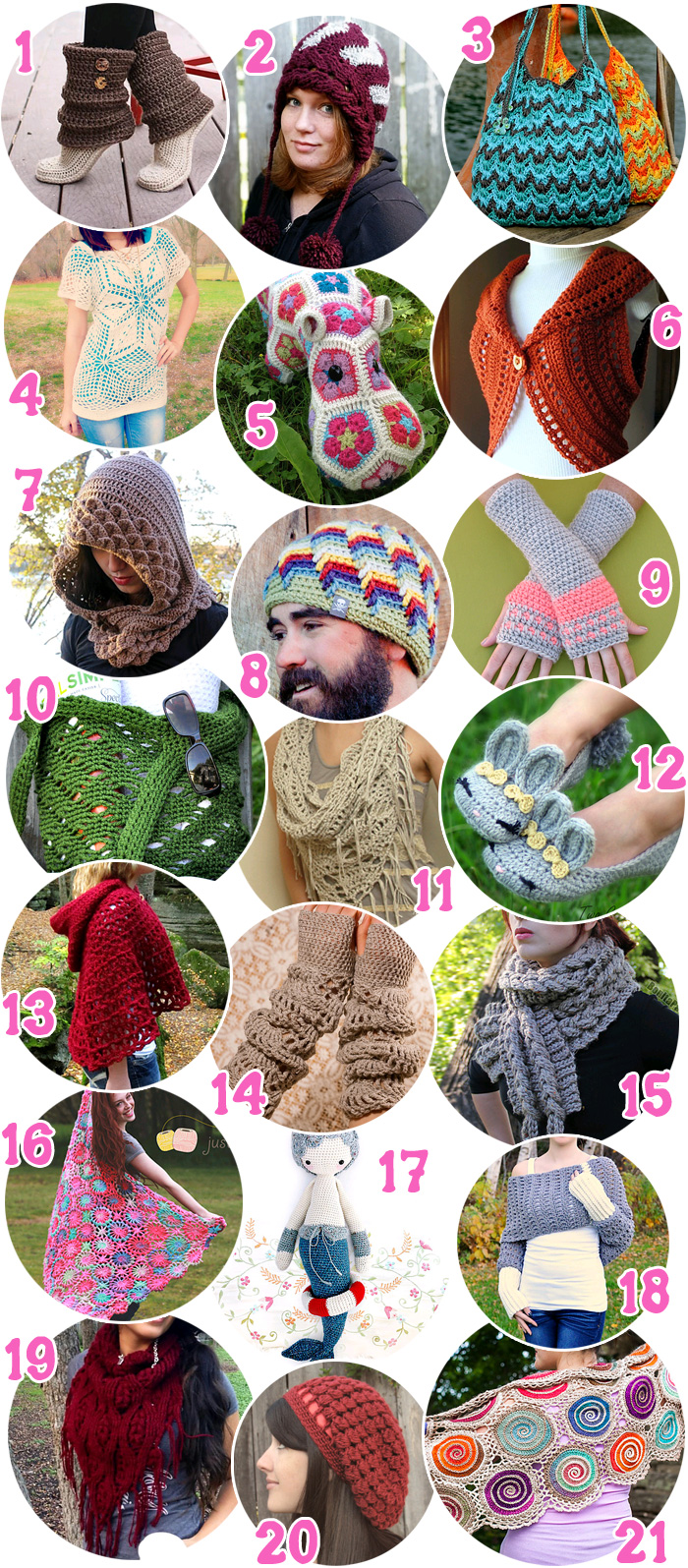 In my gift ideas for crocheters post, I suggested that gifting patterns through Ravelry would be a great surprise for any crocheter on your holiday shopping list. So what patterns should you gift if you have no idea what they want? Here's a list of 21 patterns that I think anyone would be thrilled to receive!
1. Audrey Boots by Tara Murray
2. Nevron Hat by Viktoria Gogolak
3. Hello Greece! Bag by Elena Fedotova
4. Prita Top by Viktoria Gogolak
5. Happypotamus The Happy Hippo by Heidi Bears
6. Crochet Circle Vest Shrug by Patricia Hodson
7. Marte, A Crocodile Stitch Hood by Bonita Patterns
8. Offshore Beanie by Liz McQueen
9. Peachy Arm Warmers by Julie King
10. Ally Market Bag by Sincerely Pam
11. Triangle Cowl by Linda Skuja
12. Women's Bunny House Slippers by Lorin Jean
13. Wildwood Capelet by Patricia Hodson
14. Sand Light Gloves by Whisper Twister
15. Knit-Look Braid Stitch Scarf by Bonita Patterns
16. Flower Garden Throw by Alessandra Hayden
17. "MICI" Mermaid by Lydia Tresselt
18. Warm Hug Shrug by Sincerely Pam
19. Rolling in the Wheat by Tricia Dodge
20. Pinecone Slouchy Hat by Julie King
21. Spiral Construction~When Alice Fell by Charissa Ragsdale
If you need help gifting through Ravelry, here's a tutorial on how to gift. Don't worry, it's easy! ;)
Crocheters, what patterns would you add to this list? Which ones are you hoping to receive?
December 15, 2014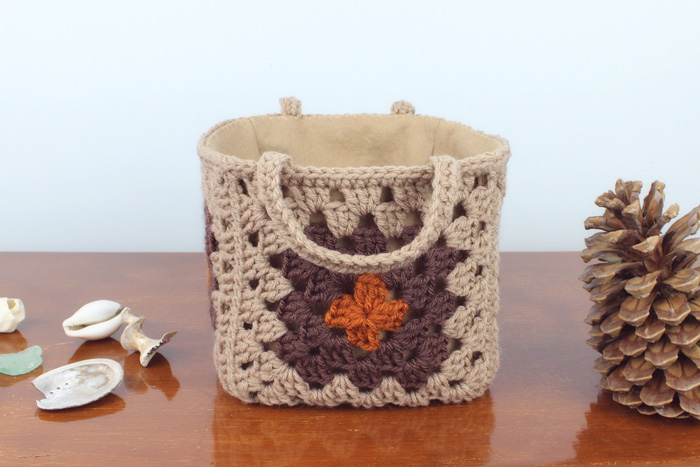 A week ago when I was sick, I was all for simple, brainless projects so I decided to give these granny square baskets a shot! I originally saw the idea (+ tutorial) here and thought it would be an awesome stash buster! I didn't use the tutorial because I was sick and didn't feel like reading anything, so I just made 5 grannies and whip stitched them together. I did a round of single crochets around the top and made a row of half double crochets for each handle.
I lined the brown one with some wool felt I had that just happened to be the perfect color! I'm gonna line the other one too as soon as I get around to buying more felt. I really like the wool felt for the lining because it's stiffer than those cheap sheets of acrylic felt. It really helps hold it's shape and not to mention, will keep things from falling out!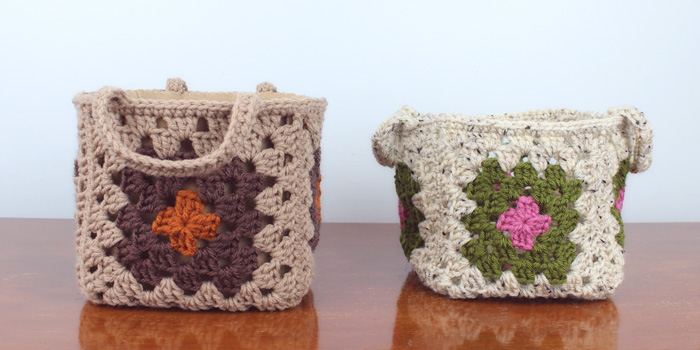 I love this project because it's so simple and versatile. You could use any granny square pattern you like. And using a basic granny like this, you can make your basket as large or small as you need! I made mine 5 rounds and they're the perfect size to hold CD's or DVD's. I'll probably use them to organize random knick knacks and things on my desk.
For the brown one, I used Lion Brand Vanna's Choice in Rust & Chocolate and Loops & Threads Impeccable in Soft Taupe.
For the other one, I used Lion Brand Vanna's Choice in Rose, Olive & Oatmeal.
December 10, 2014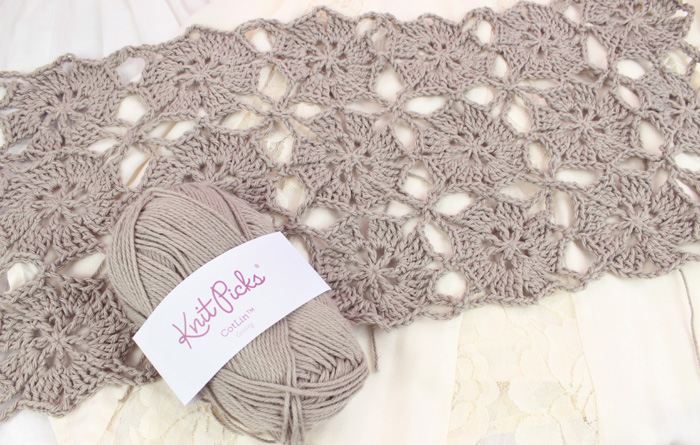 I was sick for the past week wasn't braining well enough to focus on the patterns I'm currently designing. But I'm really bad and just doing nothing but rest when I'm sick so I started experimenting with join as you go motifs.
I thought making the same thing over and over would be easy enough and require minimal brain power but I still managed to screw up. I don't even know how it happened but I picked up the wrong size hook and made several motifs with it before I realized. Luckily it was only one size off so the difference isn't super noticeable.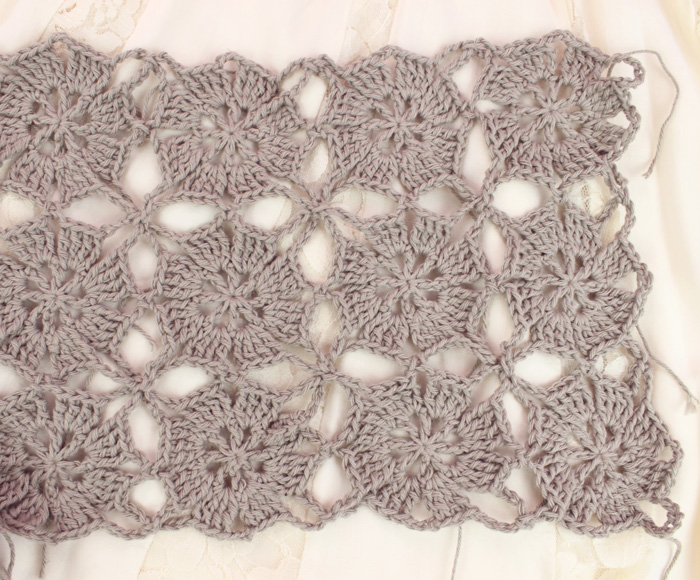 I'm not really sure what this is going to become. I wanted to make a vest (something like this) but I'm not gonna have enough yarn so who knows… This really isn't the right kind of yarn anyway though (too thick and stiff) so it's all good.
Any ideas? What would you make with these motifs?
December 9, 2014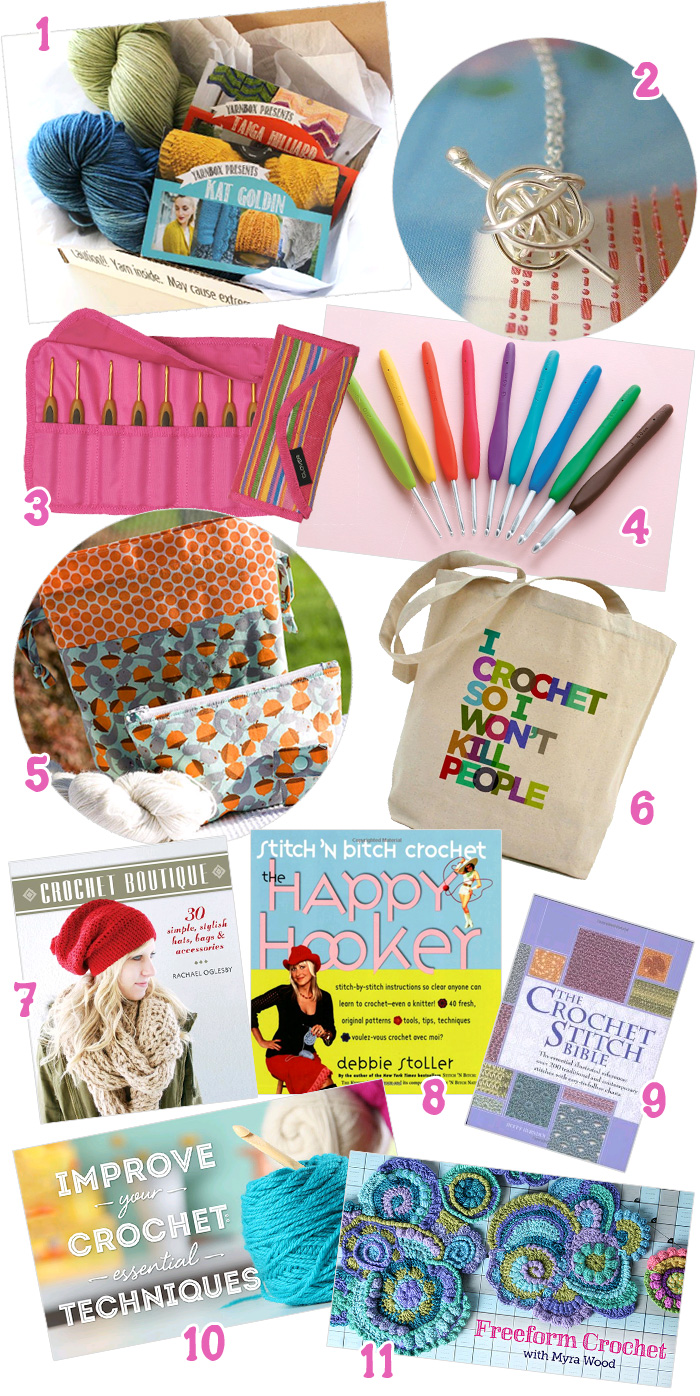 If you have a crocheter on your holiday shopping list, chances are, they've been working hard to make you something cozy! So what should you get for them? Here are a few ideas!
First of all, YARN!
That's probably at the top of every crocheter's wishlist, right?! I think one of the coolest (crochet related) gifts I've ever received was a basket of yarn, from a coworker who didn't even know me all that well. But she knew I was obsessed with crochet, so she went to Michael's and chose several yarns for me. I thought that was so thoughtful.
1. A Yarn Box subscription – This is perfect if you want to give yarn but don't know what to pick! Yarn Box will send a box of yarn + patterns. You could send just one month or even a whole year depending how much you want to spend.
Another idea would be to Google "yarn of the month club". Some indie yarn makers will send out a skein each month.
Want more yarn ideas? Check out my Crochet Essentials list for some of my most used yarns. All of these can easily be picked up at your local Jo-Ann or Michael's!
Crochet Jewelry
2. Crochet necklace - I saw several crochet necklaces while browsing Etsy. Something like this would be perfect for the crocheter who is already buried in yarn and has every other supply/tool they could possibly need.
Hooks
Any nice set of hooks would make a great gift!
3. Clover Soft Touch hook set - I absolutely love these and recommend them to everyone! Ever since I got them, no other hook has felt as good to me. I also love that this set comes with a case for them.
4. Clover Amour hook set - I personally have not tried these yet but I see everyone else raving about them lately!
Project Bags
5. Handmade project bag - I have one of these that I made myself and I carry it everywhere. It really would be a useful gift for anyone who doesn't have a nice bag for their crochet. I used to carry my projects in random plastic shopping bags and this just feels so much nicer! Try searching Etsy for "crochet project bag", there are tons in all sizes and prints. And if you happen to sew, I have a tutorial for how to make your own project bag.
6. I crochet so I won't kill people tote - I love this tote for carrying larger projects!
Individual Patterns or Pattern Books
Ravelry allows you to gift patterns to people (here's a tutorial on how). This would be awesome if you know of something specific they want. Or if you want to be sneaky about it, you can see what's on a person's favorites list using this URL: http://www.ravelry.com/people/USERNAME/favorites
7. Crochet Boutique by Rachael Oglesby - This book has so many great projects that are youthful and trendy! I wrote a full review on it here, if you'd like more info.
8. Stitch n Bitch – The Happy Hooker by Debbie Stoller - This was one of the first books I got when I was learning how to crochet. It offers a lot of help for those who are still new to crochet but also has good projects for everyone.
9. The Crochet Stitch Bible - This is another book I've had for a long time. It's great for learning new stitches and also has some border and motif patterns.
Crochet Classes
Craftsy offers several crochet classes but you could also check your local yarn or craft store!
10. Improve Your Crochet Essential Techniques class - This would be great for someone who is newer to crochet.
11. Freeform Crochet class - I've been eyeing this class for a while now! It looks like it would be fun for someone who is a little more experienced.
Gift Cards
And of course, you'll never go wrong with a gift card! Here are some of the places I like to shop for yarn & supplies:
- Local yarn stores
- Local craft stores (Michael's, Jo-Ann, Hobby Lobby, etc)
- Online yarn shops: Knit Picks, Jimmy Beans Wool, Yarn.com
- Etsy (could be used for yarn, patterns or anything handmade!)
Crocheters, is there anything you would add to this list? Is there anything unique that you're wishing for? What advice would you give to someone shopping for you? 
** Some links in this post are affiliate links. If you click and make a purchase, I get a small commission. This helps to ensure that I'm able to continue posting awesome content, free patterns and tutorials! :) Don't worry though, I wouldn't tell you about these things if I didn't truly recommend them.
December 8, 2014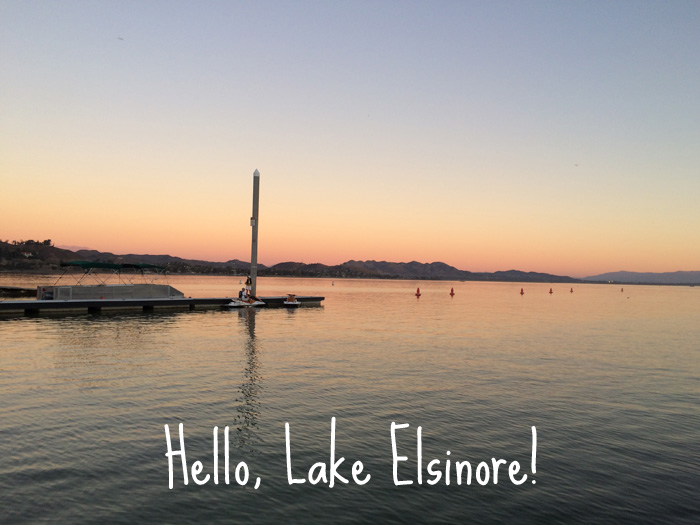 I've been all about camping lately! Thanksgiving weekend, the plan was to revisit the same spot I camped at for my birthday. Unfortunately just as we were starting the 3 mile hike to the campground, a broken backpack forced us to turn back. But with everything all ready for camping, we weren't about to go home! So after some internet searching, we found our way to Lake Elsinore! Which to my surprise, was not nearly as far away as I had previously thought.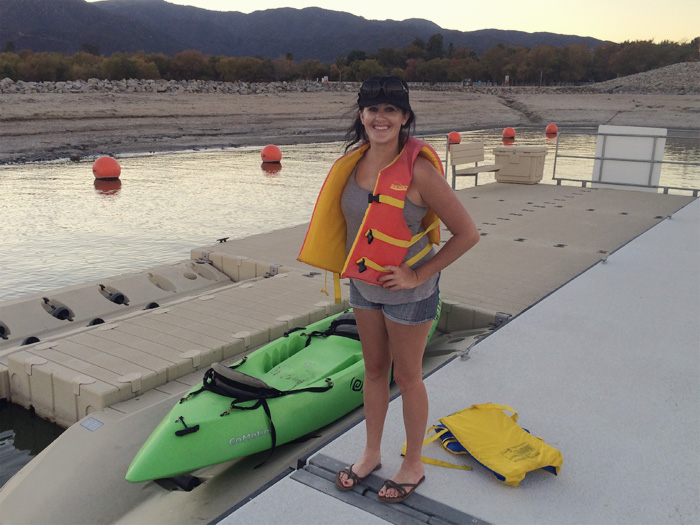 After setting up camp, we headed down to the water and as soon as I realized they rented kayaks, I knew what I'd be doing until sunset! It was such a warm, pretty day for the middle of November and the sunset was beautiful!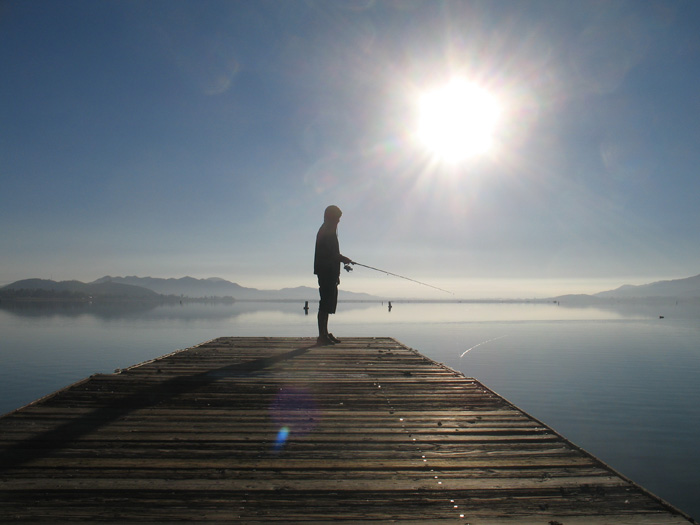 The next morning, I was in awe of how still the water was. I sat here and watched fish jump out of the water (and of course took dozens of photos!). It was so quiet and peaceful until people started firing up their boats.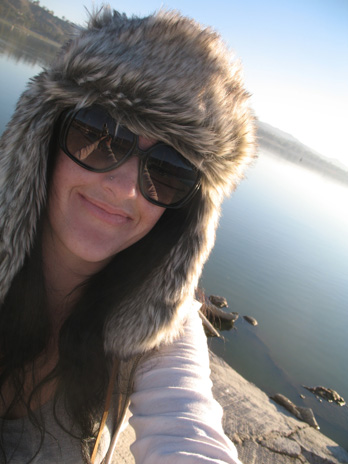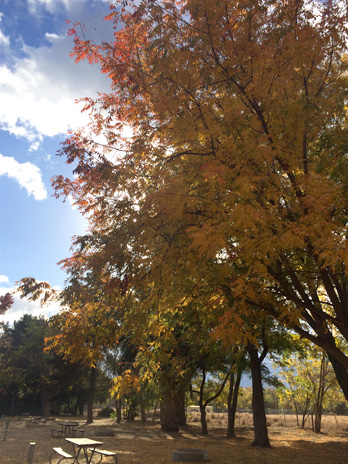 I was also in awe of this pretty tree near our campsite. When the wind would kick up, it would rain tiny leaves and it was so pretty, I'm sad I didn't get a video of it.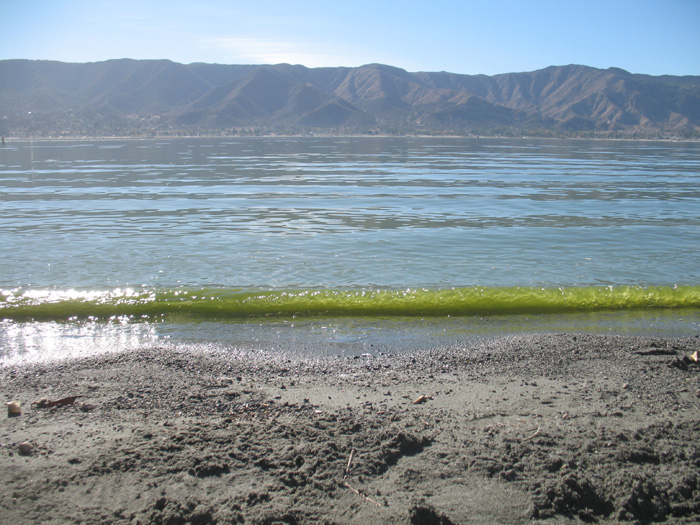 The water was so green because of an algae bloom. It looked like there had been a toxic sludge spill or something!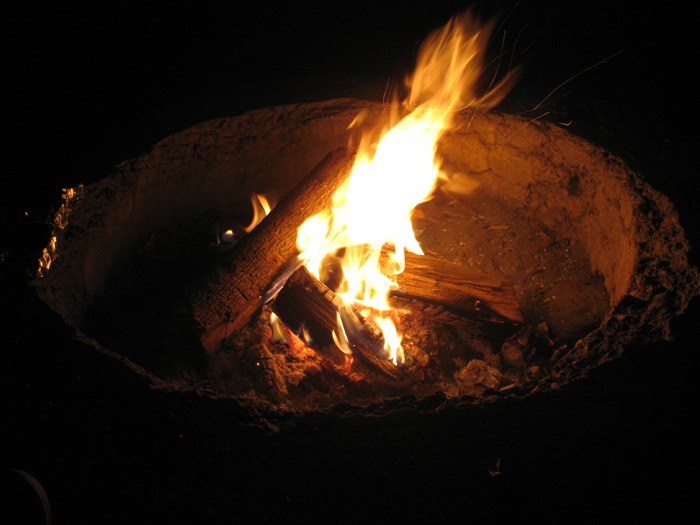 And of course, having a fire at night is always one of my favorite parts of camping! I love cooking over the fire. This time I attempted to toast sandwiches wrapped in foil and it didn't go so well. I think mostly because I was too impatient to give them enough time to toast! :P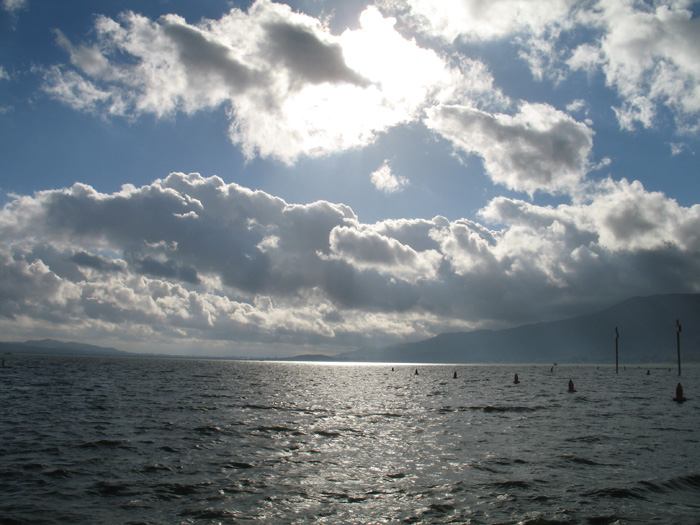 I woke up to rain in the middle of the night and in the morning it was cold and windy and the complete opposite of the previous morning. I really can't wait to go back, when we have another warm weekend!
I hope you enjoy seeing photos of my adventures. I'm always in awe of nature and take tons of pictures of the sky, plants, landscapes, etc. I wonder though if those sorts of things are just interesting to me because I was there, or do you like seeing them too? I have so many photos that I don't post because I don't want to bore anyone with too much of the same stuff.