January 25, 2015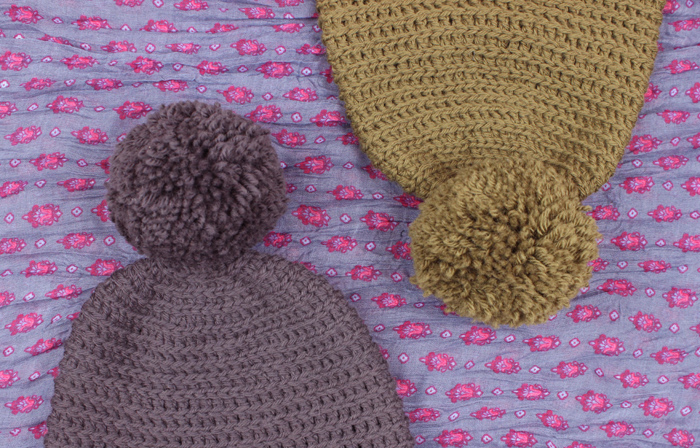 I'm all about pom pom hats right now! I wanted mine to be really big though, so I made a cardboard pom pom maker (tutorial here) that is 6 inches in (outer) diameter! The green one above took almost a full skein of Knit Picks Wool of the Andes! It seems kinda crazy, to use a whole skein on a pom pom, right? I really love them though!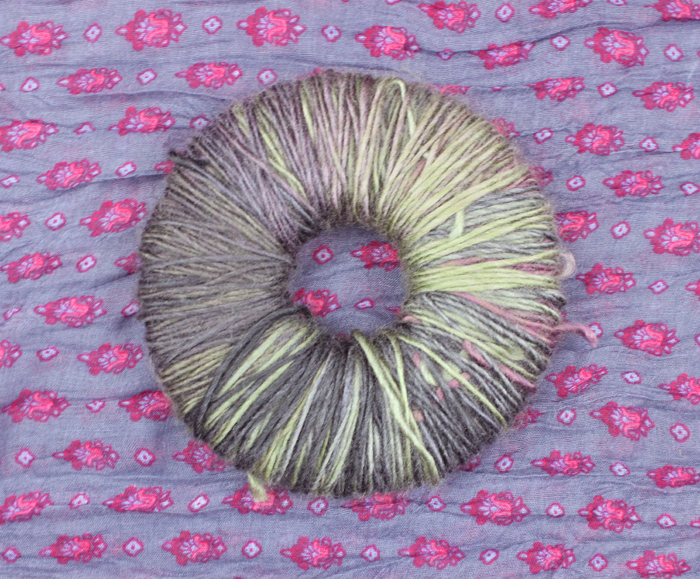 I ended up discovering that unfortunately the pom pom is way too heavy and pulls the hat off my head :( But I'm going to try adding elastic to the edge (tutorial here). I think that will keep it in place.
What's the largest pom pom you've made? What did you use it for?
January 21, 2015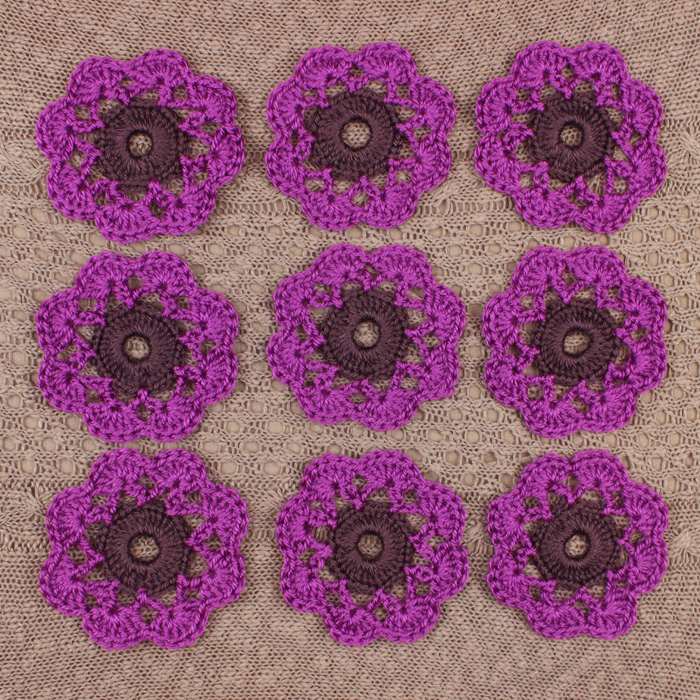 A few months back, I found the Garden Flowers Throw from Yarnspirations. I've been thinking about it ever since and have finally committed to making it!
I attempted to buy the same yarn they used for it (Caron One Pound) but none of the local stores here have the Persimmon color and I don't love the yarn enough to bother ordering it online. So I ended up using Soft Secret from Hobby Lobby in the colors Dark Walnut and Wine.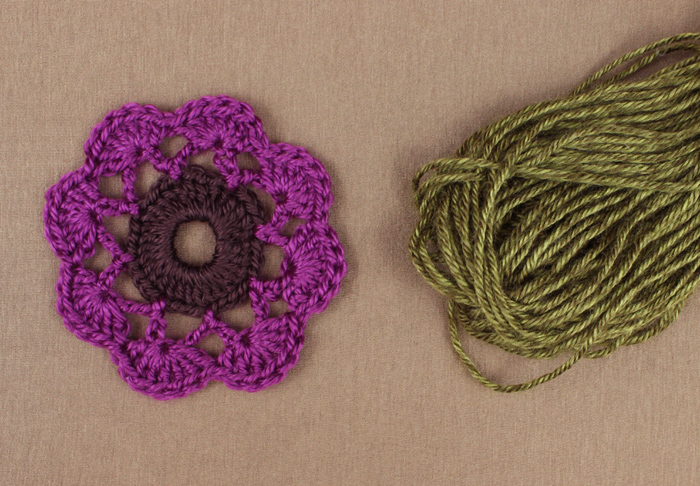 I'm thinking of using Lion Brand Heartland in Joshua Tree as the outer part of the squares but I also really like dark tan as the background so I'm undecided right now. I'm going to make all of the flowers and then decide.

I'm thinking of making maybe 10 orange flowers using Bittersweet and Saffron and placing them randomly.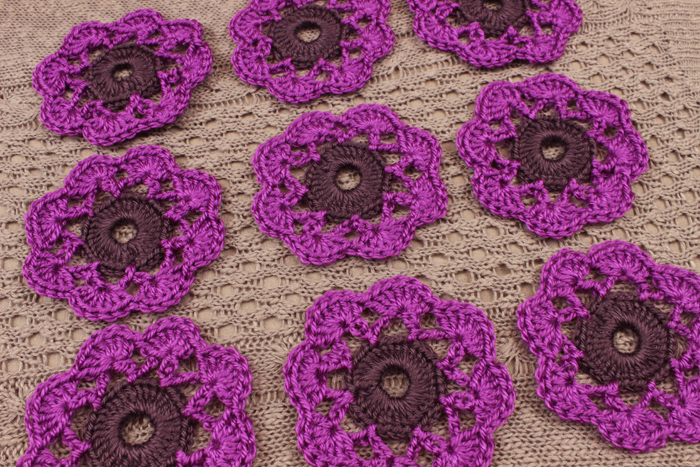 This is a really simple pattern and it's easy to memorize, which is awesome. So far I have 12/99 flowers done.
I was thinking this would be a fun crochet along. Anyone wanna join me? I could start a weekly link up where we can share our progress! :)
January 20, 2015
One of my favorite parts of crocheting all those peacock feathers last week was that I got to play around with color combos! Today I want to share a few of the most realistic ones I came up with. And even if you aren't interested in making any feathers, these colors would work well together for all sorts of other projects! Here's what I used:
Row 1: Bernat Satin in Admiral, Caron Simply Soft in Blue Mint, Red Heart Soft Yarn in Toast, Caron Simply Soft Party in Spring Sparkle, Lion Brand Heartland in Joshua Tree
Row 2: Bernat Satin in Admiral, Caron Simply Soft in Pagoda, Caron Simply Soft in Chocolate, Red Heart Soft Yarn in Dark Leaf, Lion Brand Heartland in Joshua Tree
Row 3: Caron Simply Soft Party in Teal Sparkle, Caron Simply Soft in Cool Green, Red Heart Soft Yarn in Toast, Caron Simply Soft Party in Spring Sparkle, Red Heart Soft Yarn in Dark Leaf
Photo credit for the peacock feathers.
**This post contains affiliate links. If you click and make a purchase, I get a small commission. This helps to ensure that I'm able to continue posting awesome content, free patterns and tutorials! :)
January 16, 2015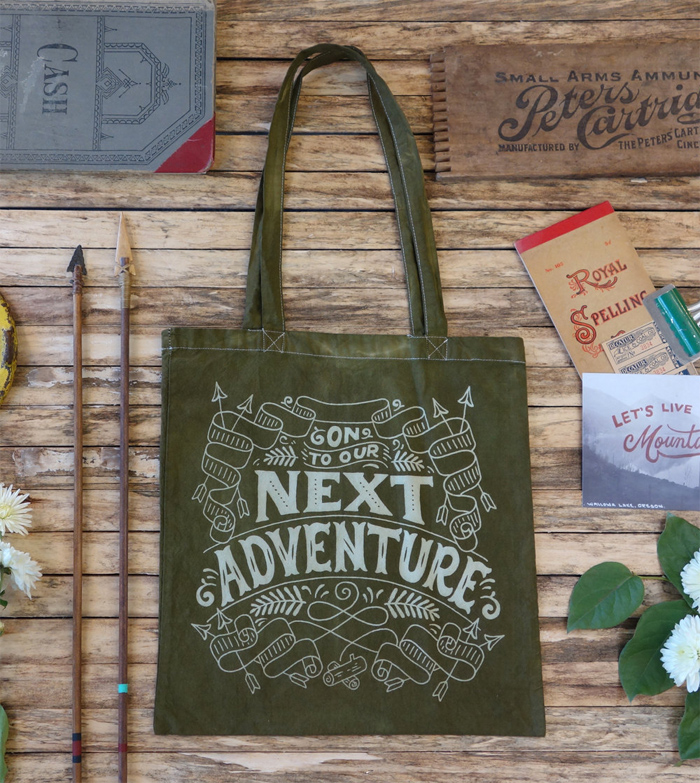 This is destined to become my next bag!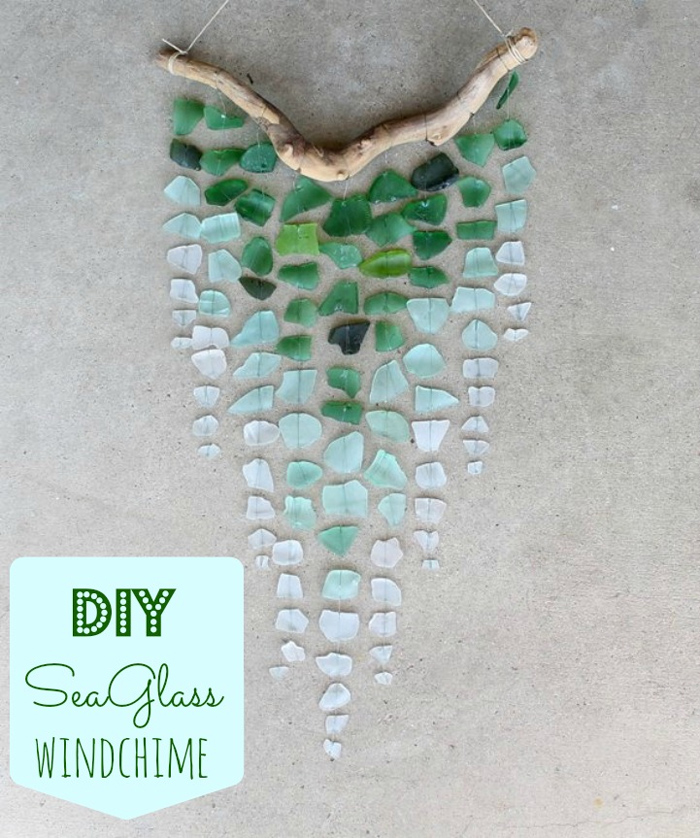 I would love to do something like this will all of the sea glass I've collected! The ombre look is so pretty! It would also make a great wall hanging.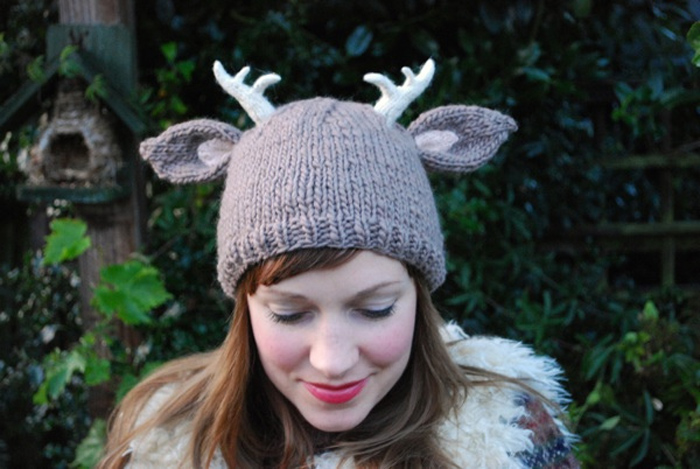 I fell in love with Tiny Owl Knits after finding the fingerless mitts below. I'm planning on buying this hat pattern so I can work on my knitting skills and I'd also love to have her book, Woodland Knits!
As soon as I saw these fingerless mitts on Knit Picks, I had to buy the pattern. I don't have a lot of experience doing color changes with knitting but I must have raccoon mitts! It even has a tail! So cute!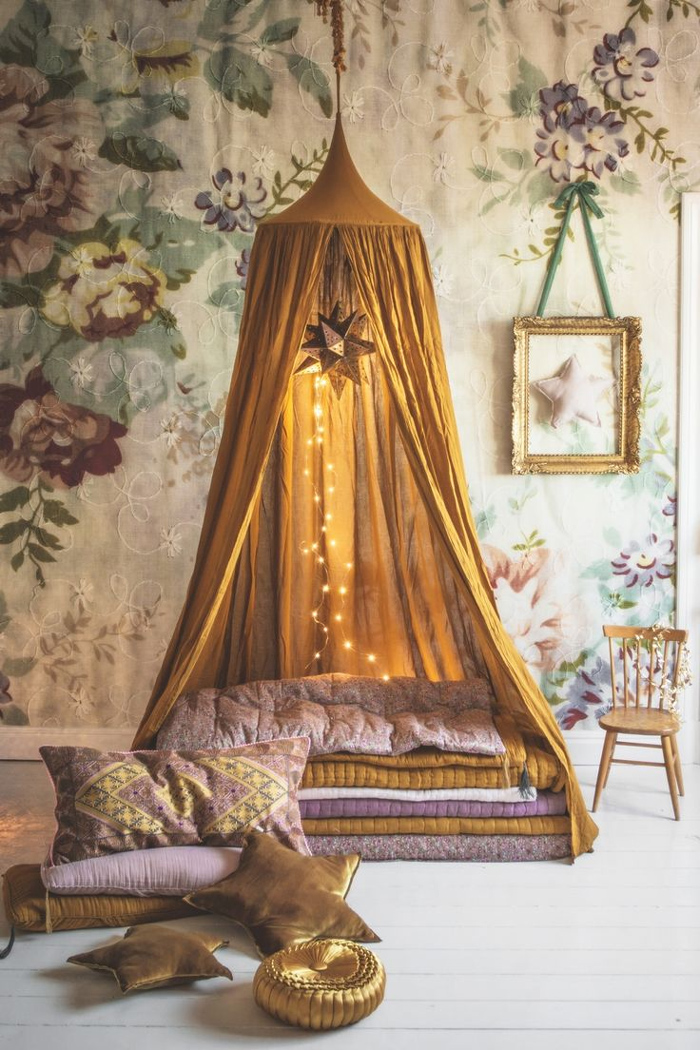 If I had a magical little tent like this, I would be tempted to sit in it ll day and crochet! I'm also loving the star shaped pillows and feel the need to make some!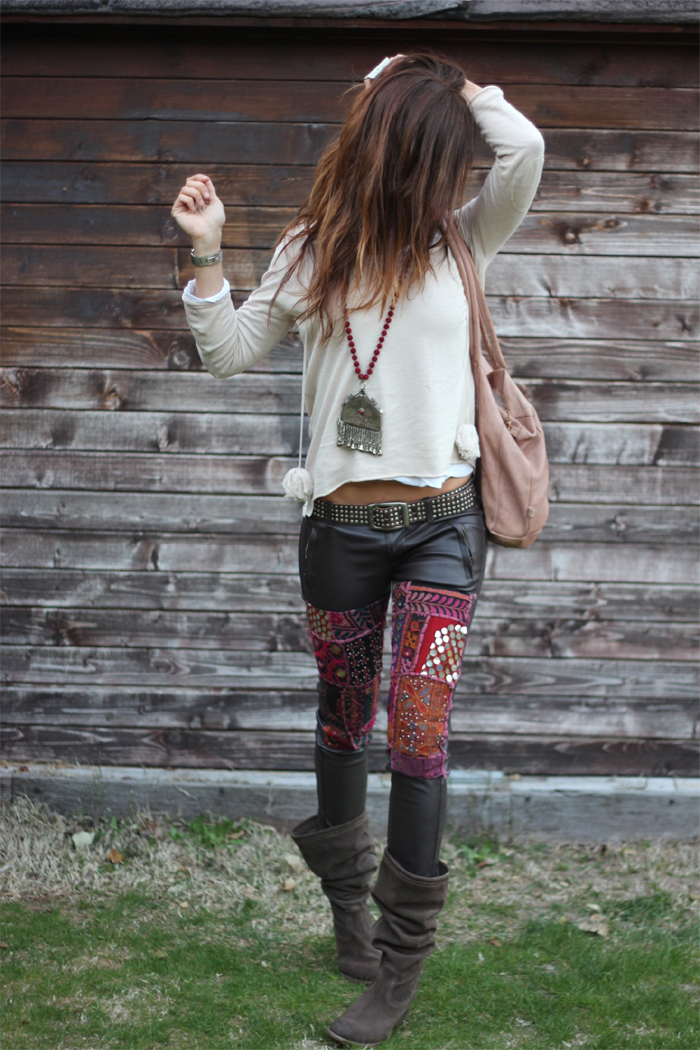 I love this outfit overall but those pants give me diy ideas! I love the patches sewn onto them!
January 15, 2015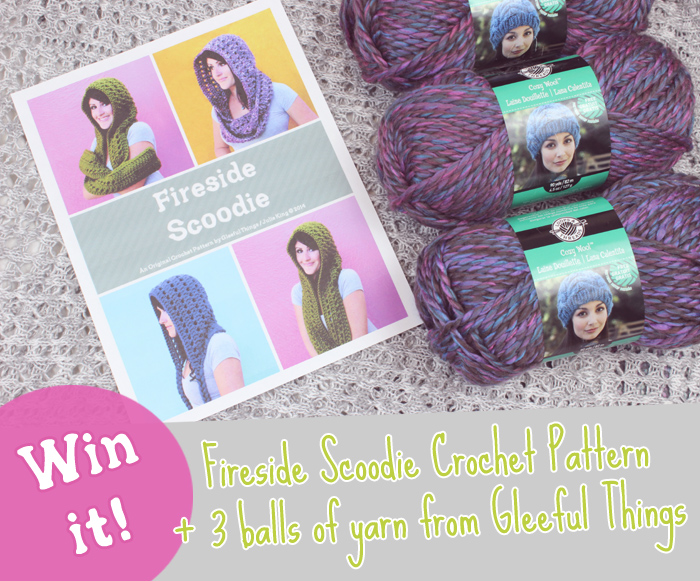 My last giveaway for the Swell Leg Warmers + yarn to make them went really well so I wanted to do another pattern + yarn giveaway this month. I'd love to do one each month if it's something you guys are into! :)
This time I'm giving away a copy of my Fireside Scoodie pattern (which has been selling like crazy lately, thank you all SO much!!) + the yarn to make them. The yarn is Loops & Threads Cozy Wool which is an acrylic/wool blend. Super soft and probably my favorite super bulky yarn! I'm including 3 balls so you'll have enough to make any variation of the scoodie. If you make just the hood, you'll also have enough to make my Waffle Cone slouchy hat (free pattern)!
Scroll down & use the Rafflecopter widget below to enter!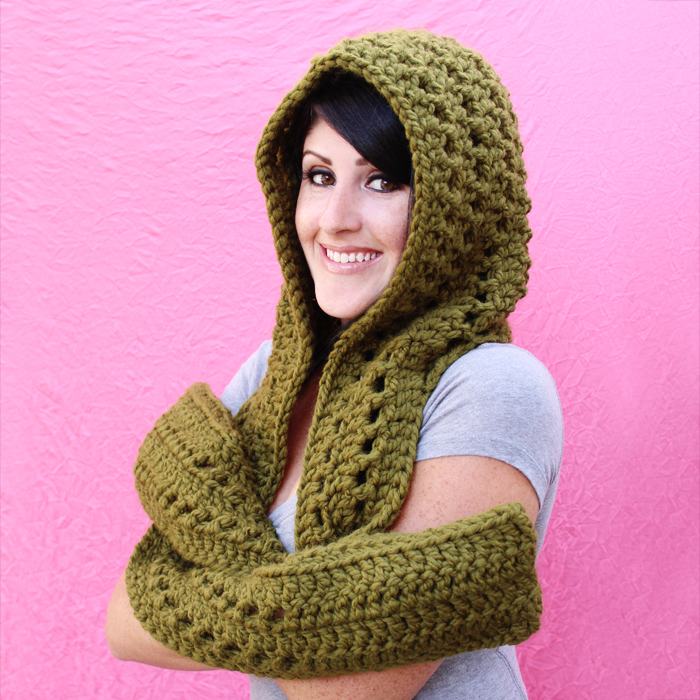 One lucky winner will receive:
- A copy of the Fireside Scoodie crochet pattern (the PDF file will be emailed to you)
- 3 balls of Loops & Threads Cozy Wool in this pretty purple/blue/gray color called "Subtlety"

a Rafflecopter giveaway
You can tweet, pin, and favorite once per day so come back each day to score even more entries!