July 29, 2014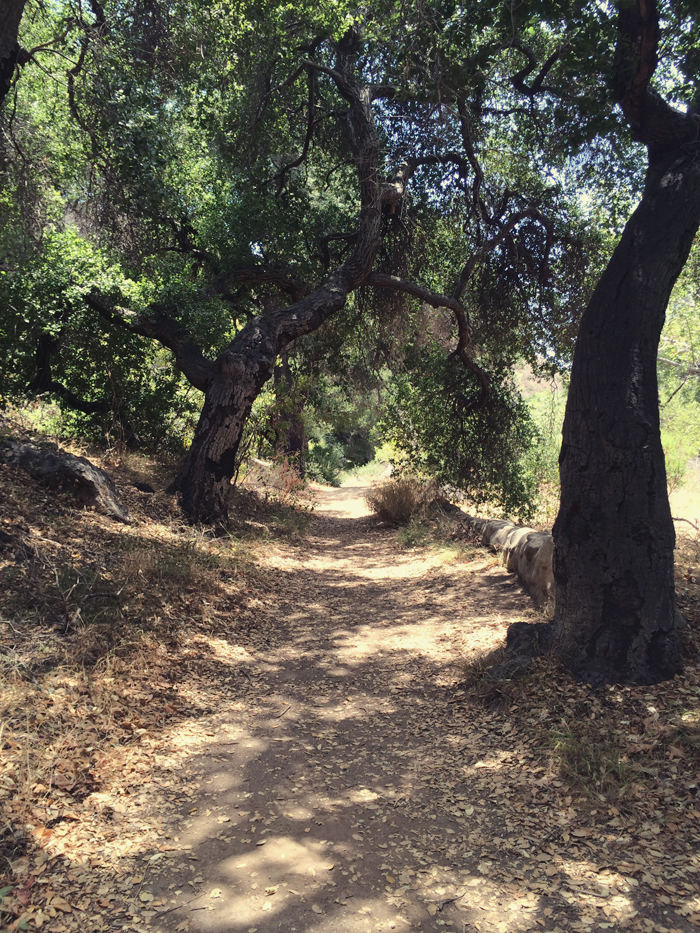 A couple weekends ago, I found a new hiking spot that I'm kinda in love with! Solstice Canyon in Malibu! If you're local, check it out! :) After lots of searching online for new spots, I decided on Solstice Canyon because of the burnt out houses (I read that there was a small cabin and a mansion there) and waterfall. I love exploring abandoned anything so this was super exciting to me!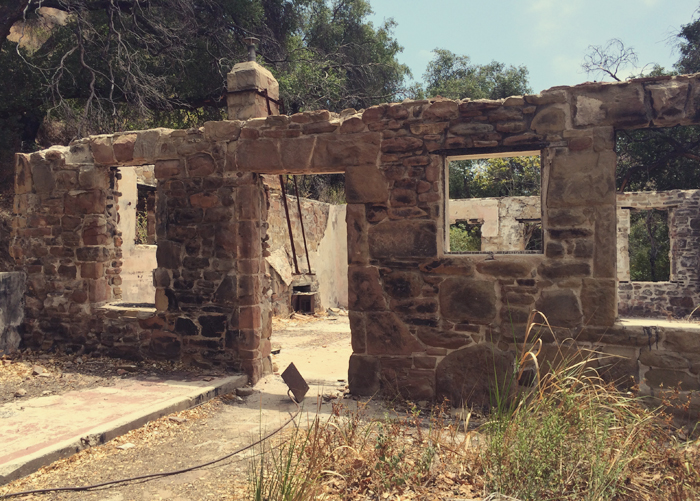 This area is known for wildfires. The first cabin we came across burned down in 2007. There was a fence around it so you can't go inside, which was a bummer, but it was small so there wasn't much to see anyway.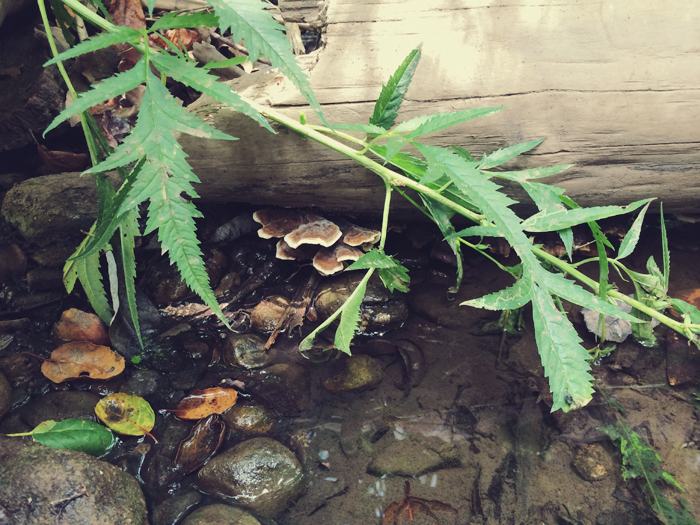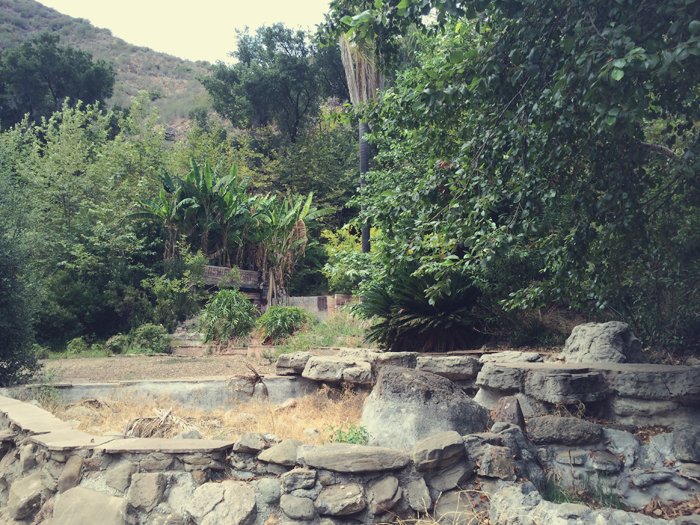 The second house we came across was what I read about described as a mansion, it burned down in 1982. It was pretty huge but there were so many people there, it was hard for me to get good pictures that accurately show the size (oh, the downfall of exploring popular places! And on a weekend at that!). There were multiple fireplaces and rocky pools with man made waterfalls.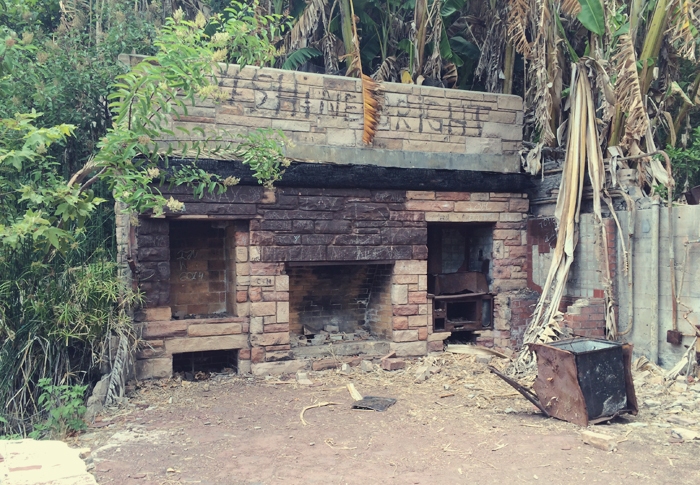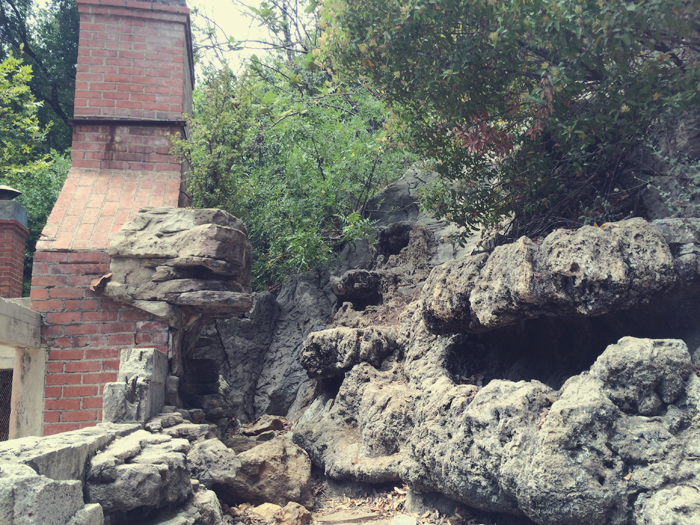 I found this article on the architect's website because I was really wanting to see what the house looked like. There were only two pictures but I'm pretty sure this rocky waterfall was the view outside their kitchen window.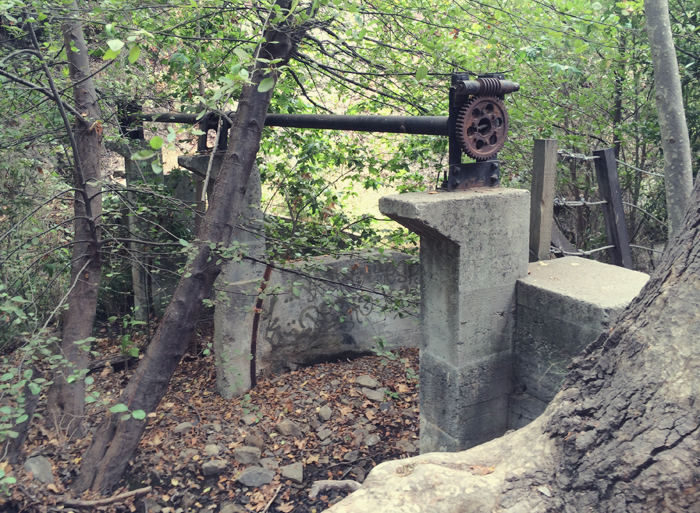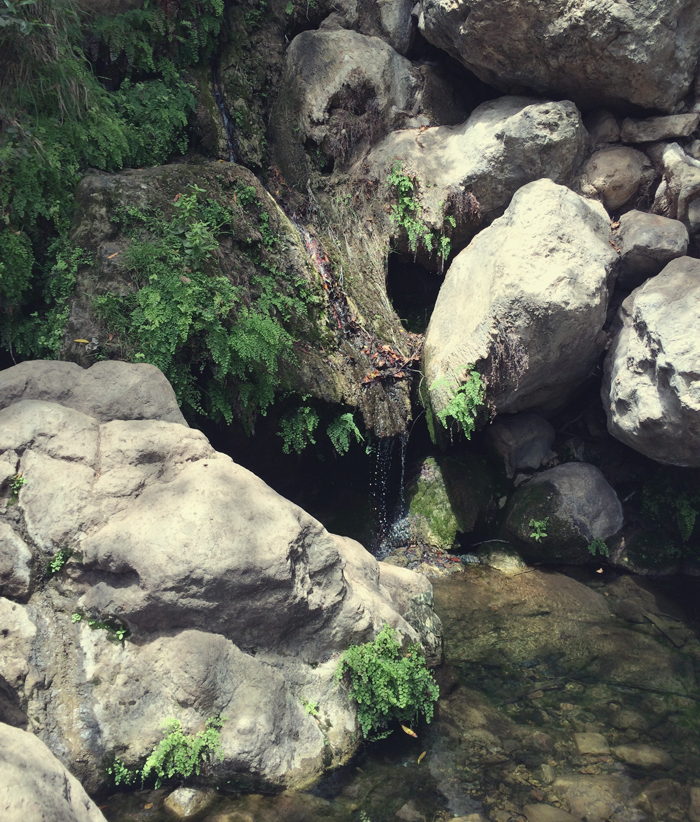 The waterfall wasn't very impressive (a really pretty area though!) but considering how little rain we've had, I'm surprised it had water flowing at all!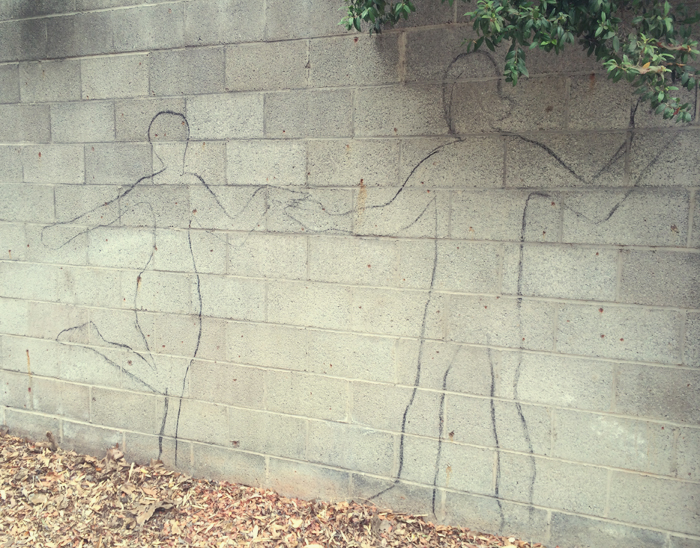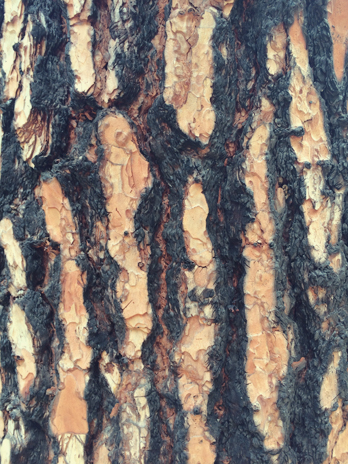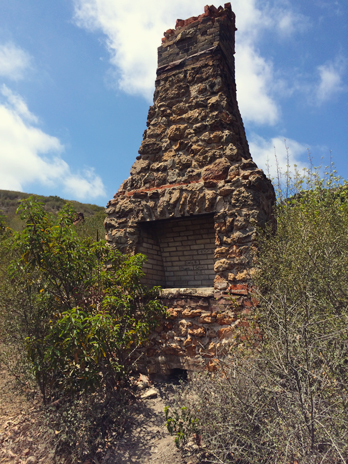 The first two houses were on the main trail and easy to find. The others required more of a hike! The third house was pretty much just this chimney and a pile of rusted metal stuff that wasn't easily identifiable aside from the springs from a mattress.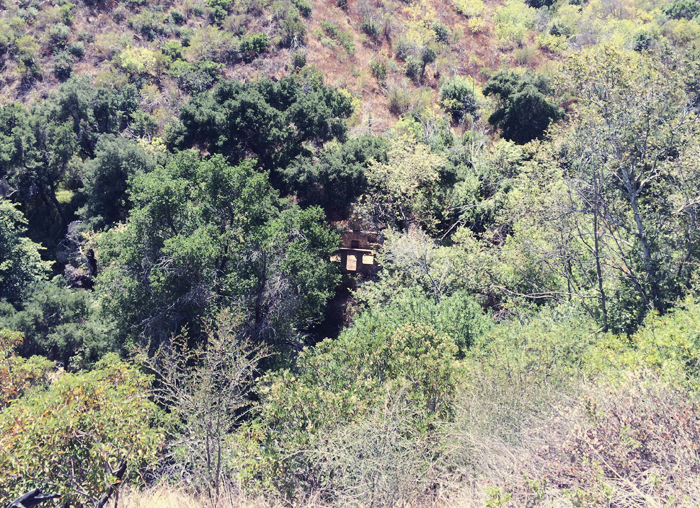 We were looking for a shady place along the trail to stop and picnic when we looked down into the canyon and saw this! I wasn't expecting to see any more houses after the third one so I got all excited! :P

Finally I remembered oh hey, my phone does panoramas! (kicking myself for not taking any earlier) So this is the view from the front door.

And the view from the fireplace, where we sat and ate lunch. Just another tiny cabin but this was my favorite! The way the sun was shining down through the trees, everything was so pretty! And I loved that there were very few people passing by. I like not running into anyone on my hikes so I can pretend I'm somewhere more remote! :P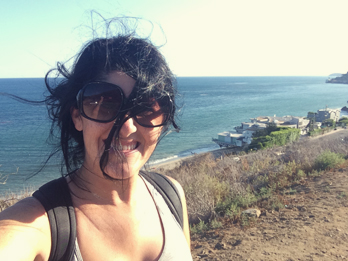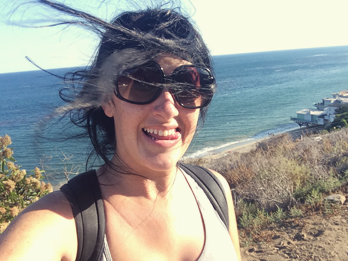 After getting back to the car, I wanted to take a picture with the pretty view in the background. Clearly the wind was not having it!
I hope you're enjoying my little adventures! If you've ever been to Solstice Canyon, is there anything I missed? :)
July 24, 2014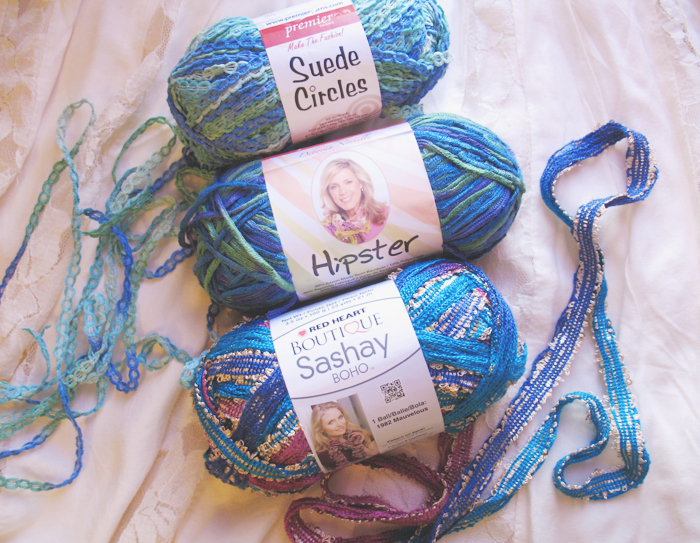 Premier so kindly sent me some of their yarns to try out! Two that I was really excited about are Suede Circles and Hipster! I have a couple ideas for headbands using Suede Circles but I'm also thinking of sewing it onto something as a trim. Hipster is a very soft, wearable yarn so I'm kinda thinking of making a top with it. I'm not totally sure yet. Have you used either of these yarns? What have you made with them?
Red Heart Boutique Sashay Boho is one that I've had my eyes on for a while! I've never used ruffle yarns and actually don't particularly care for them. Ruffle projects aren't really my style but I really like Sashay Boho and am determined to find a way to use it that doesn't involve ruffles. I might just end up sewing it onto something but would really like to find a way to crochet with it that doesn't involve ruffles. Have you ever seen ruffle yarn used in a unique way (no ruffles)?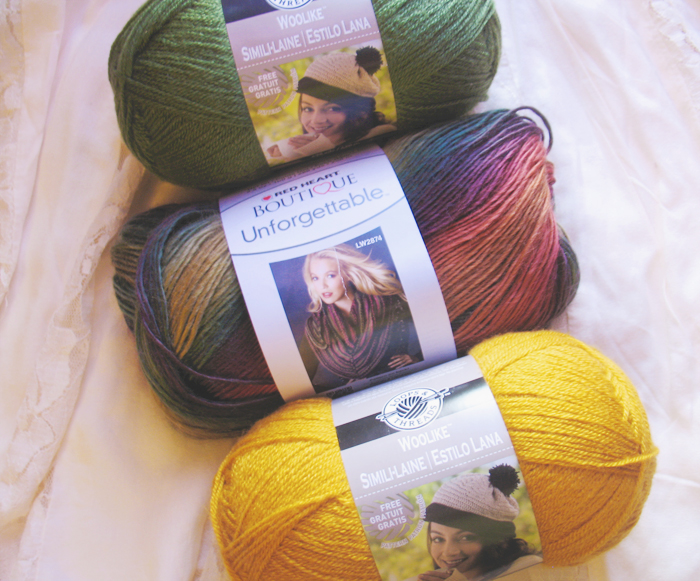 I've used both of these before but was SO happy when I went to Michael's and discovered that Loops & Threads Woolike and Red Heart Boutique Unforgettable now have new colors available!! yay!!! I picked up two colors of Woolike (which is an acrylic sock yarn) for a light weight slouchy hat I want to make. I also used it for my Swell Leg Warmer pattern (the whiteish ones) and loved it. I got Unforgettable in the new color called Polo. I'm already working on a big cowl hood with it. I'm pretty sure I'll buy every color of this yarn at some point. So pretty!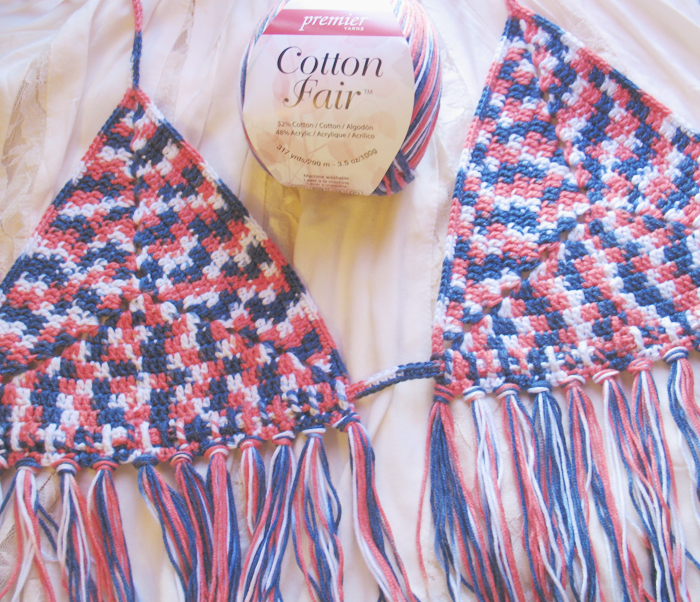 Cotton Fair is another of the yarns that Premier sent me to try out and I immediately knew I'd make a bikini with it. I just saw this yarn for sale at both Michael's and Jo-Ann and I loved the solid colors it comes in! I definitely see myself buying this one in the future. It's perfect for bikinis. It's a tiny bit thicker than the yarns I've been using for them but I was still able to get the right gauge so it worked out! :)
Btw, I'm working hard to get this pattern finished! I have it all typed up and today I'll be making one more so I can include progress photos in the pattern. Then I'll be getting it tested!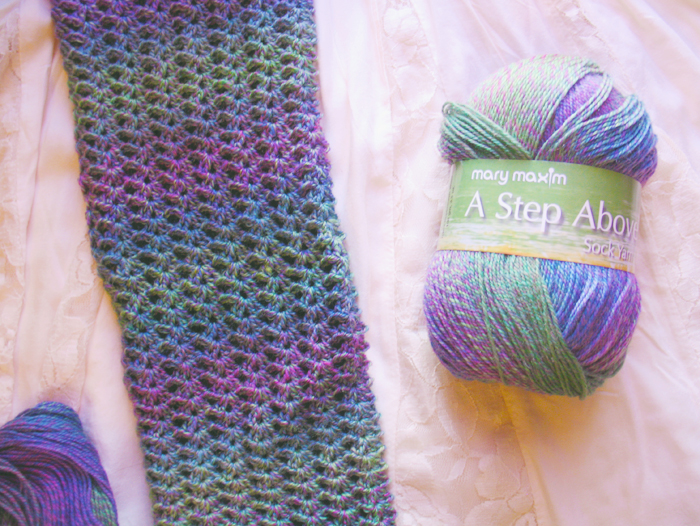 I bought this Mary Maxim A Step Above sock yarn several months ago and I knew that I wanted to make leg warmers with it but just recently started. I'm so in love with these colors and it creates the prettiest gradient! I'm definitely going to be buying more colors of this in the future! If you have my Swell Leg Warmer pattern, I recommend this yarn for it! :)
What yarns are you using lately? Any recommendations? :)
July 22, 2014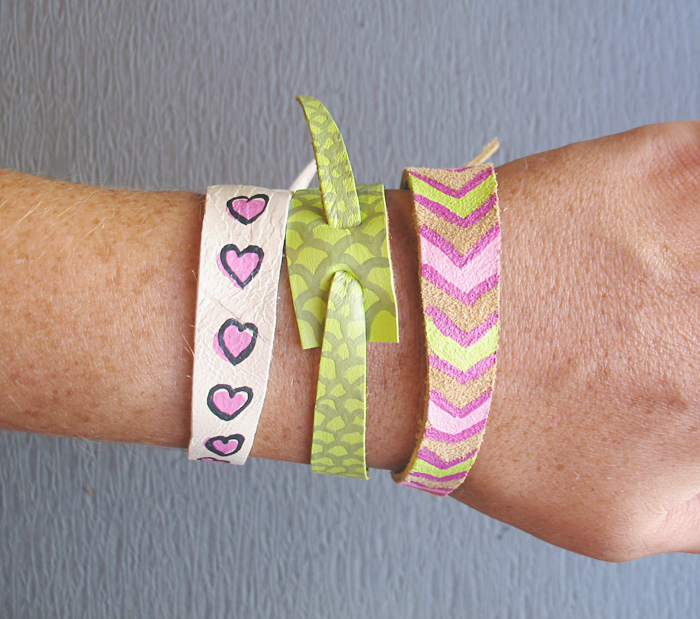 When I was little, I had a "lizard tail" bracelet that I'm pretty sure came from some touristy shop somewhere. I don't really remember much about it and can't find any info about them online but I think they were meant to be friendship bracelets. I have a bunch of leather scraps so I thought it would be fun to try and make some of my own!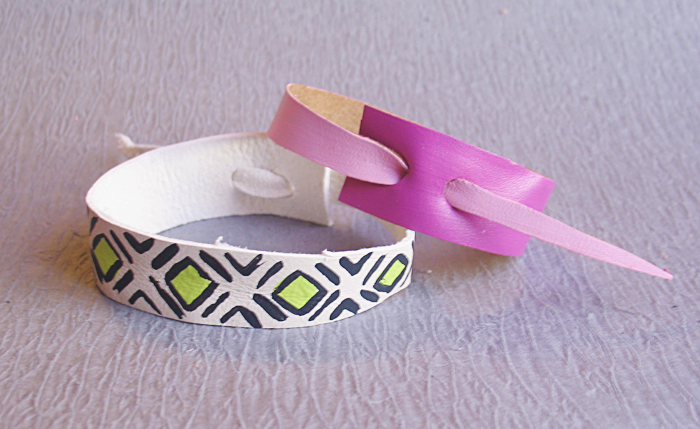 This would be a great craft to do with kids! Make a bunch and they can give them out to their friends! :)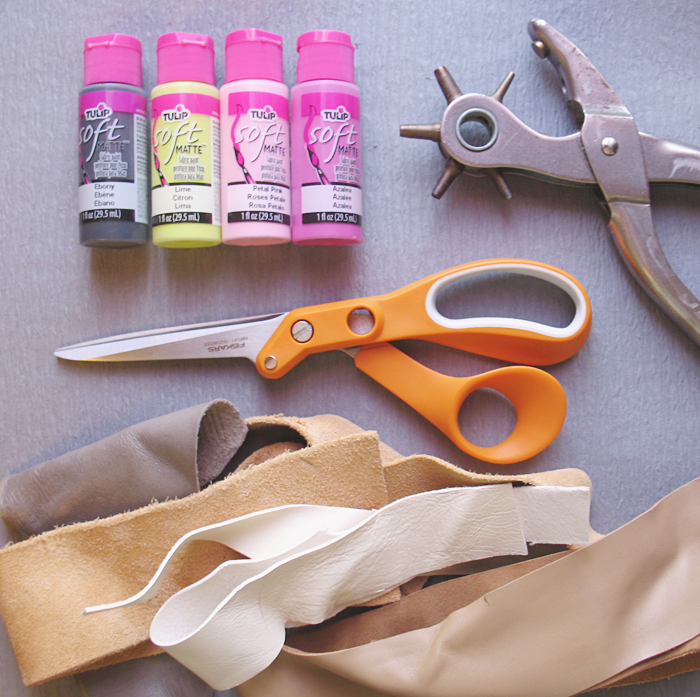 Supplies:
♥ Leather Scraps – I bought one of these remnant packs
♥ Scissors – these are awesome for leather!
♥ Leather Punch or if your leather is thin enough, you can just use a normal hole punch.
♥ Fabric Paint & Paint Brushes – these Tulip Soft paints are great for this!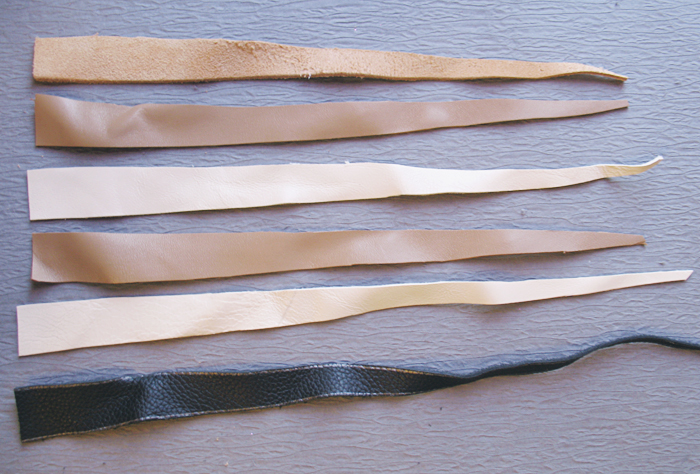 Step 1: Cut leather strips that taper to a point. You can really make them as thick at the top as you want. About 10-11 inches long is a good adult size. A few inches shorter would be good for kids.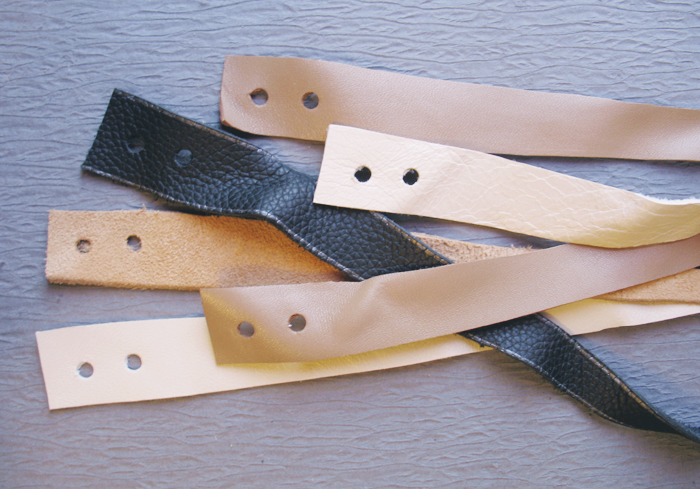 Step 2: Punch two holes in the big end that are about a half inch apart.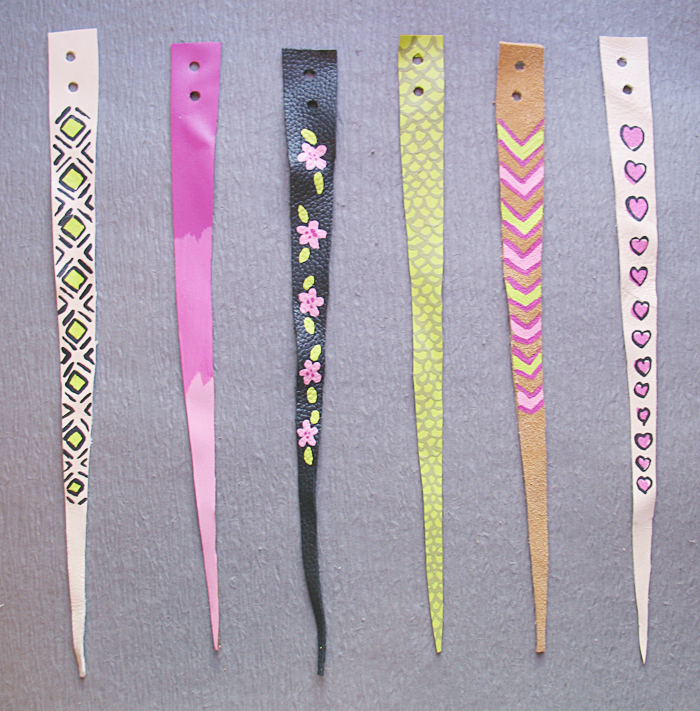 Step 3: Paint!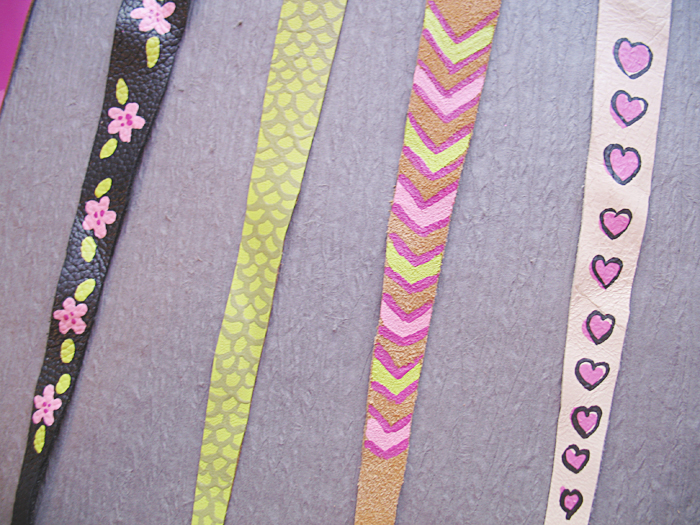 My painting skills are pretty weak (I'm just gonna blame it on not having a thin enough paint brush, haha!) but if you're any good at painting, I bet you could make some really pretty ones! I intended to do some cool tribal type designs but gave up on that when I realized my brushes weren't small enough. I'd love to try this again with better brushes though and do some less childish designs.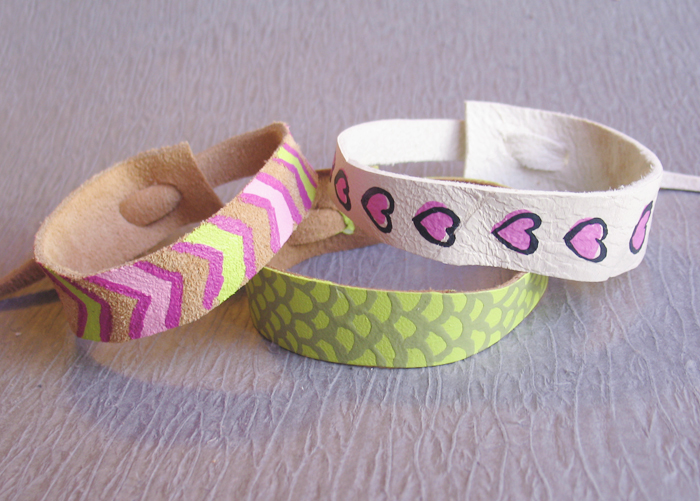 If you make any, I'd love to see! Email me a pic! :)
July 18, 2014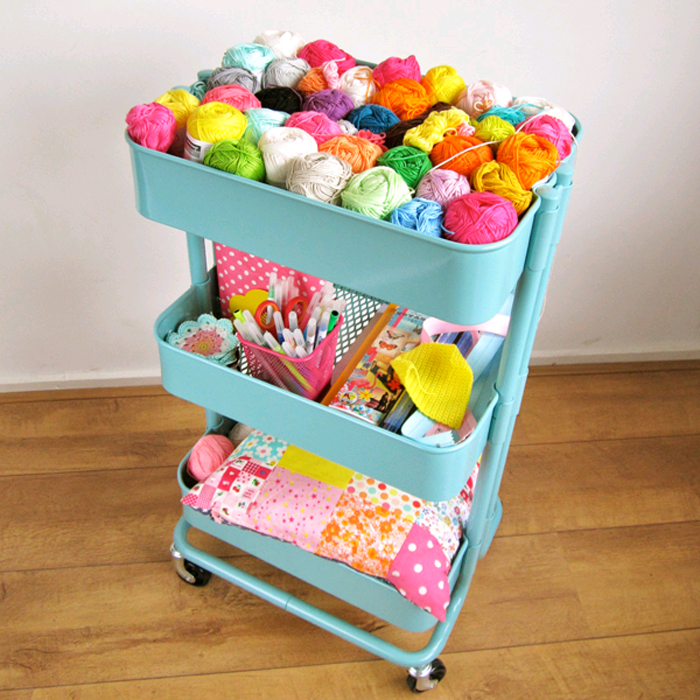 My yarn stash has gotten pretty out of control. I just don't really have a good way of storing it all. This is kinda of embarrassing to admit, but 4 of the 6 drawers in my dresser are filled with yarn. Plus I have a cabinet that is 1/3 full of yarn. Plus I have this basket and 3 of these filled. So off to Pinterest I went to look for ideas!
I immediately fell in love with this little cart above! It's the Raskog cart from Ikea and it's so perfect! I'm picturing it with yarn on the top level and the others, I'd use for projects I'm working on. And how perfect that it has wheels!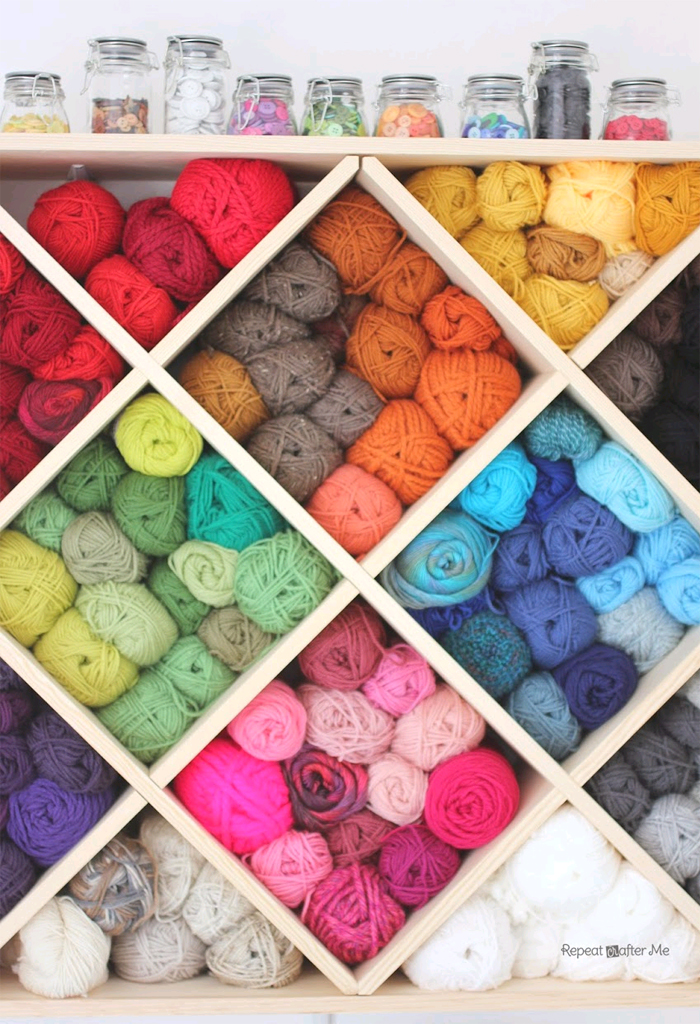 I love this shelf which is actually a wine rack! Only I don't think it would work as well for me. I like having my yarn sorted by type, not color, so it wouldn't look as pretty :(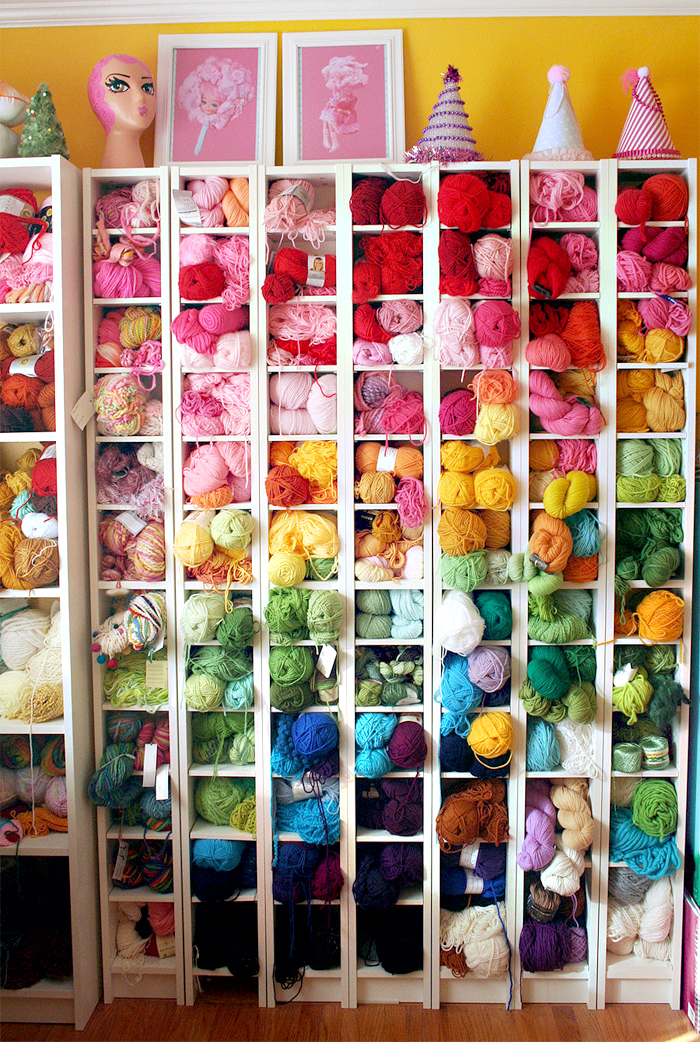 I feel the same about this shelf but I do really like that the cubbies on these are so small. One of the things I don't like about my cabinet is that all the yarn just gets piled on the shelves and always ends up falling when I'm digging for something.
I think these are several of the Benno DVD towers from Ikea.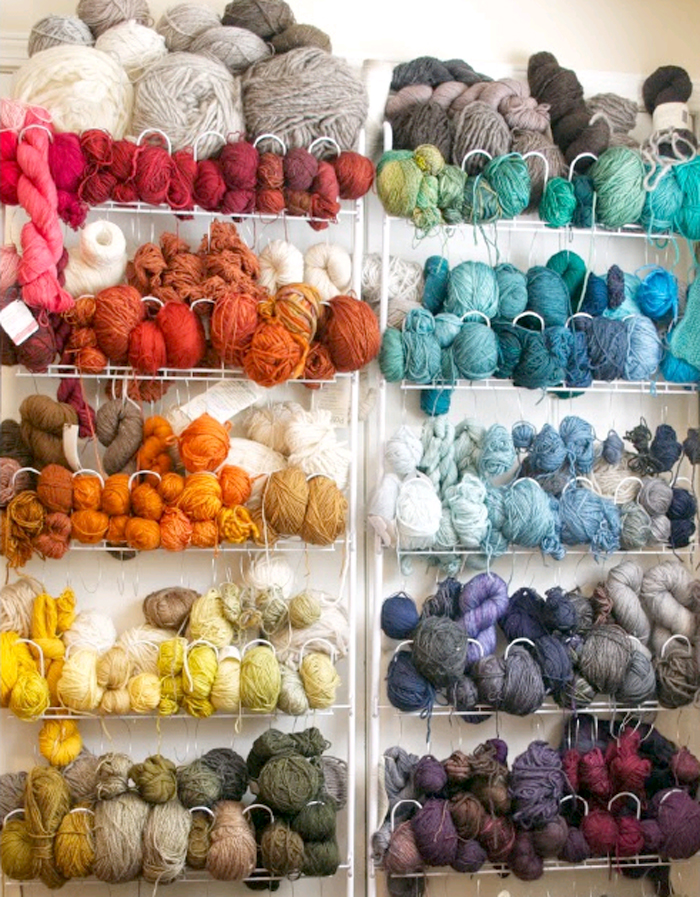 I bet this rack made from shoe racks would be a cheap option! It made me think, how cool would it be to have a closet for your yarn and you could just have these on the walls?!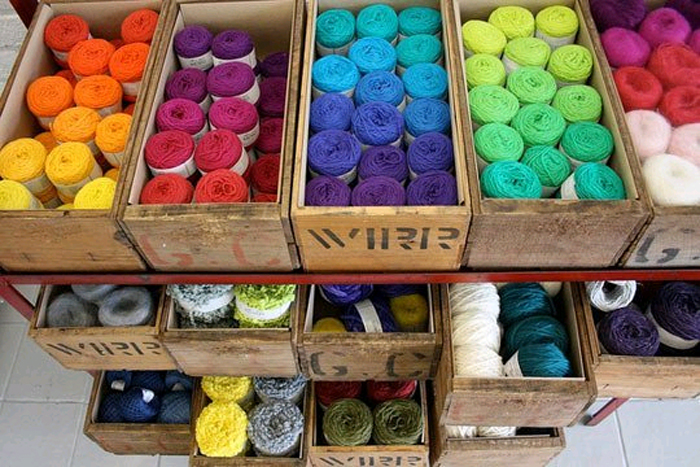 This seems super practical to me because I prefer having my yarn in drawers rather than on shelves.
After deciding that I'd rather have drawers, I went looking through Ikea for ideas. I really like the Kallax shelves because they have these baskets that fit perfectly in the cubbies! There are also drawer inserts but I think the baskets look nice. I know you can't really see your yarn this way but that's just my preference. I like having everything away.
How do you store your yarn? Do you have any cool shelves or anything? 
P.S. All of the photos in this post are linked to their sources. Click em if you wanna know more about them! :)
July 17, 2014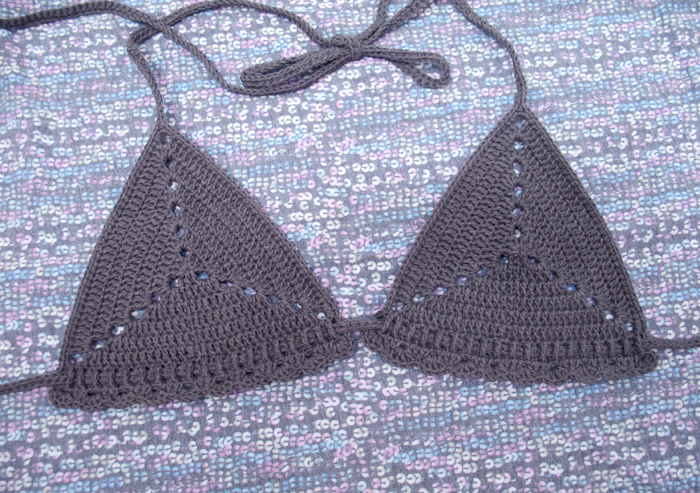 I've been working on bikini tops all week! This one's a variation of the fringe one I just posted. I just wanted to give another option for anyone who doesn't want to do the fringe. I love the bottom with the little ruffle edge! I wish I could show you what it looks like on because it fits really cute! I seriously can't wait to post this pattern! I think you're gonna love making them!
I've been using Vickie Howell Cotton-ish for these, which is DK weight. I didn't want to use crochet thread because they'd take too long and not be as fun to make. But I didn't wanna use worsted either because I think it's too heavy for bikinis. It will actually be easy to use this pattern with any yarn but I think DK weight is perfect!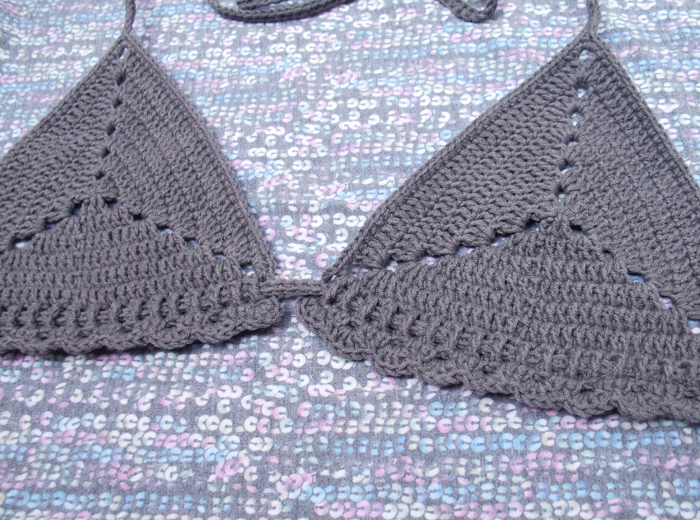 I've only made this top in one size so far so now I need to work on other sizes. I'm also working on designing a bottom to go with it but so far I haven't had any luck with it.