March 19, 2014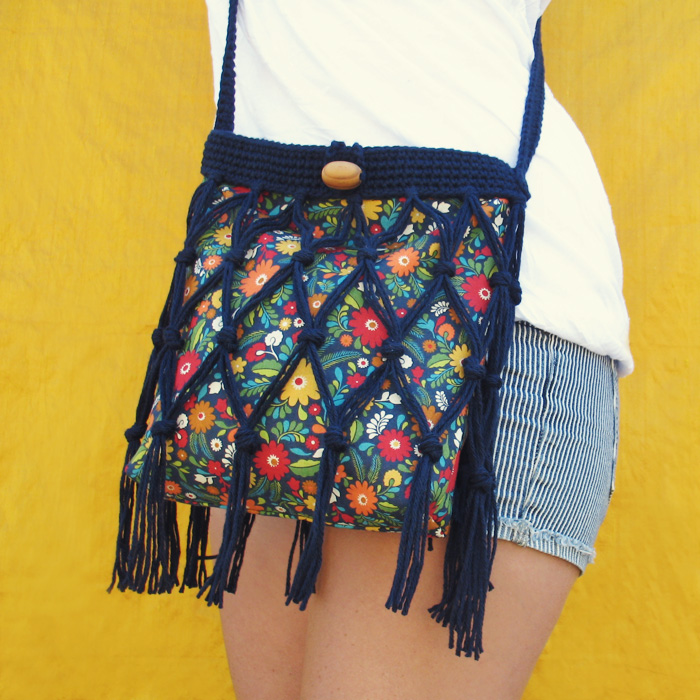 Did you know that March is National Craft Month?! Jo-Ann Fabric and Craft Stores invited me to create a project tutorial to share with you for the occasion! They gave me four themes to choose from (floral, nautical, geometric and vivid orchid) and I went with the floral theme because it's perfect for Spring! Jo-Ann makes spring crafting easy during National Craft Month with a $5 off $25 or more purchase coupon and a spring crafting inspiration website. Check that website out if you want to see what other crafty bloggers have done with the themes!
Anyway, lately I've had a lot of ideas floating around in my head that involve incorporating fabric into crochet projects. So I came up with this idea for a bag that is perfect for anyone who likes to crochet and sew! And it really only requires pretty basic knowledge of both!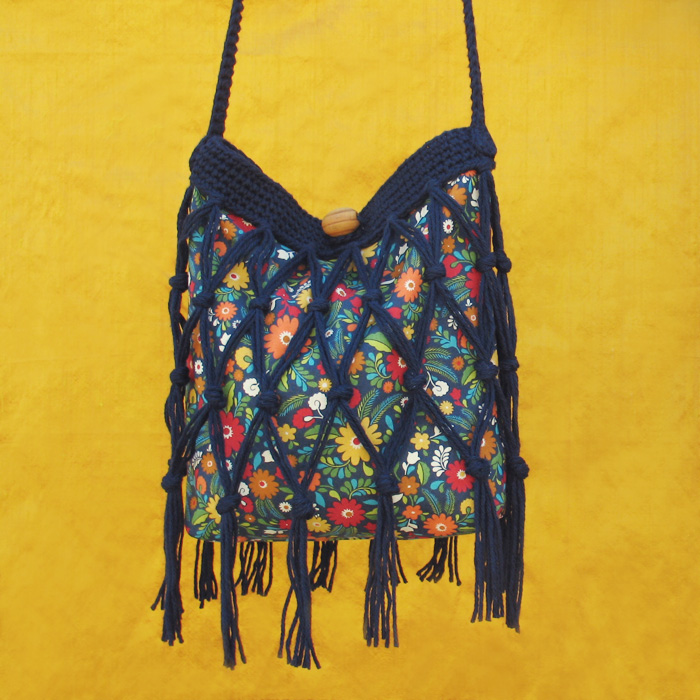 Finished Size: About 10 inches wide x 11 inches tall (plus fringe). Strap can be made any length.

- Cotton fabric (about half a yard will do – I used this one)
- Worsted weight yarn (I used Bernat Handicrafter Delux in Navy)
- Size G (4.5 mm) crochet hook (or size needed to obtain gauge)
- Yarn needle
- Basic sewing supplies (this can be sewn by machine or hand)
- Ruler
- 1 large wood bead (a button would work too)

sc – single crochet
ch – chain
sl st – slip stitch
rnd – round
ea – each
FO – finish off

Gauge: 4 sc = 1 inch. Top piece should measure approximately 20 inches around. Gauge IS important. If your gauge is off, the top piece will be too big or too small to fit around the fabric.
Top piece
ch 84. sl st to join.
rnd 1: ch 1 (counts as 1 sc). 1 sc in ea ch. sl st to join. (84)
rnd 2-4: ch 1 (counts as 1 sc). 1 sc in ea st. sl st to join. (84)
rnd 5: ch 1 (counts as 1 sc). 1 sc in ea of the next 21 sts. ch 16 (this will be your loop for the button/bead). sl st to 1st ch. 1 sc in ea of the remaining sts. invisible join and FO (84)
Strap
*Leave enough yarn in the beginning to attach the strap to the top piece*
ch to desired length. (mine is 39 inches)
rnd 1: 2 sc in 2nd ch from hook. 1 sc in ea ch except last – 4 sc in last ch.
*now you will be working along the other side of the ch, coming back to where you started*
1 sc in ea ch except last – 2 sc in last ch. Invisible join & FO leaving enough yarn to attach the strap to the top piece.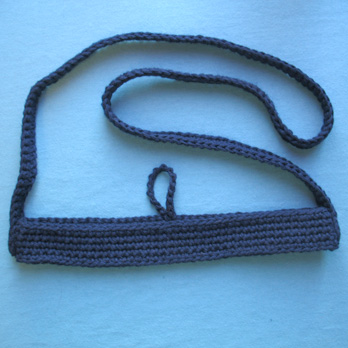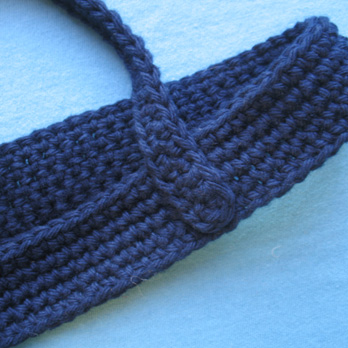 Use the yarn that you left at the beginning and ends of the strap to attach it to the sides of the top piece as shown above.

Step one: Cut 4 pieces that are each 12 inches tall x 11 inches wide. Cut a 1 inch square out of the two bottom corners on each piece.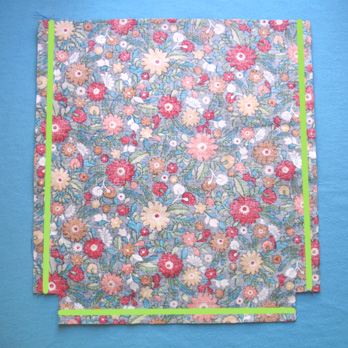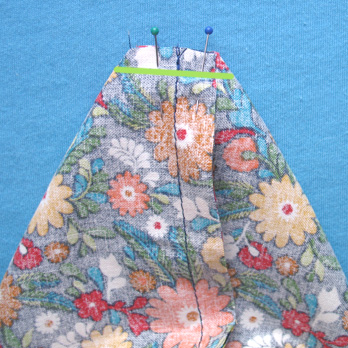 Step two: Pin two pieces together with wrong sides together. Do with this all four pieces (so you'll have two sets of two pieces pinned together). Sew along the sides and bottom (green lines in the photo) using 1/2″ seam allowances.
Step three: Flatten the bottom corners (the 1 inch square) so that the seams you just sewed touch each other. Sew across using 1/2″ seam allowances. Do this to all of the bottom corners.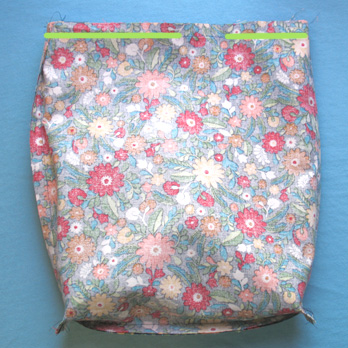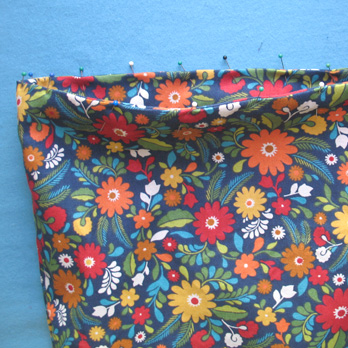 Step four: Turn one of the pieces right side out and put it inside the other piece (so that right sides are touching). Pin along the top and sew using 1/2″ seam allowances. Be sure to leave a small hole so that you can turn it right side out.
Step five: Turn right side out and pin along the top. Top stitch close to the edge all the way around. This will sew the hole shut that you left for turning.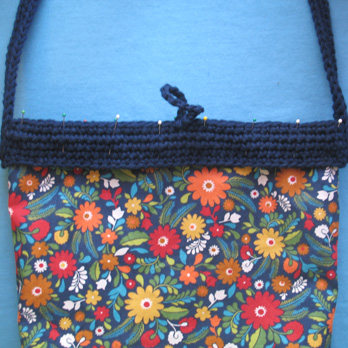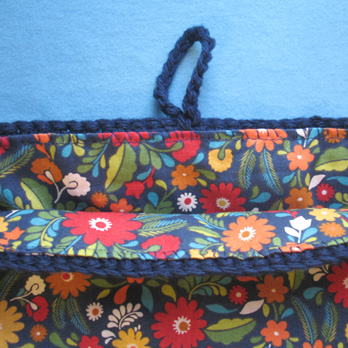 Pin the fabric to the inside of the top crochet piece and sew along the edge. I also make a few stitched toward the bottom of the top piece to hold it down. You're probably going to want to do this sewing by hand (I never have much luck putting crocheted pieces through the sewing machine!).
Next, sew your bead or button onto the top piece on the opposite side of the loop.

Step one: Cut 56 pieces of yarn that are approximately 40 inches long.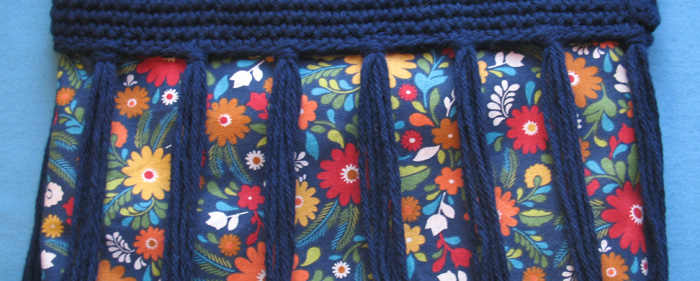 Step two: In every 6th stitch, attach 4 pieces of yarn (the pieces will be folded in half so you will have groups of 8 strands hanging down). I have a quick tutorial here on how to attach fringe.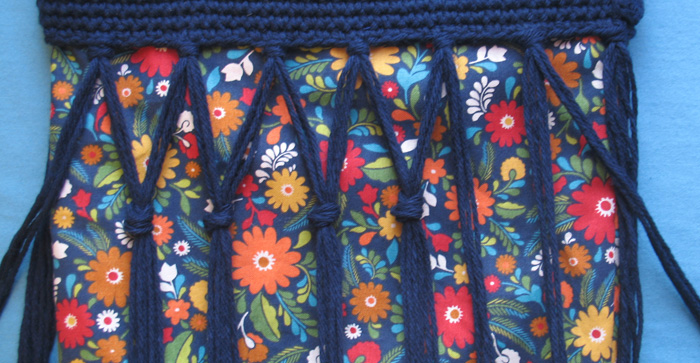 Step three: Separate 4 pieces of yarn from each group and knot them to 4 strands from the next group as shown above. Do this all the way around the bag.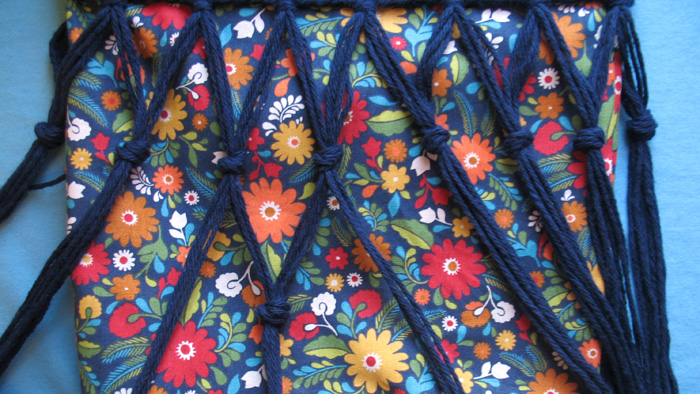 Step four:  Repeat the same process, making another row of knots a few inches below the last ones.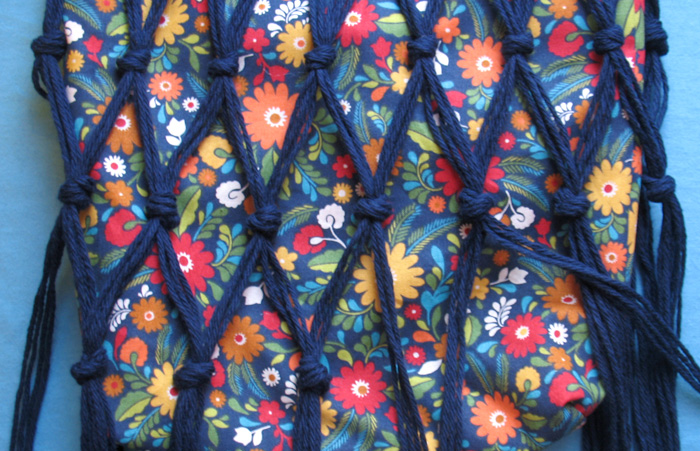 Step five: One more time! You'll have a total of 3 rows of knots when you're done.
Step six: Trim all of the remaining yarn to the same length. I left about 4 inches hanging below the last row of knots.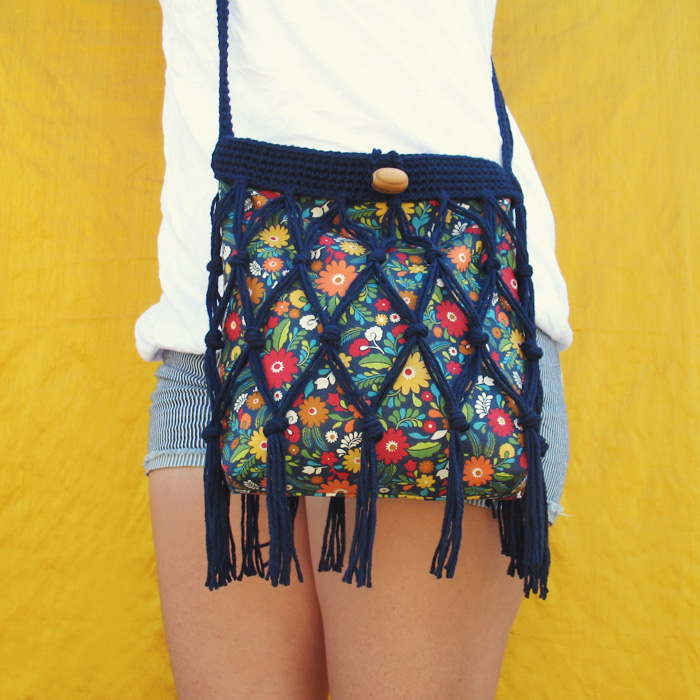 Disclosure: This is a sponsored post. These supplies were provided to me free of charge by Jo-Ann, however, I designed the project myself and all opinions here are my own.
March 10, 2014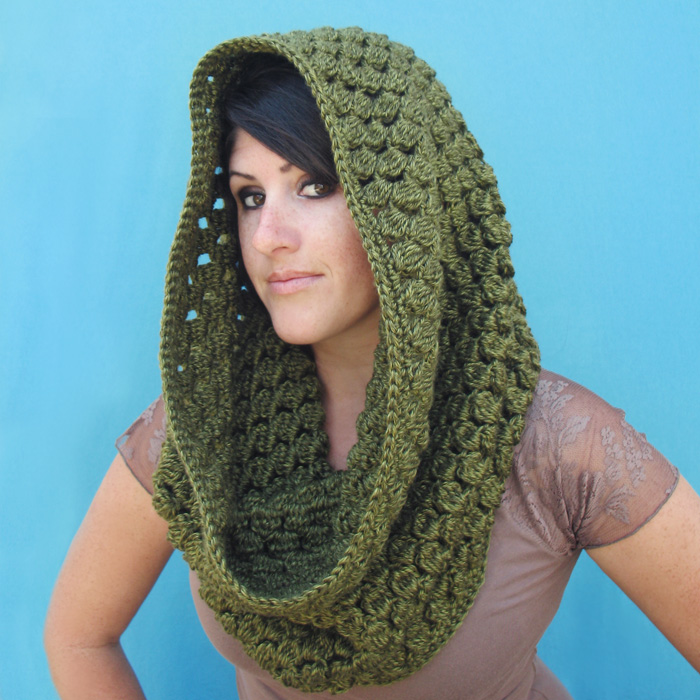 Today I'm super excited to be releasing my very first scarf/cowl/thing to keep your neck warm pattern!! Although it feels a little weird because it's been extremely sunny and hot here lately! Sometimes I have to remind myself that other places actually have real winters and need things like this to keep warm! Here in Southern California, scarves are basically just a fashion accessory most of the time. Maybe that's why it's taken me so long to design a pattern!
Anywho! I designed this pattern to match my Pinecone Slouchy Hat. The pattern includes three sizes: a large hood cowl (green), a small cowl (blue), and an infinity scarf (orange).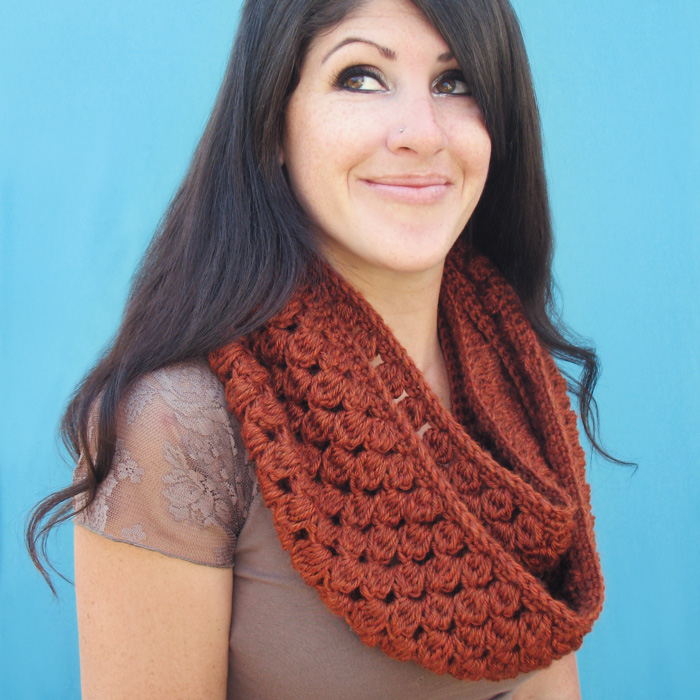 The large hood cowl is long enough to be worn over your head as a hood while still keeping your neck cozy! The small cowl is meant to fit slightly loose around your neck. And the infinity scarf is meant to wrap twice around your neck and also be slightly loose. All three sizes include the option to add ribbon around the edge.
They can be made with any type of worsted weight yarn. I used Lion Brand Heartland & Caron Simply Soft for mine. I consider the pattern intermediate level. It uses mostly cluster stitches (taught in the pattern), single crochets, and triple/treble crochets (if you're using ribbon). The pattern is 7 pages long, here's a peek at what's inside: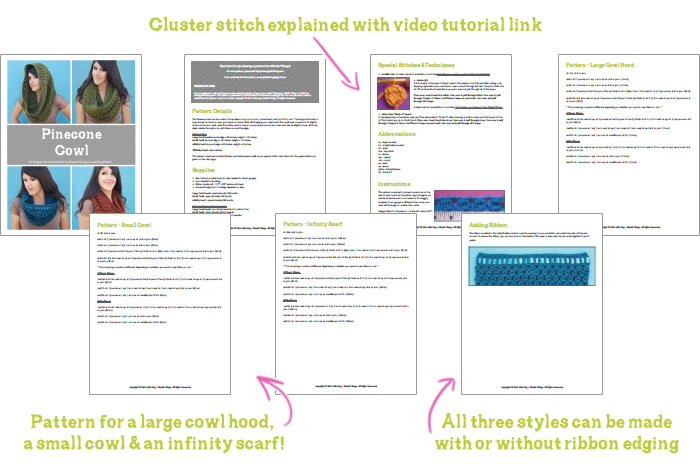 The pattern is available through Ravelry, where you can download it instantly after check out.
 $4.00
I'm also offering a discount if you buy both the Pinecone Cowl & Slouchy Hat patterns! GET $2 OFF! ($6 total). No coupon code needed, discount is automatic when both are in your cart. If you've already purchased one of the patterns in the past, you can still get the second for $2. Click here to add both to your cart.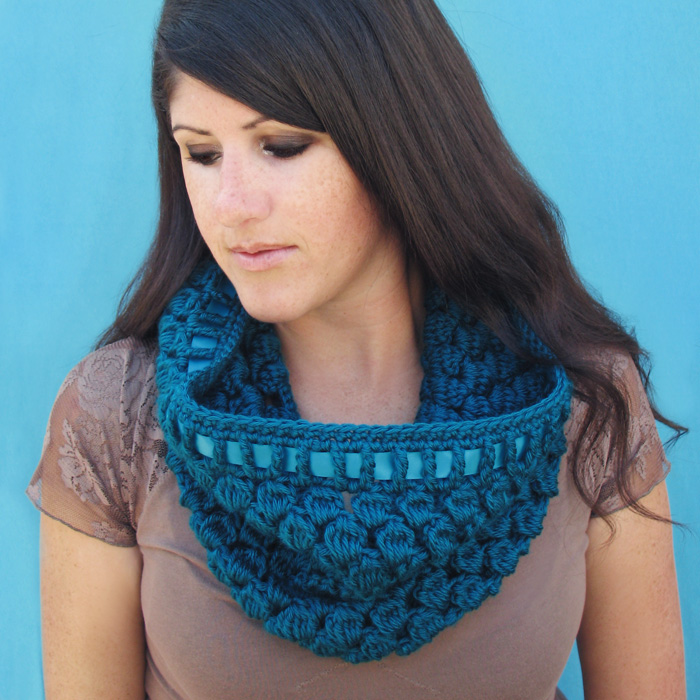 Terms of Use: You are welcome to sell any items you make using this pattern as long as you credit Julie King / Gleeful Things & link to www.gleefulthings.com. This pattern is protected by United States & International Copyright law. You may not share, resell or redistribute this pattern in part or in whole. Copyright © 2014 Julie King / Gleeful Things. All Rights Reserved.
February 27, 2014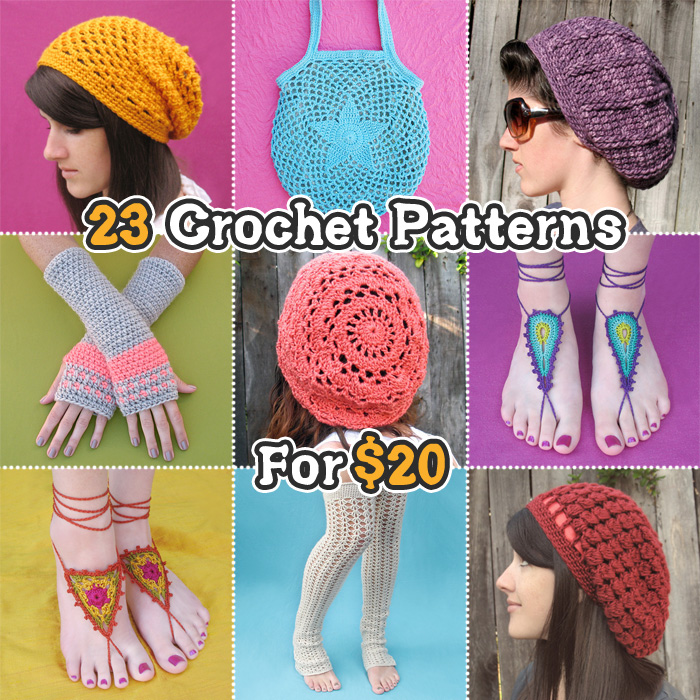 I'm having the biggest sale of the year!! Get all 23 of my crochet patterns for only $20! Here is what you get:
10 hat patterns
1 bag pattern
3 barefoot sandals patterns
1 arm warmer pattern
1 leg warmer pattern
7 amigurumi patterns
Regular price totals $86.50. This deal will save you $66.50! That's such a huge discount that even if you already have some of the patterns, you'll still be saving money!
Click here to purchase: http://www.ravelry.com/redeem/gleeful-things-2?code=23for20
This offer expires after it has been redeemed 20 times and the $20 sale will not be back again until next year.
February 21, 2014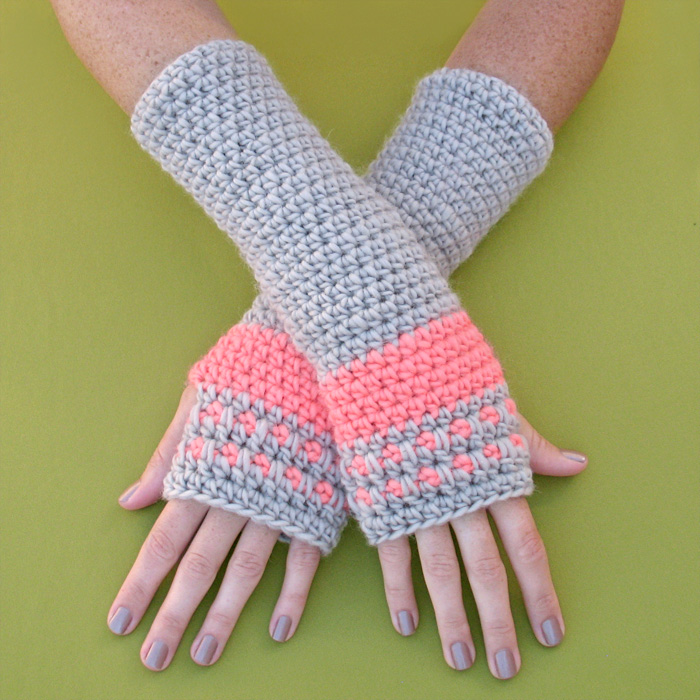 Meet the Peachy Arm Warmers! I'm so stoked to finally have this arm warmer pattern available! I had to have it tested twice because it was a little confusing the first time around. So now you can be sure that it's plenty simple and they're also fun to make!
It's a versatile pattern allowing you to easily make any size to fit any size hand/arm. They are a simple tube that do not increase or decrease in size. Instead they rely on stretchiness to fit snugly around all parts of your hand and arm. There are two different options for striping – a two color (above) and a three color option (below).
They're meant to be made with worsted weight yarn. I really like wool for these. For the pair above I used Loops & Threads Wool to Wash and for the pair below, I used Paton's Classic Wool.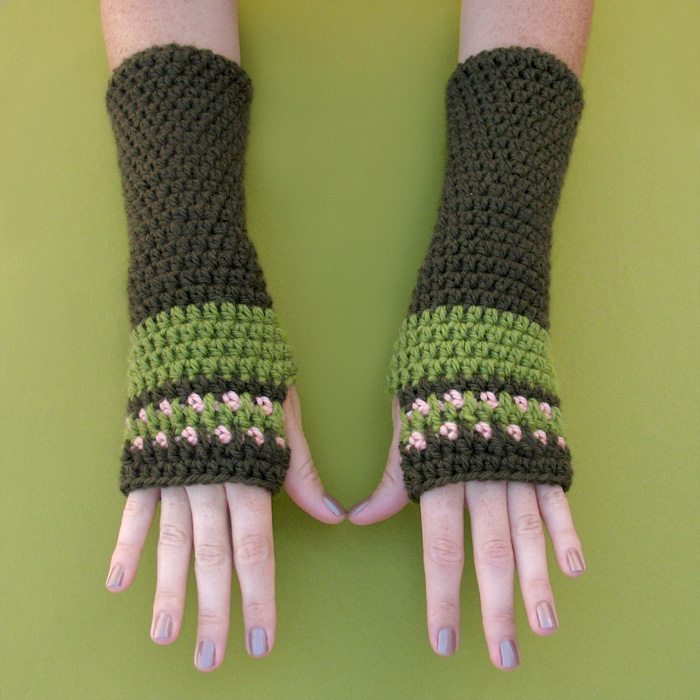 I consider the pattern intermediate level. It uses only basic stitches (all single, half double, double crochets). The pattern is 7 pages long and even though it's fairly simple, I've included some photos to help you along! Here's a peek at what's inside: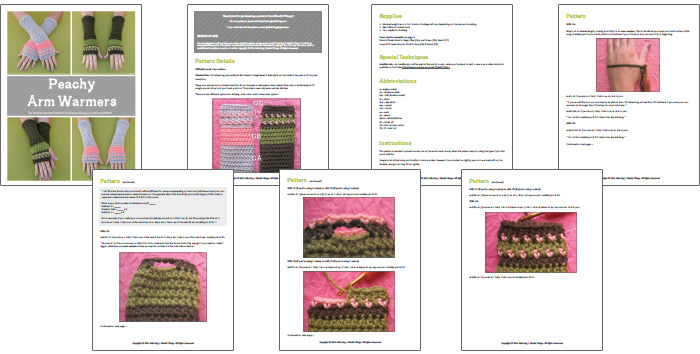 The pattern is available through Ravelry, where you can download it instantly after check out.
 $4.00
Terms of Use: You are welcome to sell any items you make using this pattern as long as you credit Julie King / Gleeful Things & link towww.gleefulthings.com. This pattern is protected by United States & International Copyright law. You may not share, resell or redistribute this pattern in part or in whole. Copyright © 2014 Julie King / Gleeful Things. All Rights Reserved.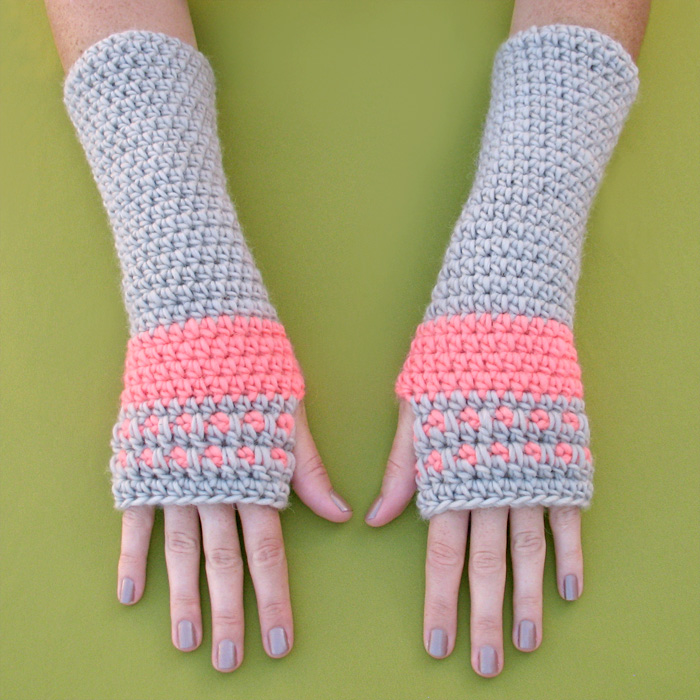 Funny fact: I rephotographed these on three separate occasions! You wouldn't believe how hard it is to photograph your own hands! Not to mention I'm really picky about angles, lighting, background, etc. Basically just everything having to do with taking photos. I'm just really picky! :P
February 12, 2014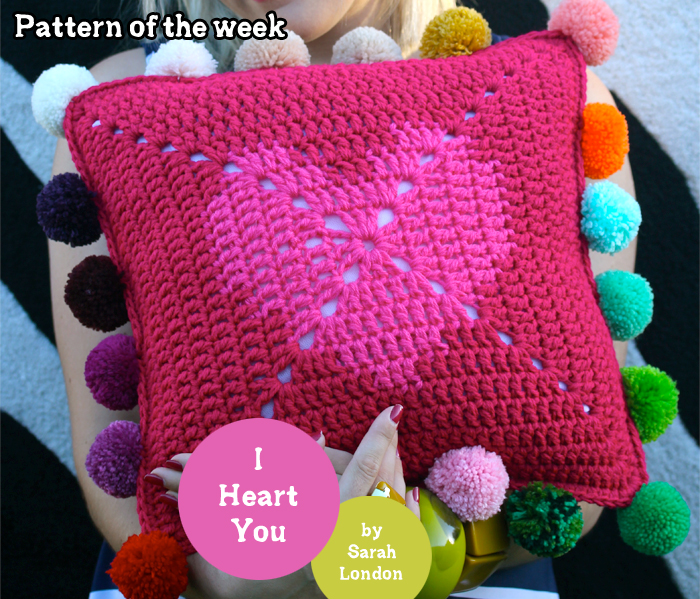 Since it's Valentine's week, this week's pattern of the week is the adorable I Heart You pillow by Sarah London! I think it's so clever how she created a heart while working in the round! I love the pom poms around the edge as well!
This pattern costs $6 AUD and you can find it right here (scroll down a bit).