Tag Archives: Tutorial
July 22, 2014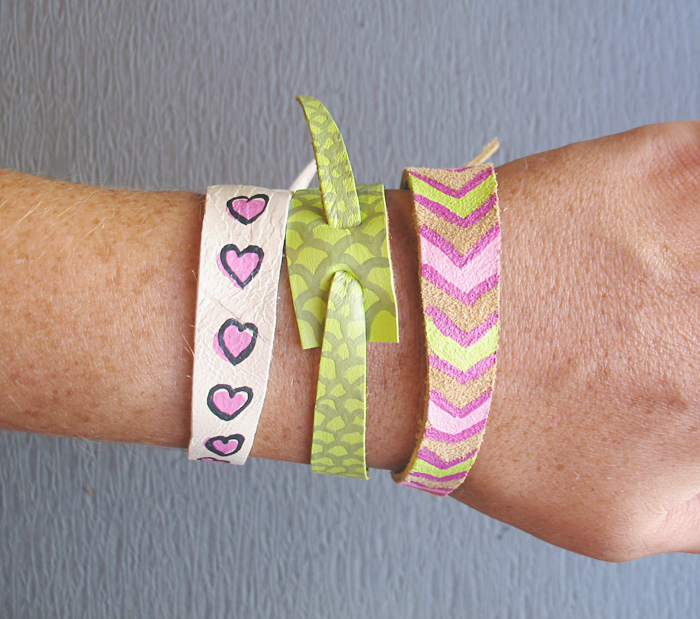 When I was little, I had a "lizard tail" bracelet that I'm pretty sure came from some touristy shop somewhere. I don't really remember much about it and can't find any info about them online but I think they were meant to be friendship bracelets. I have a bunch of leather scraps so I thought it would be fun to try and make some of my own!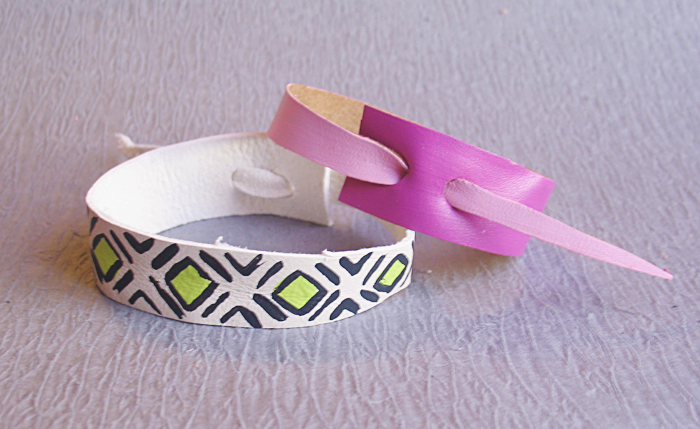 This would be a great craft to do with kids! Make a bunch and they can give them out to their friends! :)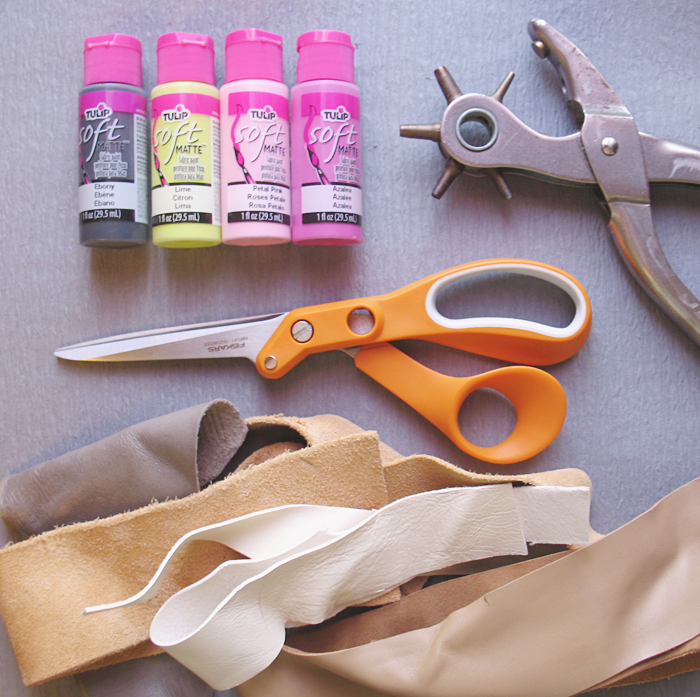 Supplies:
♥ Leather Scraps – I bought one of these remnant packs
♥ Scissors – these are awesome for leather!
♥ Leather Punch or if your leather is thin enough, you can just use a normal hole punch.
♥ Fabric Paint & Paint Brushes – these Tulip Soft paints are great for this!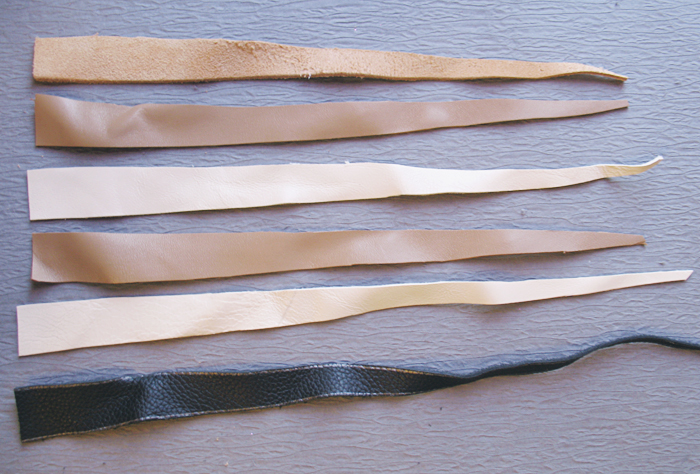 Step 1: Cut leather strips that taper to a point. You can really make them as thick at the top as you want. About 10-11 inches long is a good adult size. A few inches shorter would be good for kids.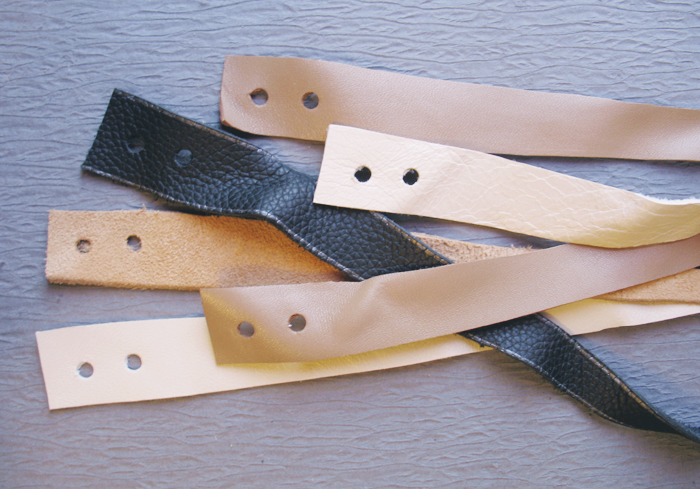 Step 2: Punch two holes in the big end that are about a half inch apart.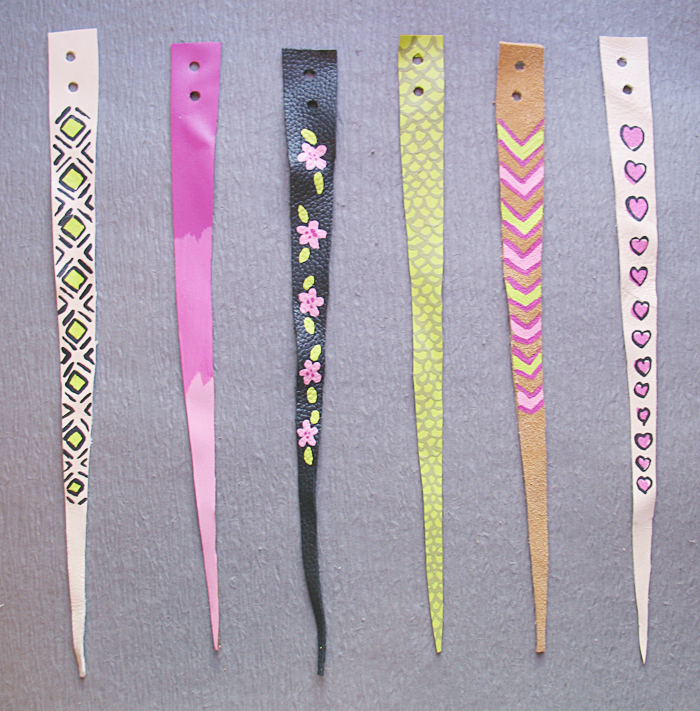 Step 3: Paint!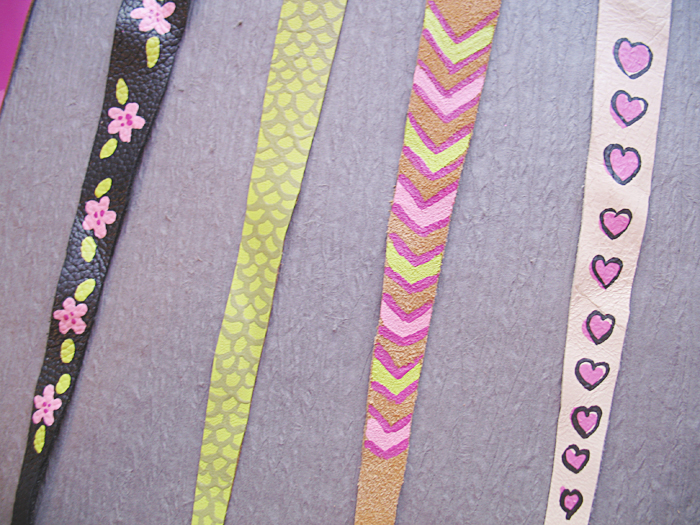 My painting skills are pretty weak (I'm just gonna blame it on not having a thin enough paint brush, haha!) but if you're any good at painting, I bet you could make some really pretty ones! I intended to do some cool tribal type designs but gave up on that when I realized my brushes weren't small enough. I'd love to try this again with better brushes though and do some less childish designs.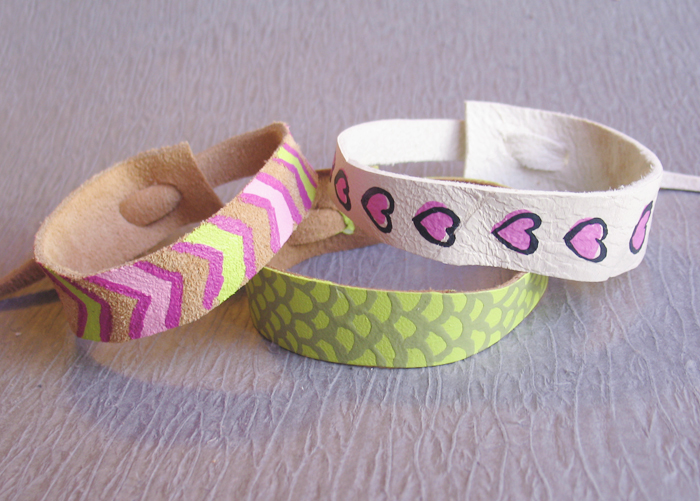 If you make any, I'd love to see! Email me a pic! :)
July 9, 2014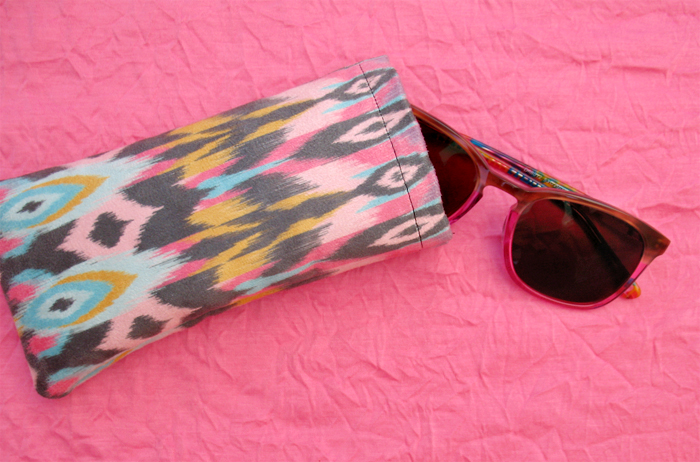 I was recently offered the opportunity to try & review a pair of sunnies from Firmoo. Aren't they cute? I'll tell you more about them at the end of this post! First, I want to share a quick tutorial on how I made a stylish little pouch to carry them in!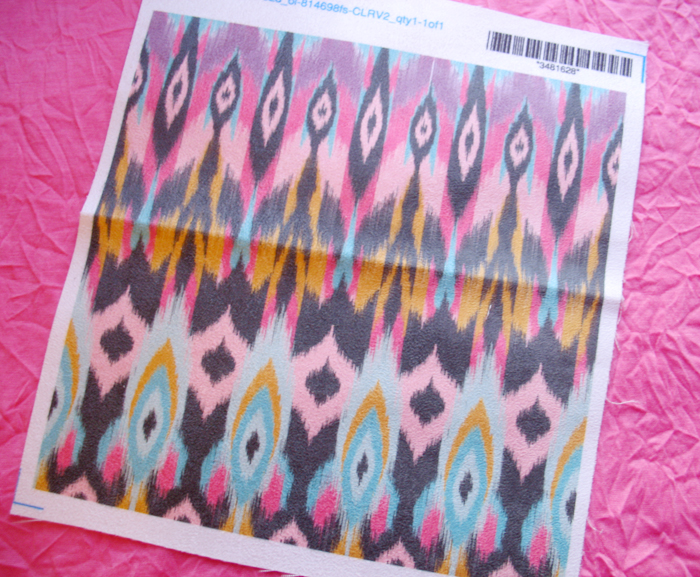 I had ordered a swatch of this fabric from Spoonflower because I was considering buying a yard for another project. I didn't want the swatch to go to waste so I turned it into this sunglasses pouch! Here's what you'll need:
– Fabric swatch from Spoonflower
– Sticky back Velcro for the closure
– Iron & basic sewing supplies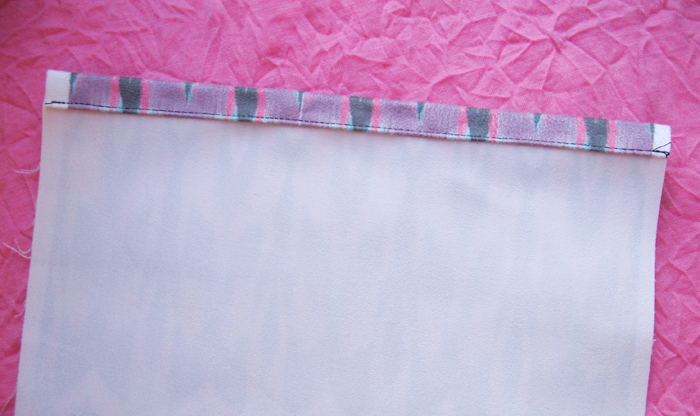 Step 1: Trim your swatch so there is only about 1/4″ of white around the edge.
Step 2: Use your iron to press the top edge down 1/2″. Then fold it over another 1/2″ and press.
Step 3: Sew it down!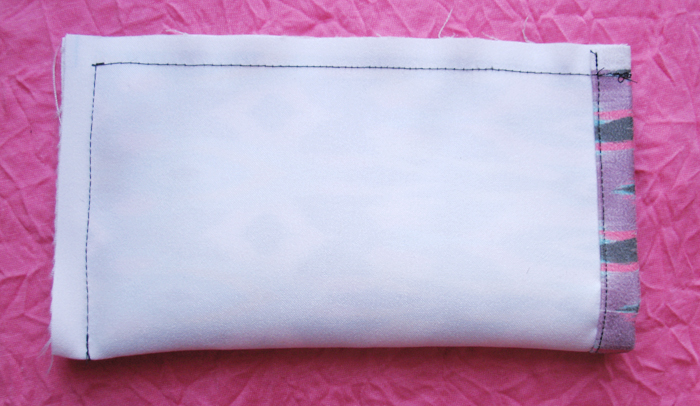 Step 4: Fold in half so right sides are touching and sew along the edges.
Step 5: Turn right side out and then attach your Velcro inside to the top edge.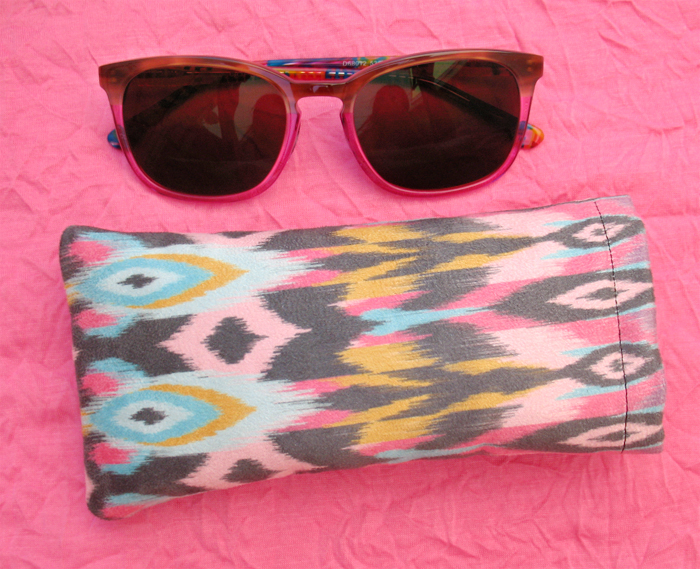 Super simple project + it'll keep your sunnies safe + it keeps a swatch from going to waste! :) btw, I used Spoonflower's faux suede fabric for this. It's a heavier weight fabric which is probably better for preventing scratches on the glasses if you're like me and tend to just throw them into your purse!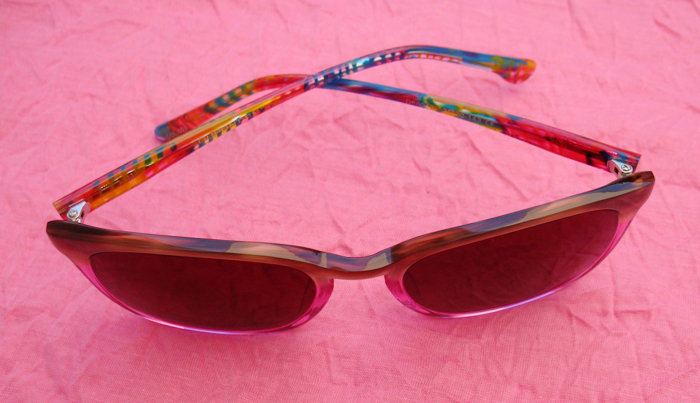 Now about the glasses! :) Firmoo offered to send me a pair to try for free + review. I chose this style and since I don't wear eyeglasses, I opted to have them made into sunglasses. They have multiple colors and darknesses you can chose from for the tint. I went with the darkest brown tint, to match the frame. I really love how dark the tint is! My favorite thing about these frames is the colorful sides (arms?). It makes me want to wear my hair up so they show more! :)
These actually came with a nice hard case + cleaning cloth + a soft pouch! So it's not at all actually necessary to make yourself a pouch for them. But ya, know… I like to make my own everything! ;)
May 14, 2014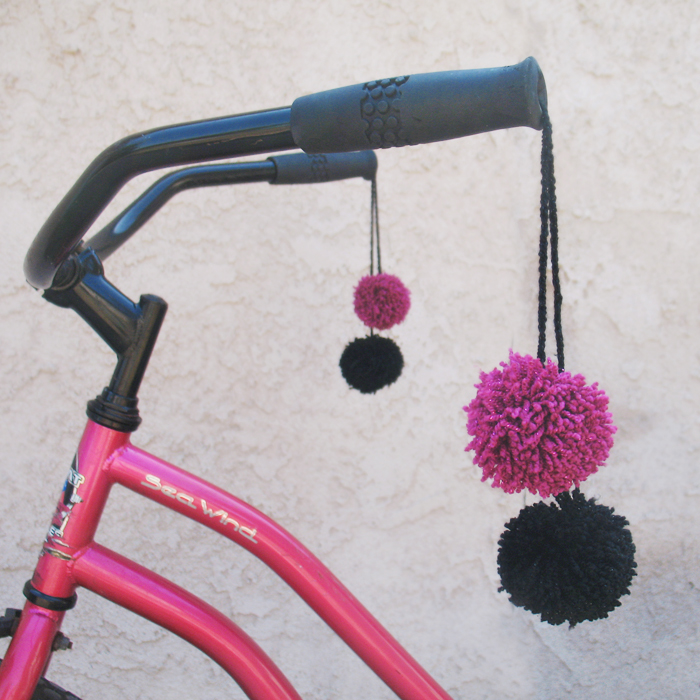 So, I was cruising around the beach on my bike and I saw a girl with pom poms hanging from her handlebars! I immediately knew I needed to make some!! And I'm going to show you how!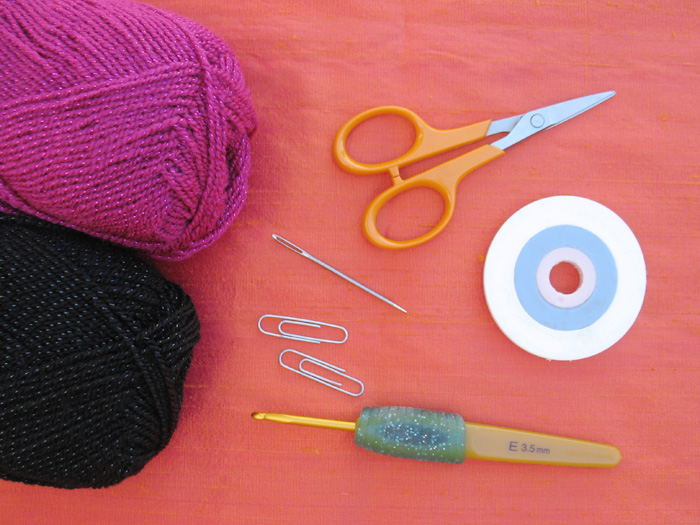 Supplies:
♥ Yarn (I'm using Vanna's Glamour, but any kind will work!)
♥ Pom Pom maker tool (or make your own using my tutorial)
♥ Scissors
♥ Yarn needle
♥ Two paper clips
♥ Crochet hook (optional – you don't need to know how to crochet to make this!)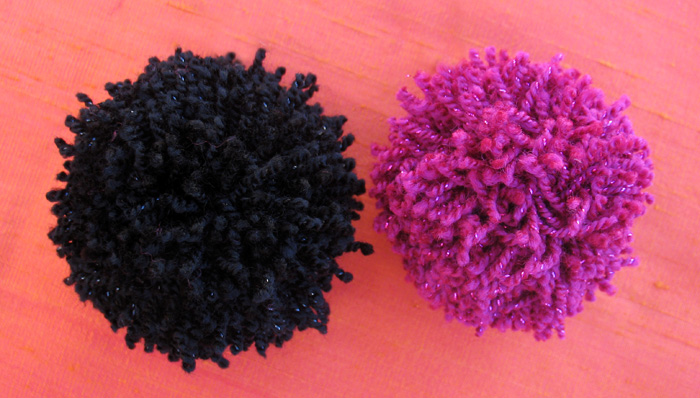 Step 1: Make 4 pom poms. (If you don't know how, I have a tutorial here).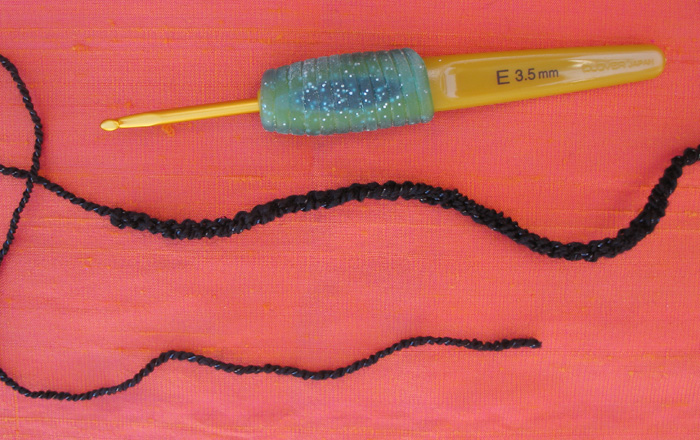 Step 2: Make two crochet chains and be sure to leave a yarn tail on both ends. I made mine about 10 inches long (not including the tails). If you don't know how to crochet, you can just use a piece of yarn rather than making a chain.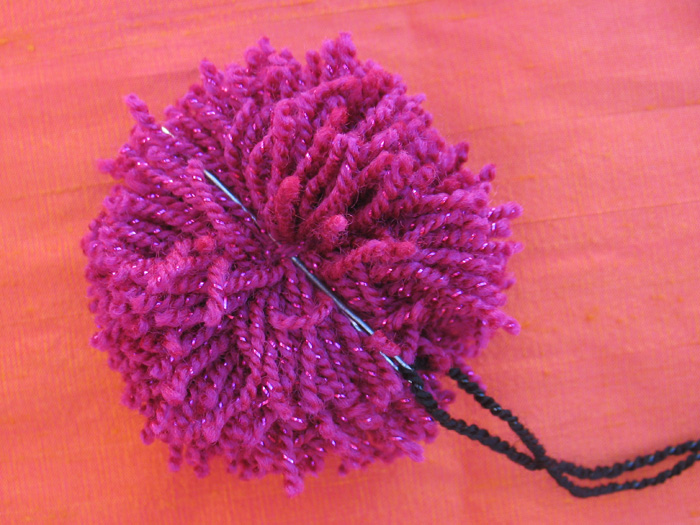 Step 3: Thread your yarn needle onto one end of the chain you just made and secure it to the center of the pom pom. Cut off the extra tail and then repeat this to attach another pom pom to the other end of the chain.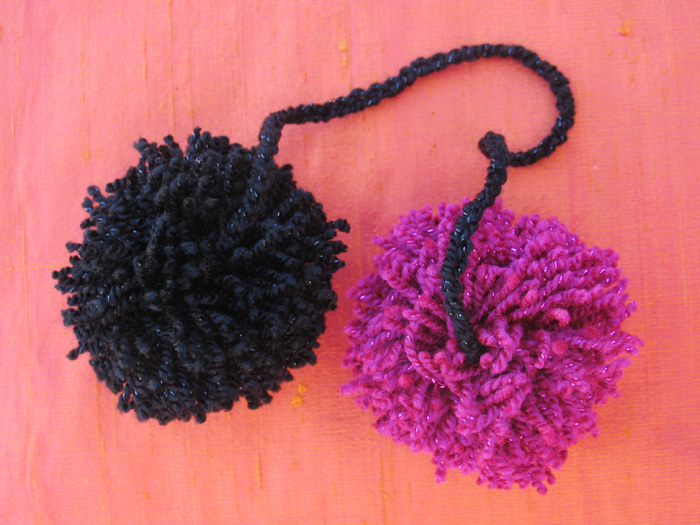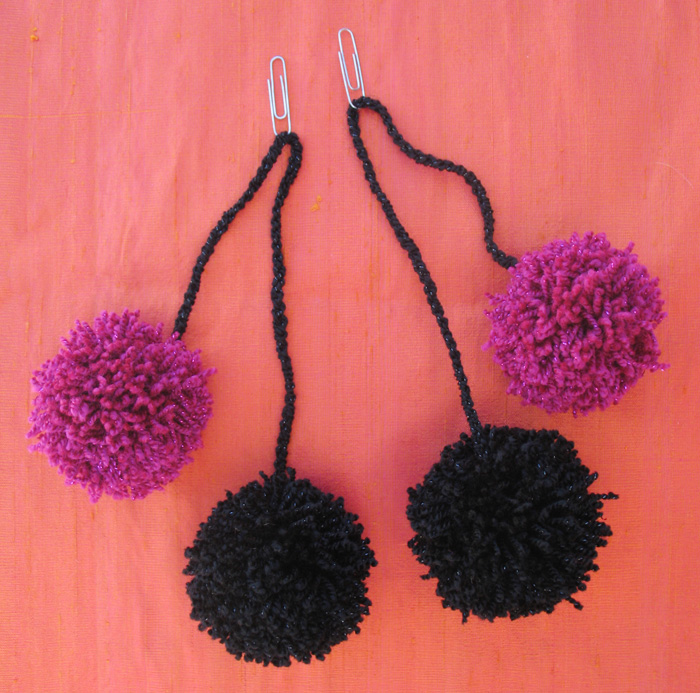 Step 4: Put the end of a paper clip through one chain. I like to make mine so one pom pom hangs slightly higher than the other. If you didn't make a chain and are just using a piece of yarn, you'll have to knot your yarn onto the paper clip.
Now you can insert the paper clips into the holes on the ends of your handlebar grips!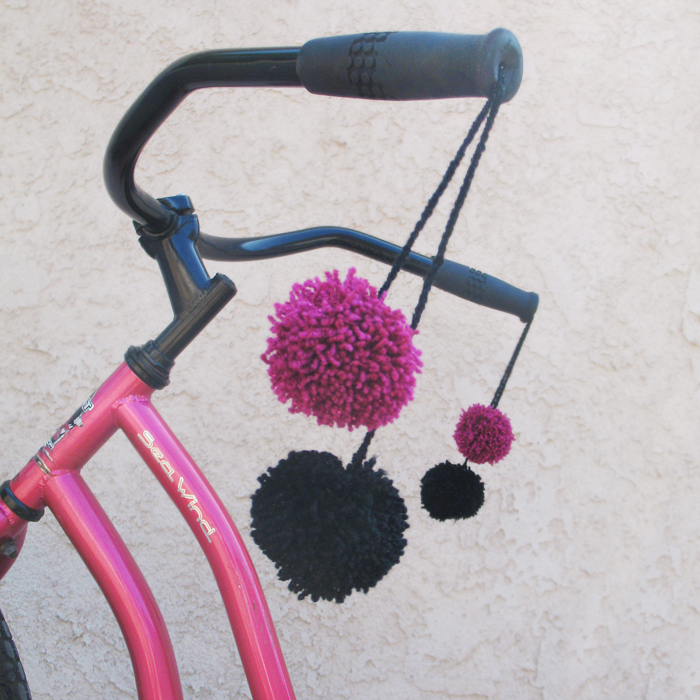 yay! :D
If pom poms aren't really your thing, I also have a tutorial on how to make your own streamers using ribbon!
March 19, 2014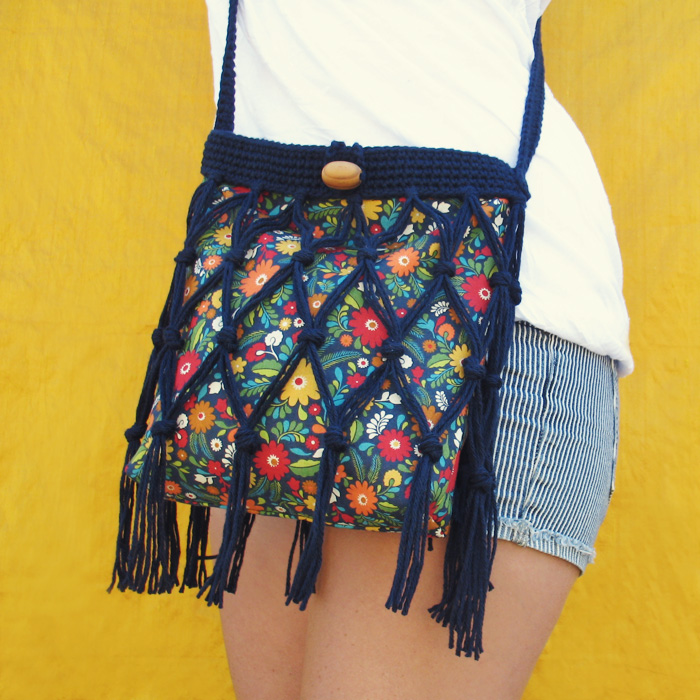 Did you know that March is National Craft Month?! Jo-Ann Fabric and Craft Stores invited me to create a project tutorial to share with you for the occasion! They gave me four themes to choose from (floral, nautical, geometric and vivid orchid) and I went with the floral theme because it's perfect for Spring! Jo-Ann makes spring crafting easy during National Craft Month with a spring crafting inspiration website. Check that website out if you want to see what other crafty bloggers have done with the themes!
Anyway, lately I've had a lot of ideas floating around in my head that involve incorporating fabric into crochet projects. So I came up with this idea for a bag that is perfect for anyone who likes to crochet and sew! And it really only requires pretty basic knowledge of both!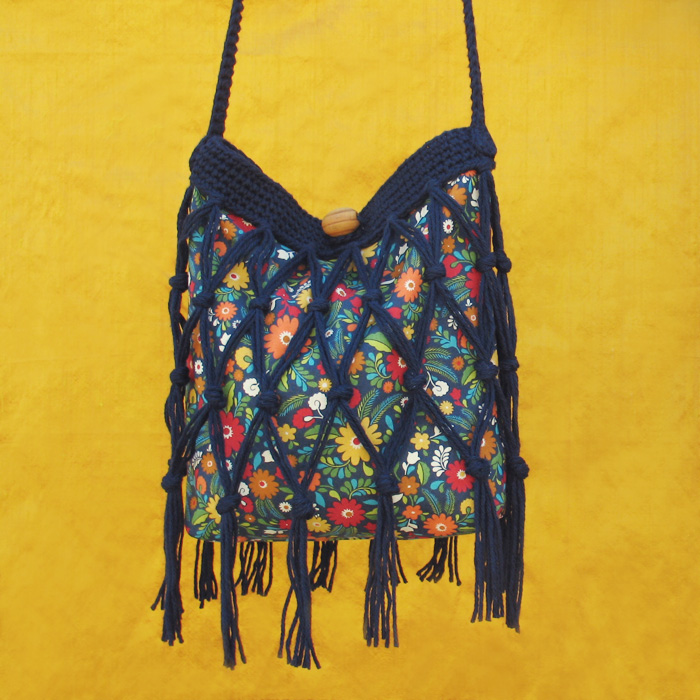 Finished Size: About 10 inches wide x 11 inches tall (plus fringe). Strap can be made any length.

– Cotton fabric (about half a yard will do – I used this one)
– Worsted weight yarn (I used Bernat Handicrafter Delux in Navy)
– Size G (4.5 mm) crochet hook (or size needed to obtain gauge)
– Yarn needle
– Basic sewing supplies (this can be sewn by machine or hand)
– Ruler
– 1 large wood bead (a button would work too)

sc – single crochet
ch – chain
sl st – slip stitch
rnd – round
ea – each
FO – finish off

Gauge: 4 sc = 1 inch. Top piece should measure approximately 20 inches around. Gauge IS important. If your gauge is off, the top piece will be too big or too small to fit around the fabric.
Top piece
ch 84. sl st to join.
rnd 1: ch 1 (counts as 1 sc). 1 sc in ea ch. sl st to join. (84)
rnd 2-4: ch 1 (counts as 1 sc). 1 sc in ea st. sl st to join. (84)
rnd 5: ch 1 (counts as 1 sc). 1 sc in ea of the next 21 sts. ch 16 (this will be your loop for the button/bead). sl st to 1st ch. 1 sc in ea of the remaining sts. invisible join and FO (84)
Strap
*Leave enough yarn in the beginning to attach the strap to the top piece*
ch to desired length. (mine is 39 inches)
rnd 1: 2 sc in 2nd ch from hook. 1 sc in ea ch except last – 4 sc in last ch.
*now you will be working along the other side of the ch, coming back to where you started*
1 sc in ea ch except last – 2 sc in last ch. Invisible join & FO leaving enough yarn to attach the strap to the top piece.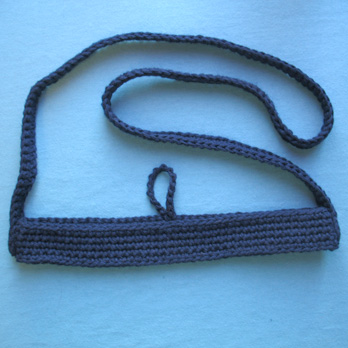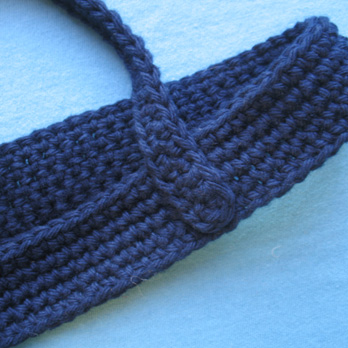 Use the yarn that you left at the beginning and ends of the strap to attach it to the sides of the top piece as shown above.

Step one: Cut 4 pieces that are each 12 inches tall x 11 inches wide. Cut a 1 inch square out of the two bottom corners on each piece.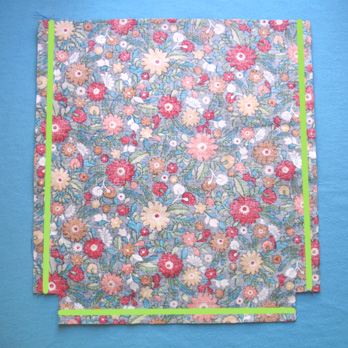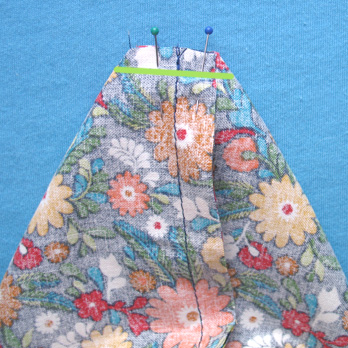 Step two: Pin two pieces together with wrong sides together. Do with this all four pieces (so you'll have two sets of two pieces pinned together). Sew along the sides and bottom (green lines in the photo) using 1/2″ seam allowances.
Step three: Flatten the bottom corners (the 1 inch square) so that the seams you just sewed touch each other. Sew across using 1/2″ seam allowances. Do this to all of the bottom corners.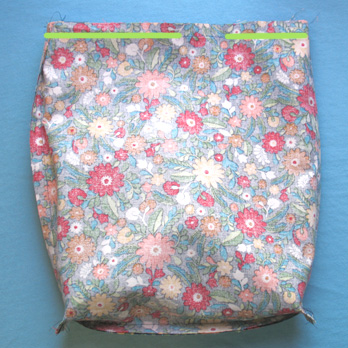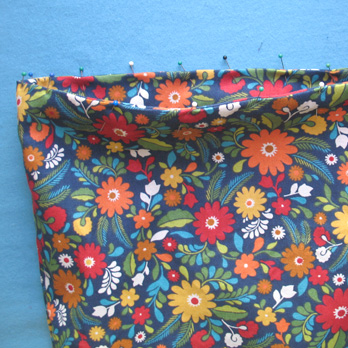 Step four: Turn one of the pieces right side out and put it inside the other piece (so that right sides are touching). Pin along the top and sew using 1/2″ seam allowances. Be sure to leave a small hole so that you can turn it right side out.
Step five: Turn right side out and pin along the top. Top stitch close to the edge all the way around. This will sew the hole shut that you left for turning.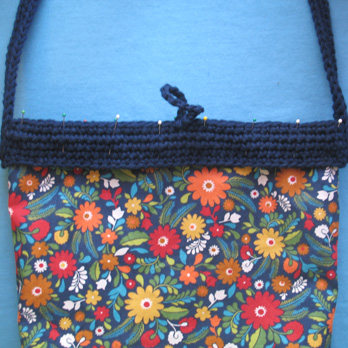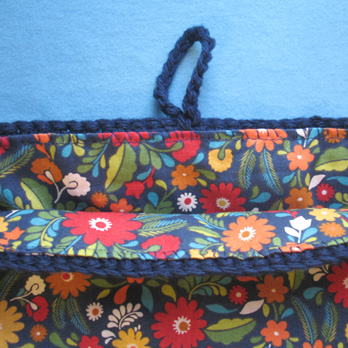 Pin the fabric to the inside of the top crochet piece and sew along the edge. I also make a few stitched toward the bottom of the top piece to hold it down. You're probably going to want to do this sewing by hand (I never have much luck putting crocheted pieces through the sewing machine!).
Next, sew your bead or button onto the top piece on the opposite side of the loop.

Step one: Cut 56 pieces of yarn that are approximately 40 inches long.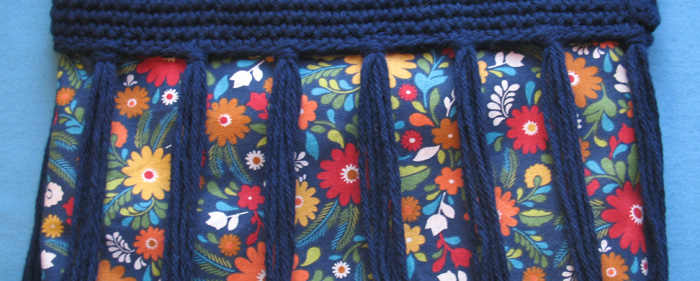 Step two: In every 6th stitch, attach 4 pieces of yarn (the pieces will be folded in half so you will have groups of 8 strands hanging down). I have a quick tutorial here on how to attach fringe.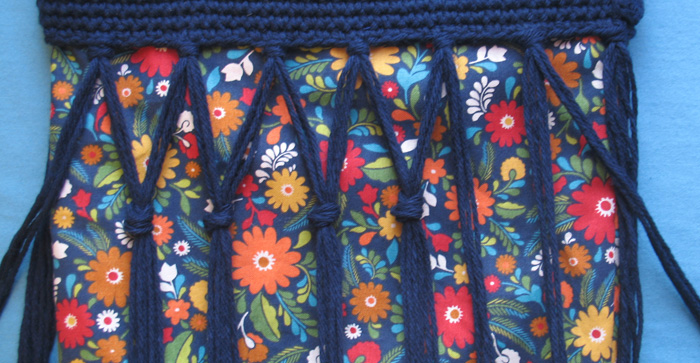 Step three: Separate 4 pieces of yarn from each group and knot them to 4 strands from the next group as shown above. Do this all the way around the bag.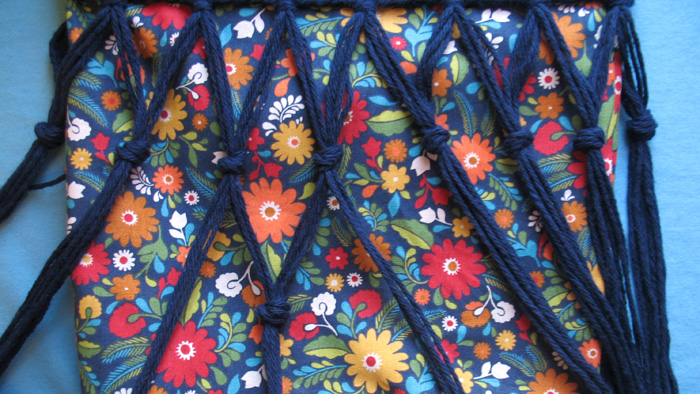 Step four:  Repeat the same process, making another row of knots a few inches below the last ones.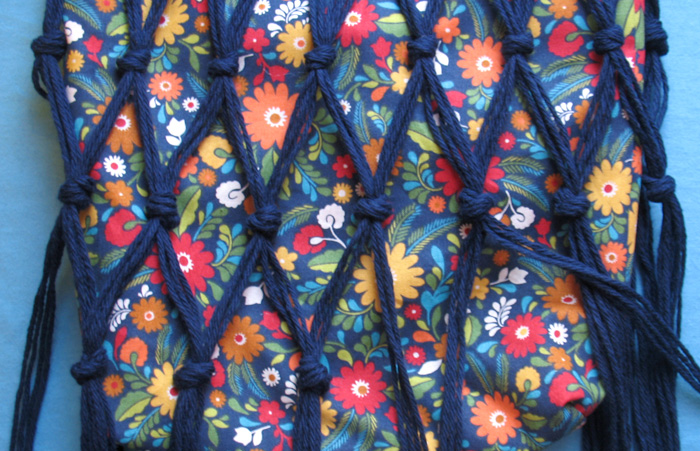 Step five: One more time! You'll have a total of 3 rows of knots when you're done.
Step six: Trim all of the remaining yarn to the same length. I left about 4 inches hanging below the last row of knots.

If you use this free pattern, please consider supporting me by purchasing a pattern from my shop.  Your support will help ensure that I'm able to continue making new patterns to share. Thanks for considering! :)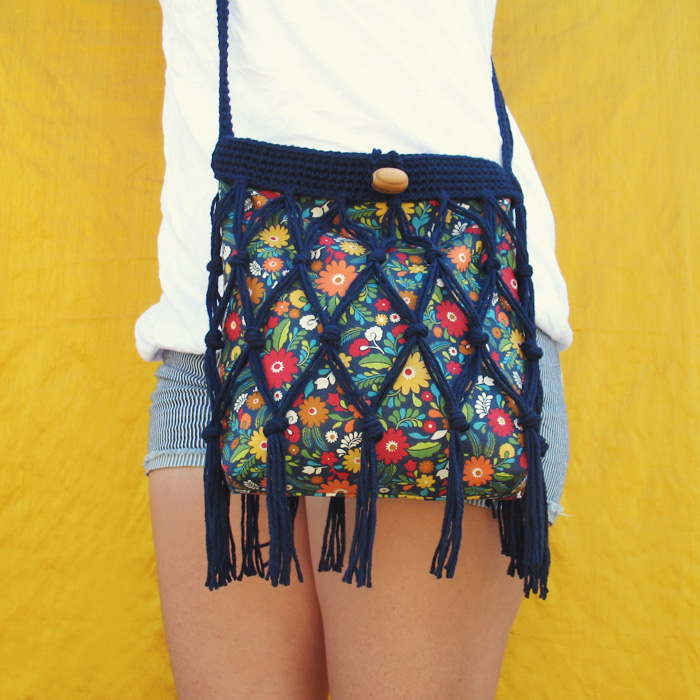 You are welcome and encouraged to sell any items you make using this pattern! All I ask in return is that when selling online, please credit Julie King / Gleeful Things & provide a link to www.gleefulthings.com.
You may NOT sell the pattern, distribute it in any form, repost it online, or alter it to claim it as your own (this includes charts & translations to other languages). Copyright © 2014 Julie King / Gleeful Things. All Rights Reserved.
Disclosure: This is a sponsored post. These supplies were provided to me free of charge by Jo-Ann, however, I designed the project myself and all opinions here are my own.
January 24, 2014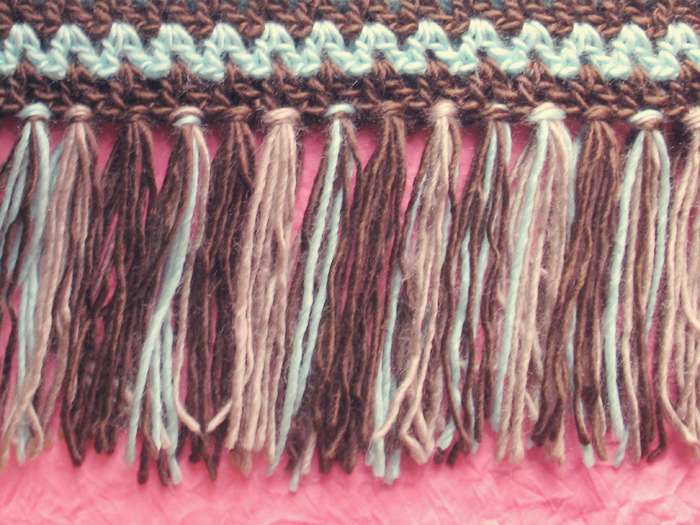 Last week I posted a tutorial on how to quickly make a lot of fringe at once and now I'm going to show you how I attach fringe! All you need is a crochet hook.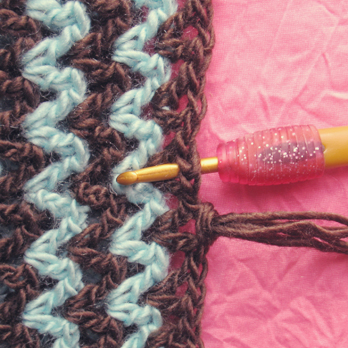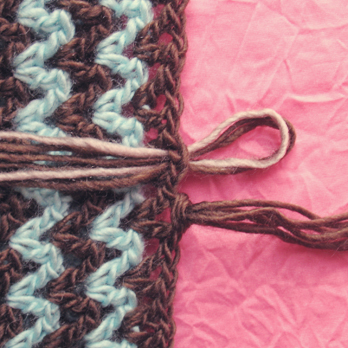 Insert your hook into the space where you want to put the fringe as shown above. Next, fold your piece(s) of fringe in half and put the middle part on the hook. Pull partially through the space.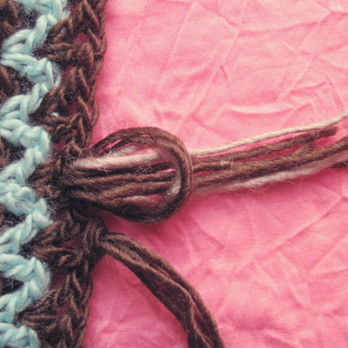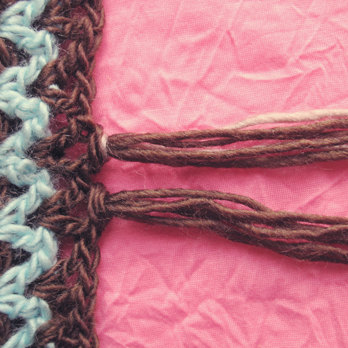 Put the ends of your fringe piece(s) through the loop and pull tight!