Tag Archives: Links
January 26, 2011

♥ I love this knitted foot stool! It looks like something you'd find at Anthropologie but would be so cheap to make yourself! You could even make it bigger and use it as a bean bag type chair.
♥ Here's a really creative use for old calendars! Turn them into sketchbooks! You could even put in lined paper if you wanted a little notebook. Or maybe even use it as a mini scrapbook?
♥ This is a pretty (and easy to make!) set of lights made with cupcake papers! They'd be adorable at a cupcake party!
♥ Root Beer Jell-o shots! Oh my! These sound so good! I had no idea that root beer vodka even existed! They're also made with Sambuca, one of my favorite liquors! *drool*
♥ I keep seeing these chalkboard speech bubbles everywhere and they look so fun! I'm happy to have found a tutorial that's easier than using chalkboard paint!
♥ This tutorial shows how to do lettering with yarn and wire! I wish I had a yarn store. This would make such a cool sign in the window!
♥ This crochet orb makes a really pretty light! It would look so pretty to have a bunch of them in a tree!
♥ Origami lollipop Valentines! Candy Valentines are the best! But these ones would also be fun to make!
♥ I really like these hand painted wood coasters! So pretty! And you could paint whatever you like on them. So many possibilities!
January 6, 2011

♥ This calendar journal is an awesome idea! After a couple years of using it, it'll be so fun to look back at what you did each day on previous years! I wish I would have found this before the beginning of the year! oh well, it's never too late to start one, I suppose!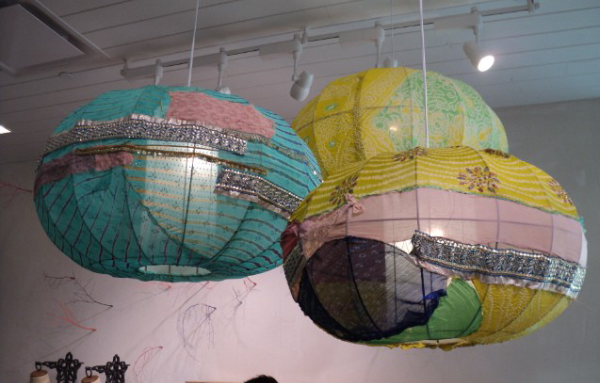 ♥ I just love love looove this fabric lantern tutorial from Free People! Now I'm kicking myself for not buying the paper lantern I had in my hand at the thrift store a few days ago!
♥ If the lantern seems too hard, here's a lovely restyled lampshade! I've been loving that pom pom trim lately and I find myself liking anything that has it!
♥  These keychains are reeeally cute! And so easy to make!
♥ You may have noticed that I'm rather fond of acorns! I found two things to make with them, seperately making use of the tops and bottoms. Use the tops to make felted acorns. And use the bottoms to make little owls!
♥ Here's a cute little bumblebee crochet pattern!
♥ I've been wanting to make a furry hat of some sort. This bomber hat tutorial seems nice.
December 28, 2010
♥ Spoonflower is amazing! I love that they've made it so easy for anyone to design fabric! Anyone with the skills anyway! I sure wish I could! :P Also, I love that you can order the design you like on whatever fabric you want. Very nice! :D
♥ Project Restyle is such a fun idea! I totally want to participate! Giving new life to old clothes is something that I've recently challenged myself to do more often, rather than getting rid of old things.
♥ Speaking of repurposing clothing, here's an easy tutorial on how to turn a sweater into a circle scarf!
♥ I love this wine bottle light! I have a couple pretty bottles that I've saved that I'd like to try this with!
♥ These paper cube lights are pretty too! And so easy!
♥ These sequined hangers from Free People are so pretty!
♥ I have no idea how I haven't heard of Olek before! I've seen her bicycles all over the internet but never knew who the artist was! Her website contains so many inspiring pieces!!
♥ Honestly, this is probably the best LED hula hoop tutorial I've seen so far. Good job, MAKE! :)
♥ Here's a pretty crocheted rainbow coin purse tutorial!
♥ Rainbow Jell-o Shots! These look so good! My Jell-o shots seem so boring compared to these!
♥ Themeleon is a spiffy (and easy!) way to change your Twitter layout!
♥ A sockodile! Cuuute! I think I like this more than sock monkeys!
December 14, 2010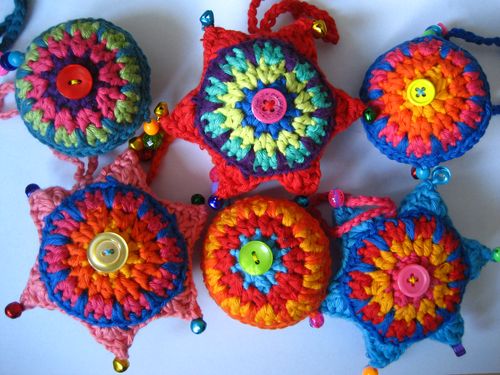 I really like to make Christmas ornaments so I've collected links to a few tutorials that I like!
♥ I love these brightly colored crocheted ornaments! (free pattern)
♥ Here's a cute owl ornament! (free pattern)
♥ Whip up has a list of 30 handmade ornament tutorials.
♥ These are really cute candy cane yarn ball ornaments!
On to other things now! :)
♥ I've always loved these glitter bracelets! This tutorial shows how to make your own!
♥ Here's a tutorial on giving your crochet hooks some sparkle!
♥ Here's a tutorial on weaving yarn around tree branches. I'm probably gonna have to try this! It would be an awesome yarn bomb!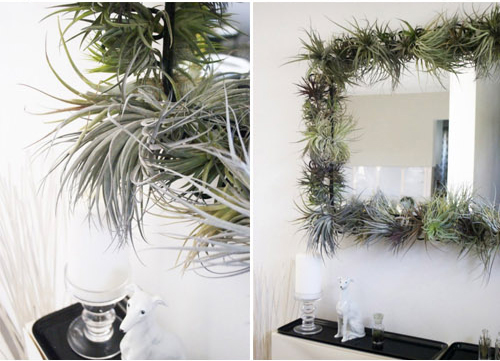 ♥ I like the idea of decorating with air plants. You can glue them to pretty much anything so there are so many possibilities! The mirror in this post is pretty cool!
November 20, 2010
I recently went through my Google Reader and cleaned out allllll of the blogs that I never read. I tend to subscribe to anything I find even mildly interesting, but tend to only read my faves. So It was due for a clean out! It feels so neat and organized now! :D
Anyway, I made this post to tell you that I updated my "Blogs I Heart" list and you should check it out! Scroll down a bit, it's in the side column –>. It's mostly crafty blogs with a few personal & fashion blogs thrown in there. Anything that I find interesting or inspiring I guess! :)
What are your favorite blogs to read?