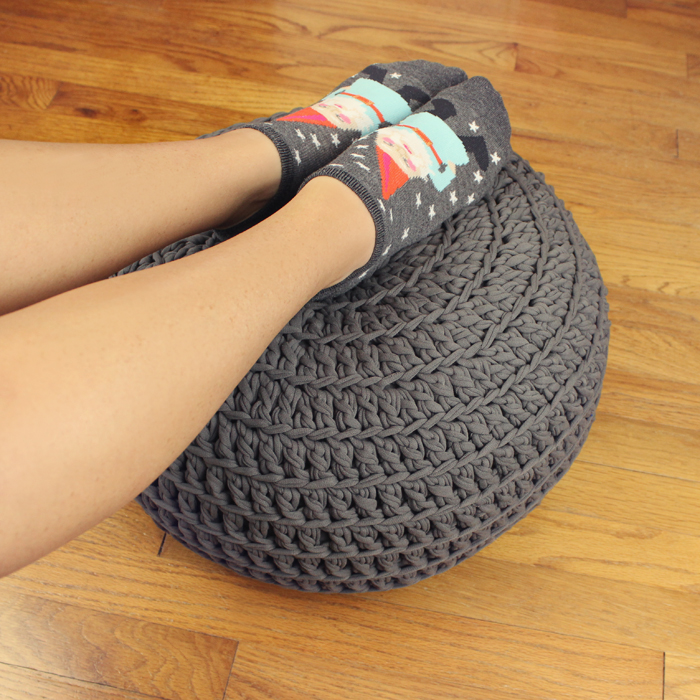 About a year ago, I published my Poof ottoman/floor pillow crochet pattern and I get a lot of the same questions about it so I wanted to take a sec to write up this FAQ post so I can try to help as many people as possible! :)
Q: How can I change the size?
To increase or decrease the height of the poof, all you need to do is do more or fewer repeats of rounds 6-11. If you'd like to increase the circumference, you'll need to continue increasing after round 5. So your next round will look like:
[1 dc in ea of the next 4 sts. 2 dc in next st.] rep around. (84 dc)
You can continue increasing for as many rounds as you like, until it reaches the size you're happy with. Then move onto the rounds where you're doing 1 dc in each stitch. Remember that if you do more rounds of increases, you'll also need to do more rounds of decreases at the end.
Q: How many yards of t-shirt yarn do I need?
Since I cut my own t-shirt yarn (I have a tutorial video, if you'd like to do the same), I can only estimate the total yardage needed. Using this method to calculate, I'm guessing that I had around 170 yards total, prior to stretching. As I said in that post, stretching the yarn after it's cut does give you more length that I'm not sure how to calculate, so I definitely recommend having over 200 yards, just to be safe.
Q: Can I use _____ yarn instead of t-shirt yarn?
You can use pretty much any yarn with this pattern, but keep in mind, if your yarn is smaller than t-shirt yarn, the poof will come out smaller. You can follow my instructions above to increase the size but the easiest option would be to just hold multiple strands together.
It seems that a lot of people want to use worsted weight yarn, so I would recommend holding 3-4 strands together. Whatever yarn you use, be sure to check your gauge after round 2. If it doesn't match, just know that your poof is going to come out bigger or smaller than mine. You can fix this by using more or fewer strands of yarn until you're able to reach the correct gauge and/or try changing your hook size.
If you have any additional questions, please post them on the pattern page so we can keep all questions about this pattern in one place. :)