Join in, everyone! I'm hosting my first crochet along and there's a contest to go along with it! Make a candy-clops (or ten!) using my free candy-clops amigurumi pattern and you could win a pattern of your choice from my shop!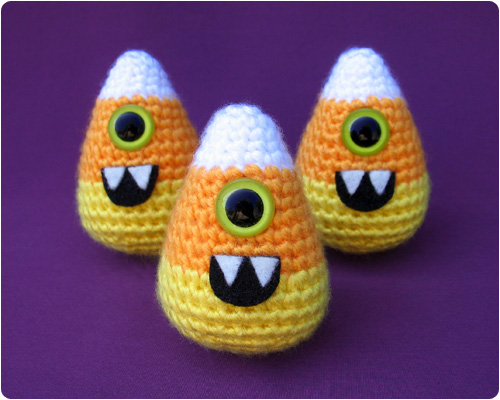 I don't want this to be a skills contest so 5 winners will be chosen at random to win a free pattern of their choice from my shop! I'm also going to be awarding a free pattern for each of the following:
♥ Most Unique – Who says candy corns have to be white, orange, and yellow?! Go crazy and surprise me with something original!
♥ Best Photo - Put together a little Halloween scene or something! This will be judged based on creativity, not who has the best camera/photography skills.
♥ Biggest Army – It's hard to make just one! Whoever makes the most wins this one!
Here's how to enter:
Step 1: Upload a photo of your candy-clops creation anywhere on the internet as long as it's public (Ravelry, Flickr, your blog, etc).
Step 2: Comment on this post with a link to your photo.
I'll be accepting entries until midnight on November 2nd, so you have plenty of time! One entry per person please! :)