I'm getting a lot of questions on the Gumdrop Slouchy Hat pattern so I thought I would do an FAQ post.
The #1 question I'm getting is, "Can I use ____ yarn for this pattern?". So I took this comparison photo to help you see how your yarn compares.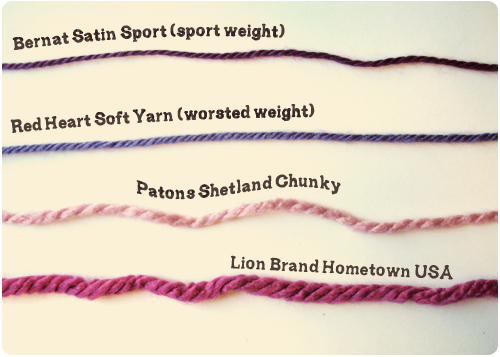 I think there's been a little confusion about chunky yarns (as used for this pattern) being the same thing as bulky yarns. Actually, chunky yarns are not the same as bulky yarns. A few people have asked about Lion Brand Hometown USA, which is a bulky/super bulky yarn. As you can see, it's a lot thicker than the chunky yarn.
Q: Can I use Lion Brand Hometown USA for this hat?
A: No. Unfortunately, it's much too thick. If you do somehow manage to get the right gauge with it, it'll probably be the stiffest hat ever, which is the opposite of what you want in a slouchy hat. Changing your hook size won't help. Doing fewer rounds of increasing won't help either. Sorry :(
Q: Can I use worsted weight yarn for this hat? What if I use two strands held together?
A: Yes, it's possible to use worsted weight yarn. Two strands held together will probably be a just bit too thick, which will result it in being a little stiff. In order to get the right gauge with one strand, your stitches will need to be really loose. Increasing your hook size might help with that. Your stitches will probably have gaps between them since the yarn isn't as plump as the chunky, so your hat might be kinda airy.
Q: I end up with too many stitches after round 4. What am I doing wrong?
A: Check out my post on how to read crochet patterns where I explain this and two other rounds from the pattern.
Q: How can I make this hat larger to fit a man?
A: I don't really recommend trying this if you're a beginner because my explanation will probably be a little confusing. But… The easiest way to increase the size is to do an additional round of increases. So after rnd 5, your next round would be-  ch 3. [4 dc. 2 dc in next st.] rep around. sl st to join. (96) And then continue following the pattern, keeping in mind that the stitch count in going to be different. rnd 14 will become – ch 3. [4 dc. dc2tog] rep around. sl st to join. (80) .
I hope this is helpful! If your question isn't answered here, feel free to ask!
I'm disabling comments on this post because I want to keep all of the questions about this pattern in one place. If you have questions, please ask them on the actual pattern post: HERE