♥ This week, I found two spiffy calendars! Here's a pocket style one made with photos and here's a pretty one made with buttons!
♥ I'm starting to see Valentines crafts popping up! My favorite so far is PlanetJune's love hearts. (free crochet pattern)
♥ I've recently been interested in learning new fabric dying techniques. Kinda sad that I can't really try this one! But I just love the look of these fabrics that were dyed using snow! So pretty!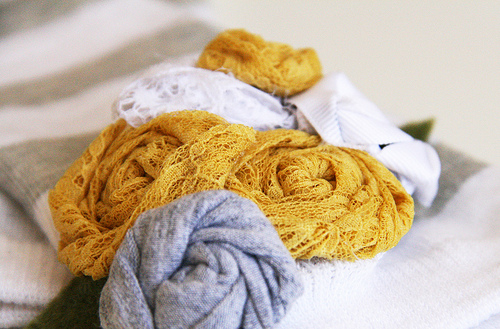 ♥ Here's a tutorial that shows how to make fabric roses, and this tutorial shows them used to decorate socks. I just love these socks! Actually, I have these socks! (I ♥ $2 Target knee highs!) I just need to make some flowers now! :D
♥ Craft Snob has several different types of fabric flower tutorials. My favorites are Pomela, Olivia, and Lydia. There are so many things these could be used for!
♥ Check out this cute triangle pouch! I really want to make one of these!
♥ Here are some cute owls made with pom poms! You could made so many types of critters with pom poms, actually!
You might also like these posts: