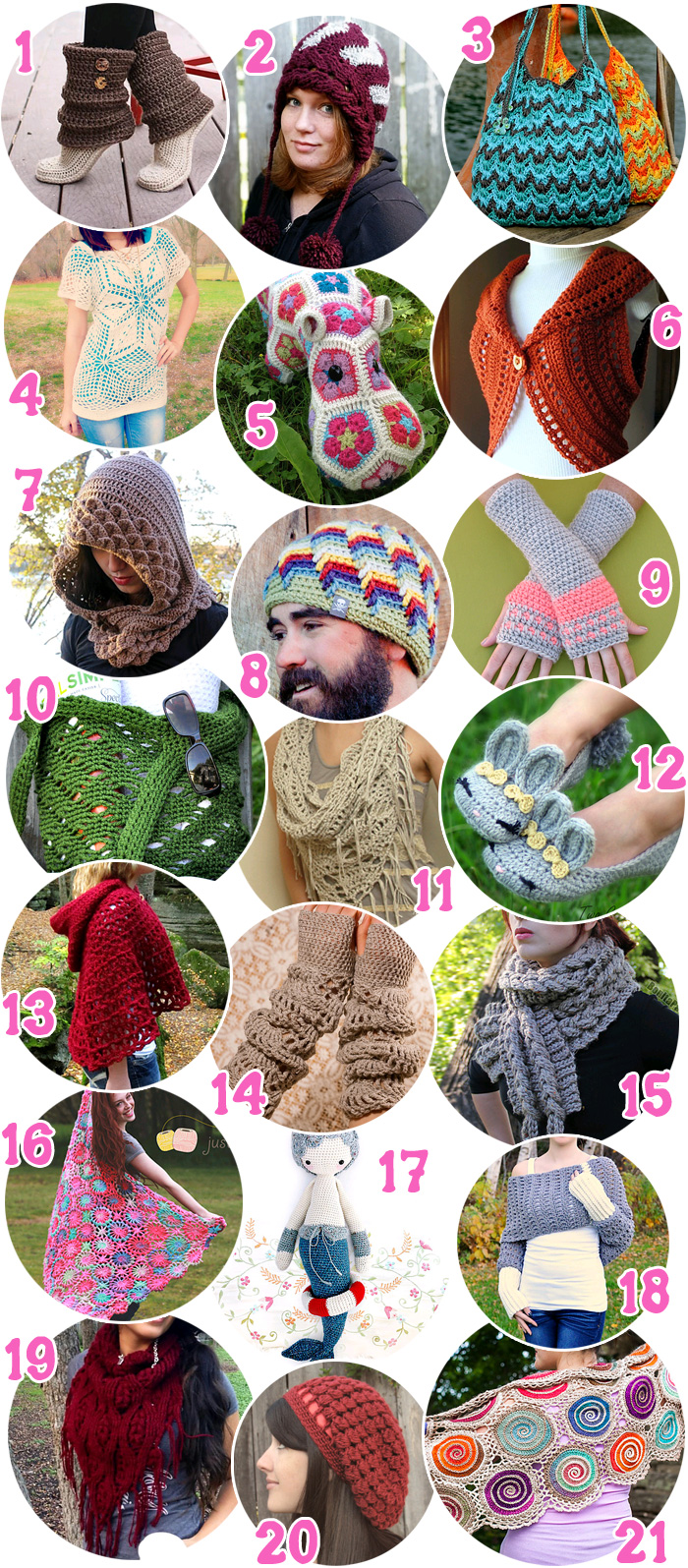 In my gift ideas for crocheters post, I suggested that gifting patterns through Ravelry would be a great surprise for any crocheter on your holiday shopping list. So what patterns should you gift if you have no idea what they want? Here's a list of 21 patterns that I think anyone would be thrilled to receive!
1. Audrey Boots by Tara Murray
2. Nevron Hat by Viktoria Gogolak
3. Hello Greece! Bag by Elena Fedotova
4. Prita Top by Viktoria Gogolak
5. Happypotamus The Happy Hippo by Heidi Bears
6. Crochet Circle Vest Shrug by Patricia Hodson
7. Marte, A Crocodile Stitch Hood by Bonita Patterns
8. Offshore Beanie by Liz McQueen
9. Peachy Arm Warmers by Julie King
10. Ally Market Bag by Sincerely Pam
11. Triangle Cowl by Linda Skuja
12. Women's Bunny House Slippers by Lorin Jean
13. Wildwood Capelet by Patricia Hodson
14. Sand Light Gloves by Whisper Twister
15. Knit-Look Braid Stitch Scarf by Bonita Patterns
16. Flower Garden Throw by Alessandra Hayden
17. "MICI" Mermaid by Lydia Tresselt
18. Warm Hug Shrug by Sincerely Pam
19. Rolling in the Wheat by Tricia Dodge
20. Pinecone Slouchy Hat by Julie King
21. Spiral Construction~When Alice Fell by Charissa Ragsdale
If you need help gifting through Ravelry, here's a tutorial on how to gift. Don't worry, it's easy! ;)
Crocheters, what patterns would you add to this list? Which ones are you hoping to receive?
You might also like these posts: