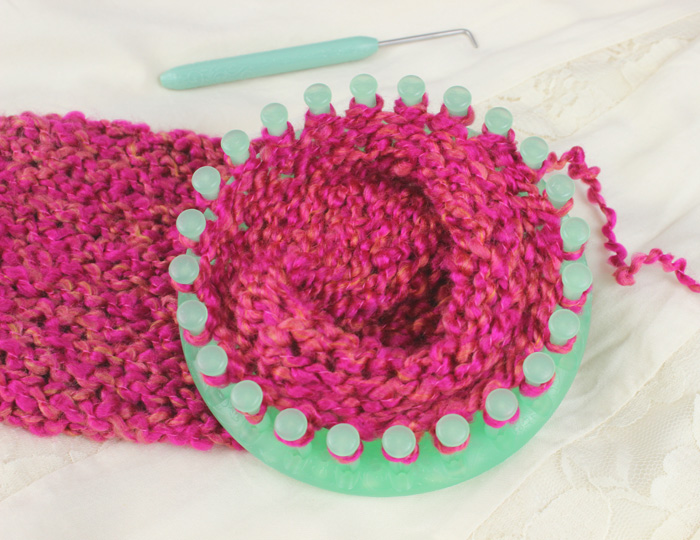 I've only used a knitting loom once, years ago, to make a hat. It came out way too big and made me lose interest in knitting looms. But recently I had the idea to try making some bulky leg warmers on a small one! So I picked up this 5 1/2″ loom from Hobby Lobby (my new favorite place!) and dug this ball of Homespun out from deep within my stash! I can't even remember how long ago I bought this! It was an impulse buy because I loved the color so much (Tulips).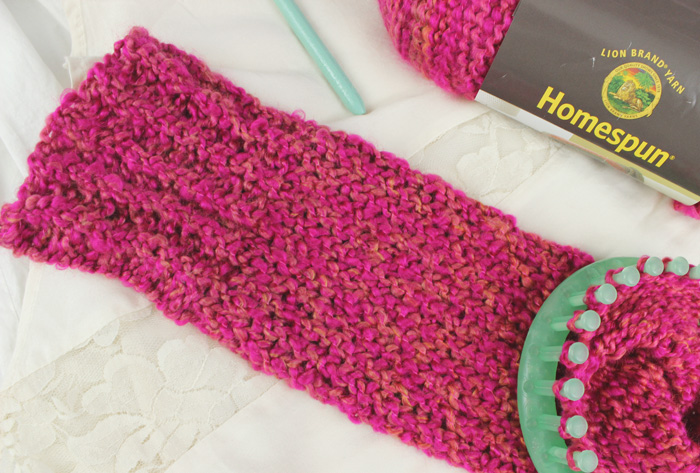 I learned how to purl on the loom (thank you, YouTube!!) and did a knit/purl ribbing for 15 rows and then just knit from then on. I'm not happy with how the ribbing came out. It just seems way too loose and sloppy. Which is actually another reason I don't particularly like knitting looms. It seems like they're intended for really big yarn. Even the knit part is too loose for my liking (you can't really tell until I have it on my leg) but isn't quite as bad as the ribbing.
I'll probably end up frogging these to at least redo them without the ribbing. But since it's not a color I really see myself wearing anyway, I'll probably send it back to my stash and look for something bulkier.
Do you use knitting looms? What type of yarn do you prefer to use with them? Are there any techniques to help your stitches seem tighter and less sloppy? I'd love to hear your thoughts on knitting looms and any advice you might have!
You might also like these posts: