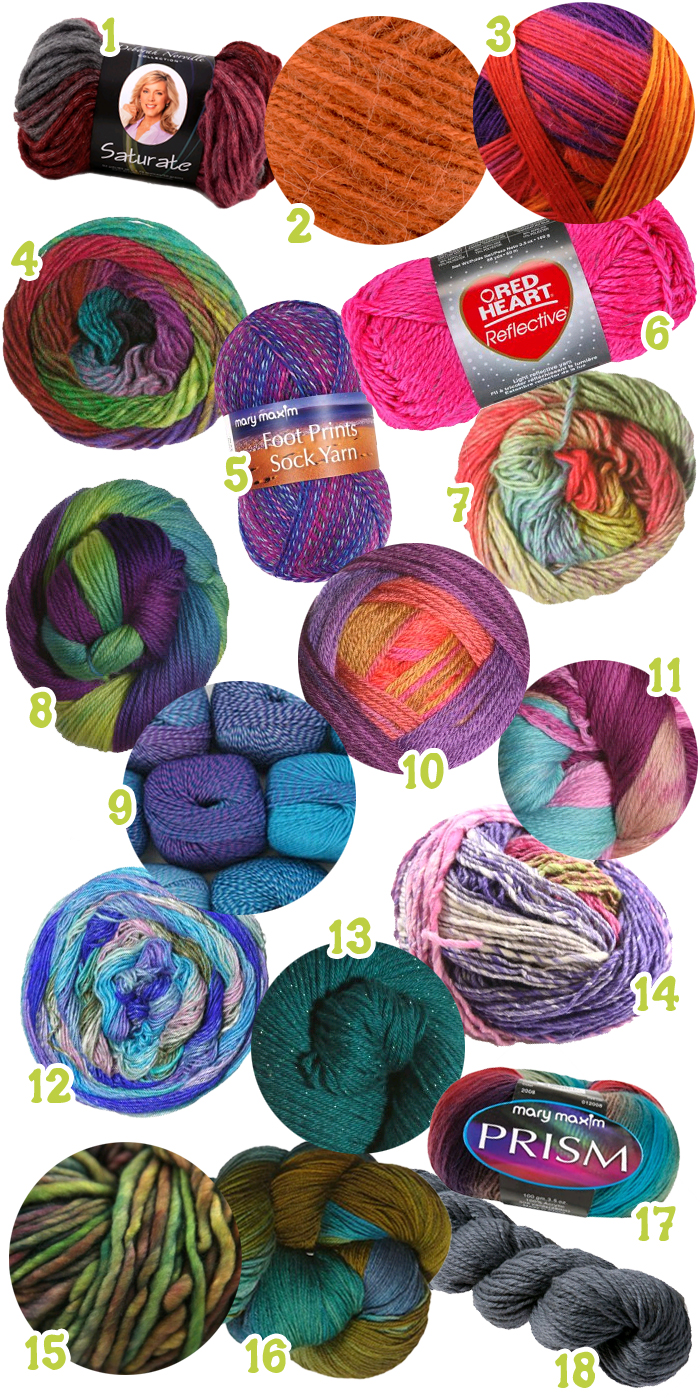 I recently bought a bunch of new (to me) yarns online, previously I pretty much only shopped in local stores, so they're all so exciting to me! I definitely couldn't afford everything new that I discovered so my wishlist grew a lot! This is just my way of reminding myself to try these later on, but they're all so drool worthy, I had to share them with all of you too!
1. Premier Deborah Norville Saturate – I've actually seen this at Jo-Ann before but rediscovered it while searching online and really want to make a cowl with the "Redwood" color!
2. Premier Deborah Norville Alpaca Dance – This is such a pretty, soft looking lightweight yarn! I can't decide what I'd make with it but I'm loving the greens and "Foxy" color.
3. Schoppel Wolle Zauberball – The "Fuchsia" color is SO pretty!
4. Noro Kureyon Yarn – I like that there are a lot of darker colors because I tend to wear those more.
5. Mary Maxim Foot Prints Sock Yarn – I used another Mary Maxim sock yarn for leg warmers and really liked it so I want to try this one too!
6. Red Heart Reflective – I want to design some type of bike accessory with this since I tend to ride at night a lot.
7. Plymouth Gina – Not sure what I'd use it for but lots of pretty colors!
8. Lorna's Laces Shepherd Sport Yarn – Loving the colors "Hampstead" & "Vera"!
9. Jojoland Rhythm Superwash – I'm not sure what, but I really want to use "Aquarius" & "Chestnut" for something!
10. Classic Elite Liberty Wool Print Yarn – I have to admit, I already bought this in "Afterglow" & "Floral Hallucination" but there are so many more that I would love to have! "Ultra Violet Autumn" is such a pretty color combo!
11. Lorna's Laces Shepherd Worsted Yarn – Loving the colors  "The White Witches Lure", "The Shire", "Desert Flower"!
12. Noro Taiyo Sock Yarn – I'm loving this color combo and would love to make leg warmers with this!
13. Cascade Sunseeker – I'm loving this DK weight sparkle yarn but not sure what I'd make with it. So many pretty colors, especially loving "deep teal"!
14. Noro Ayatori – Such pretty colors and texture!
15. Malabrigo Mecha – This color "Arcoiris" is so pretty (as well as so many of the others too)!
16. Lorna's Laces Shepherd Sock Yarn – "Runs With Horses" is so pretty and I'd love to make leg warmers with this one too!
17. Mary Maxim Prism – This yarn reminds me a lot of Red Heart Unforgettable, which I love, so I need to try it!
18. Knit Picks Billow – I really like the texture of this and it's Pima Cotton so I know it'll be soft!
Have you used any of these yarns? I'd love to hear what you think and if you'd recommend them or not! :)
P.S. If you'd like to see my previous wishlists, here's #1 & #2