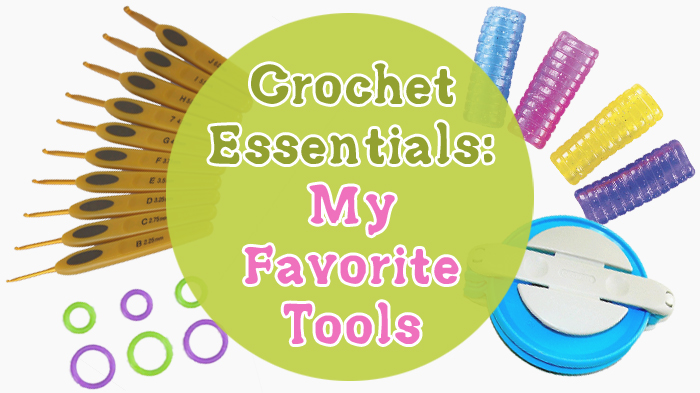 Last week I shared my favorite yarns list so I also wanted to share some of my favorite tools & supplies. These are all essential things that I use (and love!) constantly while crocheting!
♥ Clover Soft Touch Crochet Hooks – I've tried a lot of different hooks and I really just love these so much! I got a whole set of them and really the only other types of hooks that I ever use anymore are the few sizes that are way larger than these come in.
♥ Rubber Pencil Grips – I put these on my hooks and they make me like them even more! They're for comfort and looks. I made a whole post about them here.
♥ Project Bag – I made my own project bag and I'm constantly using it to hold most of the things in this post + a project. If you can't sew, I know there are tons of cute ones on Etsy! :)
♥ Crochet Hook Case – This case came with my hooks and it's so handy! I plan on sewing my own soon though because I want one that matches my project bag.
♥ Stitch Markers – I use these soft stitch markers which are actually for knitting. To make them work for crochet, I just cut them. I started using these when I was really into amigurumi because I wanted something really small and flexible. I thought most of the locking crochet stitch markers were bigger and got in the way when working on really small pieces.
♥ Pom Pom Makers – These Clover pom pom makers are the best that I've found so far. I also made a post on how I made my own using cardboard which is handy if you want sizes larger than they sell or if you just wanna save money!
♥ Fringe Maker – So my fringe maker is actually just a square of cardboard that I cut! But I use it a ton so I figured I'd mention it here too! :P
♥ Measuring Tape – Pretty self explanatory but I use this often while designing patterns.
♥ Scissors – I always keep this little pair of Fiskars scissors in my project bag!
♥ Yarn Needles – Totally necessary for finishing off projects!
♥ Elastic Thread – I like to use this in my leg warmers to help them stay up. It's also helpful if you have a slouchy hat that likes to fall off. I made a whole post about adding elastic to crochet projects here.
♥ Stuffing & Pellets – These are two things that I use while making amigurumi. Pellets are good if you want something to be weighted at the bottom or be beany and squishy.
♥ Safety Eyes – Also great for amigurumi! 9mm is what I use most frequently.
What are your favorite tools? Did I forget anything?
**This post contains affiliate links. If you click and make a purchase, I get a small commission. This helps to ensure that I'm able to continue posting awesome content, free patterns and tutorials! :)
You might also like these posts: