I made my first attempt at setting up a DIY photo booth at my Grandma's 90th birthday party and I wanted to share some things I learned (the hard way). Just some do's and don'ts that might help anyone wanting to try making their own photo booth. I used a table cloth as the background and stapled some garland to it. All you really need is a tripod and a camera with a timer. I set the camera to take 4 consecutive shots, 3 seconds apart. I don't have a remote for my camera so I just stood there and pressed the button. I didn't have a tutorial to follow but here are a few that might inspire you: 1, 2, 3, 4.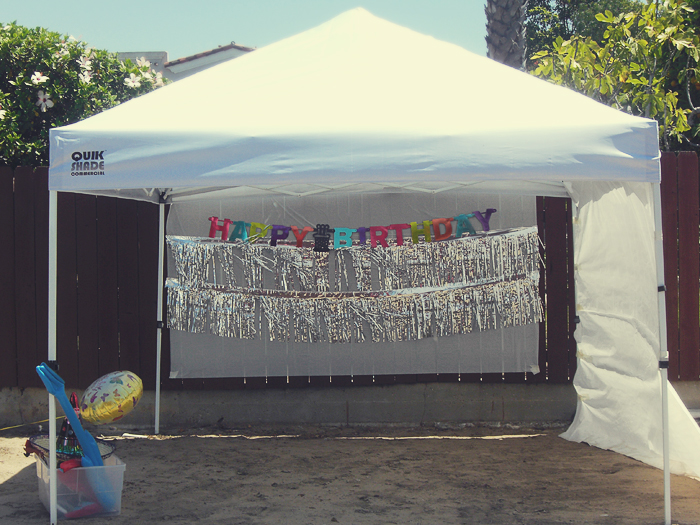 ♥ If you're making your photo booth outdoors, it would be a good idea to get an ez up type canopy to block the sun. If you don't want to buy one, most party rental places have them for rent. Just make sure you get a white one (a colored one would give your photos a tint of that color) and make sure that it's tall enough to not be in the photo. I discovered that ours was too low so we had to bring in a bench for people to sit on rather than stand.
♥ Set up your camera on the tripod first and then set up your background so you'll be able to see how it looks through the camera. I made the mistake of stapling my whole background in place, didn't set up the camera until we were ready to use it, and then discovered that the background didn't fit the frame properly. At that point, it was too late to fix it. Argh!
♥ Don't use a word banner like our Happy Birthday one. It was too long to fit the frame so I find myself either chopping the ends off when cropping the photos (so you only see "ppy Birth") or having to crop too loosely (with the floor and roof showing) in order to fit the whole thing.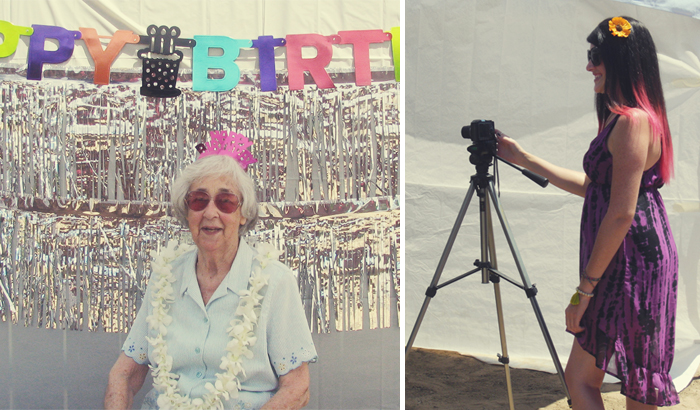 ♥ Shopping for props was my absolute favorite part of this whole thing but don't feel like you have to spend a lot of money. Everyone probably has at least one old Halloween costume laying around, right?! Asking friends and family if they have any old costume items you can borrow is a good way to build your prop collection for free! There were some things that I really found necessary to buy (giant glasses, blow up guitar, sombrero!) but I was also able to find a couple wigs and bunny ears in my old costume box.
♥ There are plenty of props you can make for really cheap. Mustaches were a favorite for us and were probably the cheapest prop we had. I made them from a sheet of craft foam, hot glue, and some wood dowels. You could make a dozen for about $3! You can find lots of free templates for them on the internet, here are the mustaches and lips I used.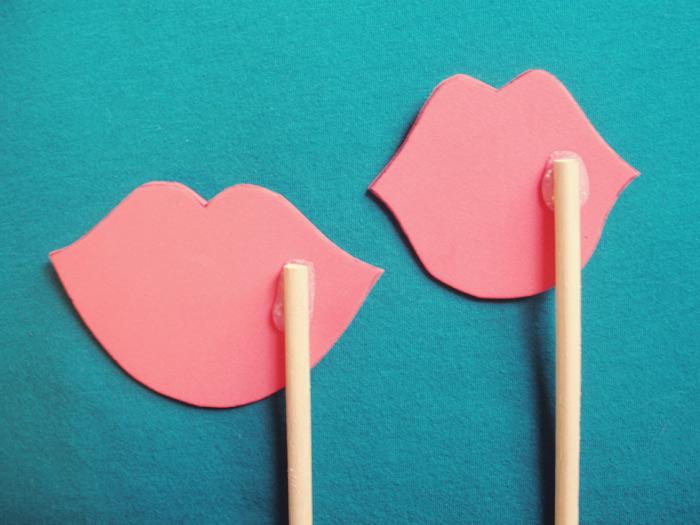 ♥ You know how cute chalk boards look in photos? I really wanted some but couldn't find any little ones. My mom ended up buying small dry erase boards instead and they totally did not show up well in the photos, nor did they look as cute as chalk boards. Here's a fun tutorial on how to make chalkboard speech bubbles. I wish I would have done that instead!
♥ If you want to do the typical photo booth thing (you know, four consecutive shots where you're supposed to pose differently in each?), make sure to explain the concept to people. I found that some of my family totally got the photo booth concept but others just thought I had set up a nice background and wanted them to wear silly costumes. Of course if that's what you want, there's nothing wrong with that! :)
Have you ever set up your own photo booth? What worked & didn't for you?