I have a new crochet pattern available today! This is the skully version of my Spring Blossom Slouchy Hat. This pattern gives you two options. A regular skully hat (the blue one below) or an extra long skully hat (the yellow one below) which has some slouch due to being too long.
The pattern uses worsted weight yarn and I'd consider it intermediate level. It uses basic crochet stitches and techniques as well as two special stitches. Instructions for the special stitches are given in the pattern. It's 8 pages long and includes plenty of photos and video links to help you along. Here's a peek at what's inside: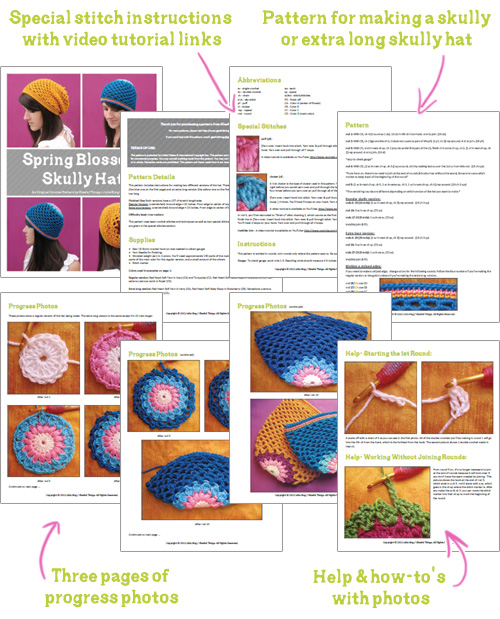 The pattern is available on Ravelry, where you can download it instantly after check out. There is a $3 discount if you buy this pattern and the slouchy version. If you already own the slouchy version, you can still get this pattern for just $1, as long as you have a Raverly account, it remembers your past purchases.
 $4.00 – Spring Blossom Skully Hat
 $5.00 – Spring Blossom Skully & Slouchy Hat Patterns
You might also like these posts: