I'm excited to introduce you to my very first featured sponsor, Hillery of Clever Plumage! She's also offering one of her feather headbands up for giveaway, so be sure to see the end of this post for entry details!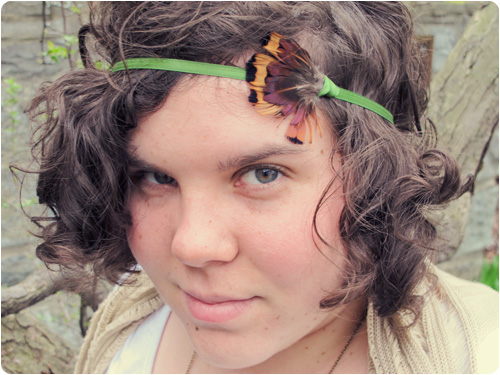 Well hello there, My name is Hillery. I am a 25 year old Georgia peach, transplanted to the Great White North, where I live with my super awesome Canadian husband James, and our sweet little black cat, Nori. You can often find me only lazy days crafting and reading classic literature or taking long walks with my camera.
How did your business come about what made you start it?
Back in 2009 I cut off more than 24 inches of hair. After a visit to my parents house, my father had just come back from a trip to South Dakota where he was visiting friends, with a suit case full of pheasant feather that his friend was getting rid of. This sparked my imagination and I began creating just a few pieces for myself. Back then, I worked as a waitress and folks kept asking me about my head bands and if I was selling them, well I hadn't even thought of it. That  night I went hope and began a week long crafting extravaganza by the end of it I had over 60 different hair pieces and I had to get rid of them. I then started visiting local farms  collecting feathers and started selling my pieces at Roller Derby bouts in Atlanta. Which was a great venue and sparked my love of selling at shows! In 2011 it was time to get serious and I opened my Etsy shop. I am still finding my way around this great and global web, but I am loving everything I am learning and I am super excited at the journey to come!
What inspires you to create?
I get really inspired when I get out on the street and look at street style. For my craft shows I focus on more wearable everyday styles and it's fun to see someones outfit and translate that into feathers. Also, birds themselves! I just so giddy and inspired when see an interesting little bird hopping around.
What is your favorite project or most memorable thing you've created?
I love every moment I get to spend making something custom for someone, be it a wedding or a special event, or even just an old friend. These are the crafting experiences I enjoy the most.
Aside from crafting what do you do for fun?
I love to swim and be out on the water. My husband I also enjoy photography, old movies, and reading together. If I am not at home crafting chances are I'm at the library browsing the stacks.
What are your favorite blogs or websites that everyone should check out?
I am a foodie at heart, one of my favorite foodie and good living blogs is my lovely friend Shira over at In Pursuit of More. Her posts are so inspiring, passionate, and not to mention yummy! She is running a amazing project called Not So Fast, a group that works closely with a local Vancouver organizations to help provide food to needy families.You should check this incredible woman out!
I also have a new blogging friend Megan, from the Darling Ewe. She's just recovering from a badly broken arm, but let me tell you she's a fighter and an extremely talented knitter! You should look into her blog and Etsy shop for sure, her shop photos are so fun!
If you won a $200 Etsy shopping spree, what would you buy?
Oh my, this is a hard one. The practical me says I'd buy every bit of crafty supplies I could dream of and be happy. But the crazy silly girl in me says leather and lace, leather and lace. Hehe. I'd buy anything if it's repurpose suede or has pretty tatted flowers!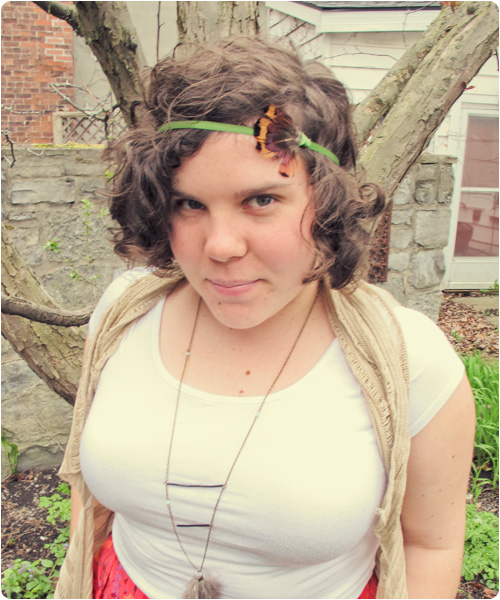 Now for the giveaway!
What can you win? Hillery made this Boho Mini Pheasant Feather Headband (pictured above) just for this giveaway! It has elastic at the base so the size is versatile.
How to enter: Add Clever Plumage (or one of her items) to your Etsy favorites & leave a comment on this post.
Want extra entries? Post a separate comment for any of the following:
♥ Make an Etsy treasury featuring an item from Clever Plumage.
♥ Follow Clever Plumage on Twitter.
♥ Tweet this about the giveaway on Twitter:
@GleefulThings is giving away a Boho Mini Pheasant Feather Headband from @CleverPlumage! Go here to enter: http://www.gleefulthings.com/blog/?p=3916
Entries will be accepted until Midnight on Thursday, May 3rd. 
You might also like these posts: