Thank you, everyone, for entering the Triceratops planter giveaway! We have a winner!
Congratulations to Heather who said:
"I would give it to my husband for his office. He works at Pixar and it's kind of a "thing" to have a really cool and decked out office there. :)"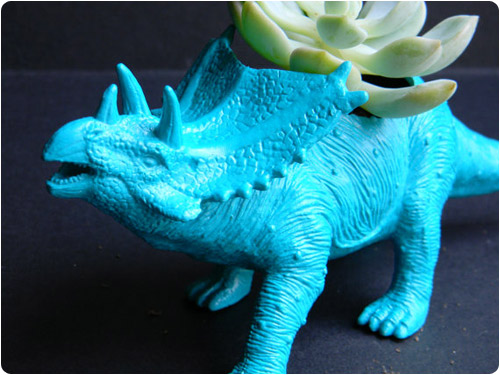 And the surprise? Lucas Michael is generously giving away a second Triceratops!
Congratulations to Cody Ermler who said:
"I would put it out in lawn so the dinosaur can eat grass and never go hungry. Also, I think it would rather be free opposed to being locked up in someone's window, or on a desk. Dinosaurs have feeling too ya know.

***UPDATE***
I plan on putting a webcam on my dino-planter so followers can witness the growth of my venus fly trap, along with its vicious bug-eating tendencies."
You two will be hearing from us soon! :)
If you didn't win, you can still get your own dinosaur planter for 15% off by using code "STYLE" at Lucas Michael's Etsy shop.
You might also like these posts: