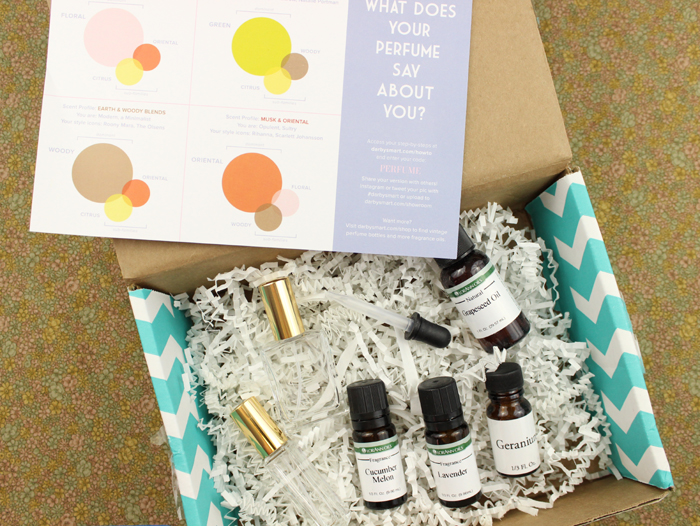 If you're not familiar with Darby Smart yet, they sell craft kits and supplies. It's pretty handy because the kits contain everything you need to complete a project. The one I've been most interested in was their "To DIY For" box. It's a subscription box in which you receive a mystery kit each month.
I've been stalking the Darby Smart website for several months, wanting to subscribe. I was kinda iffy about it because some months the kit was something I'd never buy but other times, I'd kick myself for missing out on a really cool one. They had a deal last month to get your first box for $9 (it's regularly $19) so I went ahead and subscribed (finally)!
For April, they sent out perfume kits. Which to be completely honest, is something I would never buy. But I tried it out anyway. I think that's part of the fun of subscription boxes. You end up with stuff you would never think to buy. Sometimes it ends up being a good thing, other times, not so much.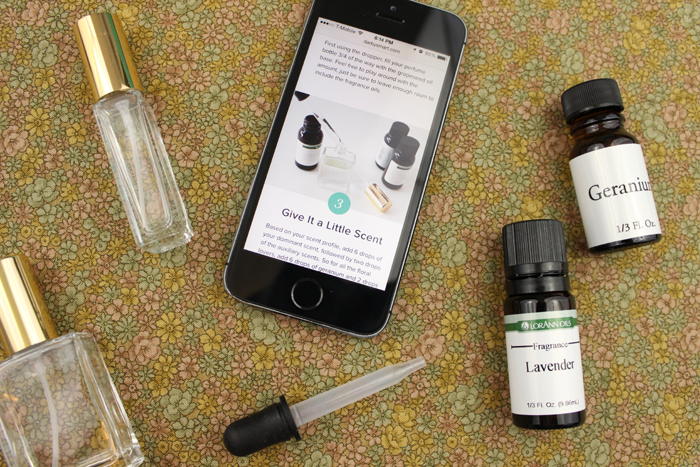 So, after you get your kit, you go to their website and put in a code to get directions for the project. It came with a card that shows four scent profiles and on the website, it shows how to create the first two. But then it turns out that if you like either of the last two, you have to buy additional scents from them to create those. Which kinda just seemed like a ploy (clever or lame, however you wanna look at it) to get me to give them more money.
Anyway, the kit came with three scents (Lavender, Geranium & Cucumber Melon) and grapeseed oil which is used as the base. I liked the cucumber melon scent but wasn't crazy about the others (I'm totally a fruity, not flowery person when it comes to favorite scents). So in one bottle, I mixed mostly cucumber melon with just a couple drops of the others. At first, I didn't like it, so in the smaller bottle, I did just cucumber melon (super exciting, right?!). The scent of the first one has actually grown on me so I'll use it, although if I smelled it in a store, I know I wouldn't buy it.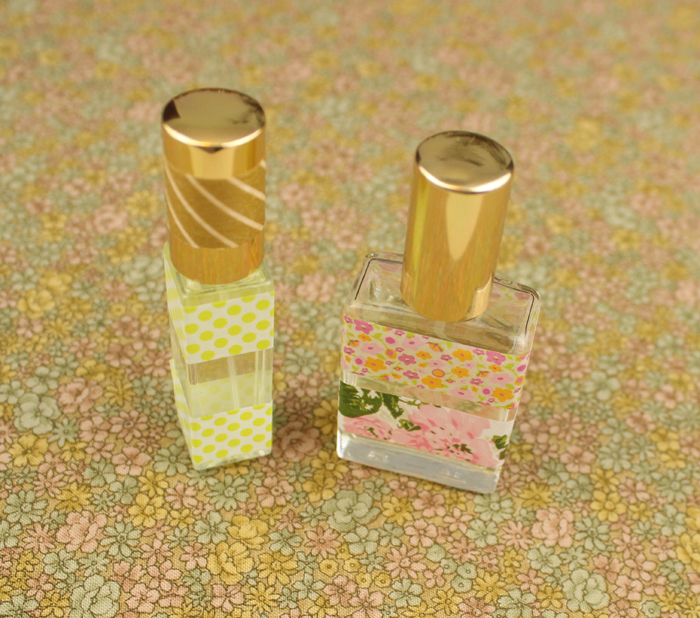 The bottles were cute but plain so I gave them a little washi tape makeover! They're the perfect size to keep in your purse.
Did you get this kit too? What did you think of it?
My next month is already paid for so I'm hoping to get something I'll be excited about. If not, I'll probably cancel because for $19, I could buy supplies for something I'd really enjoy. But either way, I'll be sure to show you when it arrives! :)
Disclosure: This post contains affiliate links. If you click and make a purchase, I get a small commission. This helps to ensure that I'm able to continue posting patterns, tutorials & other fun stuff! :) And just for the record, I was NOT compensated or asked to do this review. I just thought it would be fun to share!